The other day my kids and I busted out the glue, paper, and scissors and created this super simple craft.  They thought it was rad.  I took a picture of their faces on my iphone, emailed it to my computer, and printed it up.  They loved seeing the printer paper come out with their face on it, it was like magic to them haha.  Then I just drew a large tear drop shape on a brown piece of paper, then the feathers on different colored paper.  They cut it out the shapes by following the lines I made.   I had to help the little guy, but my four year old went to town and did it all on her own.  We then grabbed our glue sticks and put it all together.
Easy!
And look how fun it turned out.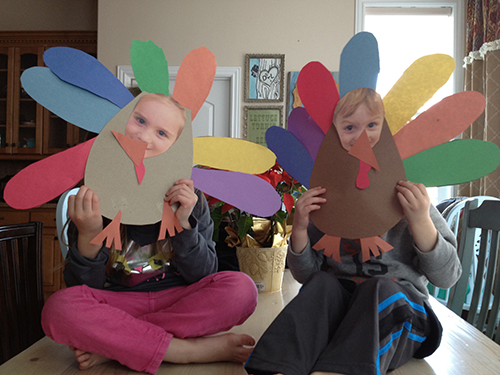 We wrote little bubble messages for dad on white paper and glued those on too.  We taped the turkey's to the door he normally walks in.  My kids were so excited.
Cost me nothing since I had all the supplies and took about 20-30 mins. Perfect amount of time for this age.

I have been wanting a chalk board for outside my house to write different fun things on.  Like those chalk boards you see outside of restaurants with the daily specials.  I looked them up online and they cost around $189 buck-a-roos! Crazy! I recently discovered a place called Re-Store in Orem, Ut.  It is for Habitat for Humanity.  You can drop off old cabinets, doors, paint, any building materials.  They use some of it and the public can come in to buy it too.  It's like a thrift store for building materials.  I love it.
I bought these two lovely old cabinet doors there.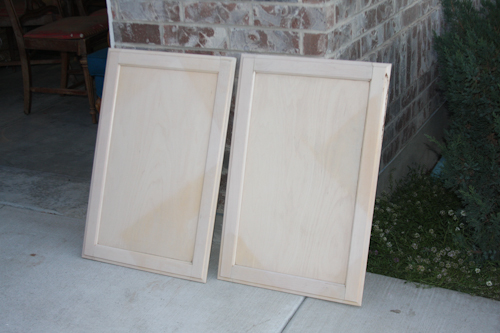 I painted them two different colors, to get more use out of them.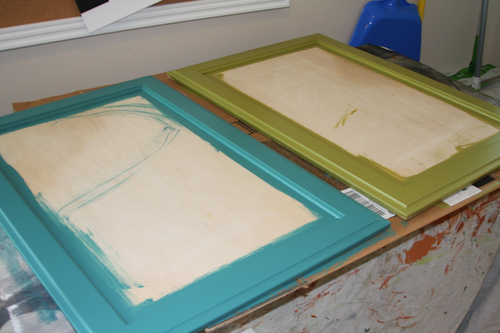 I tapped of the inside and painted on some chalk board paint.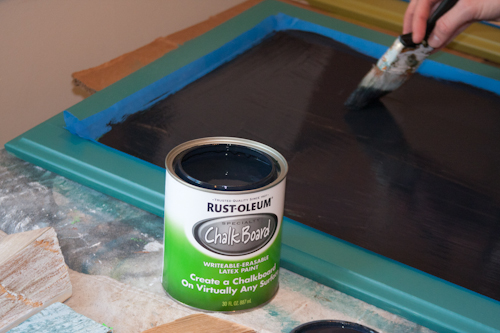 After that was dry, I turned them over and screwed in some regular door hinges to the tops.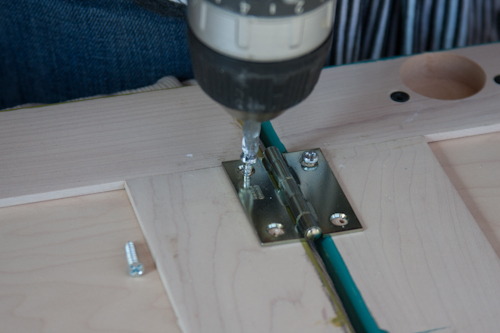 I probably should have painted the backs too, but I am too lazy.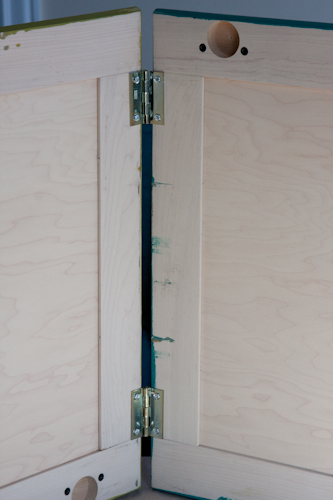 These are the top of the cabinets now attached together. (turned sideways)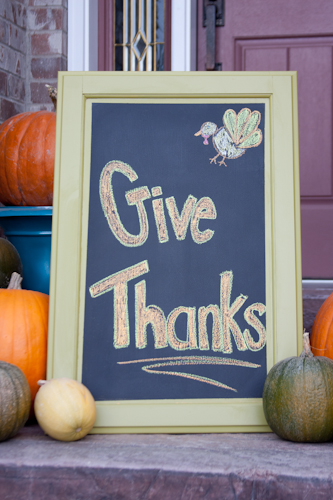 Done! Easy as pumpkin pie!  Took me only a few hours, mostly waiting for paint to dry, but was fast and easy!
And, because I had the hinges and the paint it only cost me the $2 dollars for the doors.  Sweet!  I LOVE projects like these!
Now I can use it all the time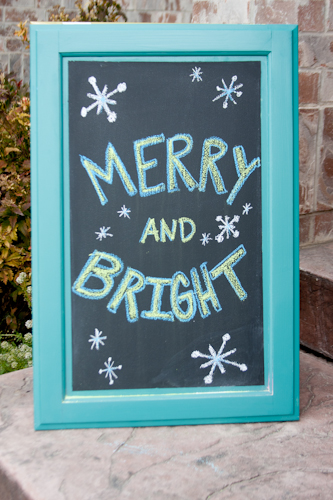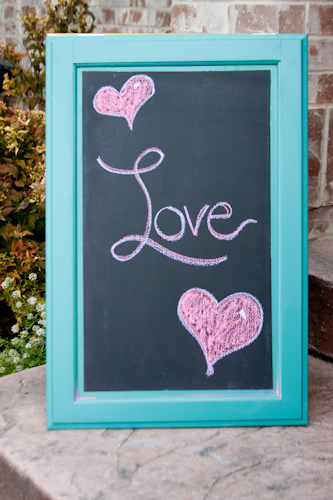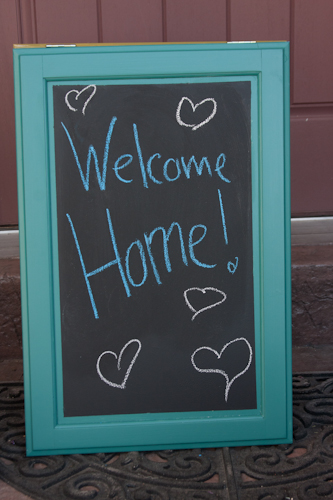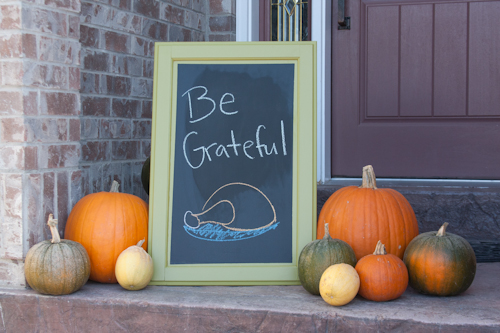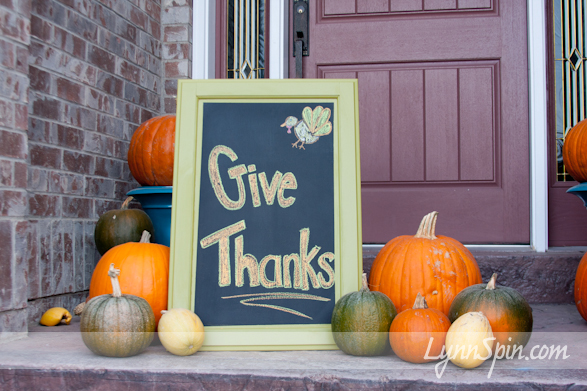 Two years ago and few girl friends and I set out to re-create a Pottery Barn advent calendar that we all liked.  Actually, to be honest,  it turned into about 20 or so church lady friends.  It was a blast, a lot of work, but fun.  I liked seeing how everyone's turned out.
We loved how ours turned out.  Now I am sharing it with you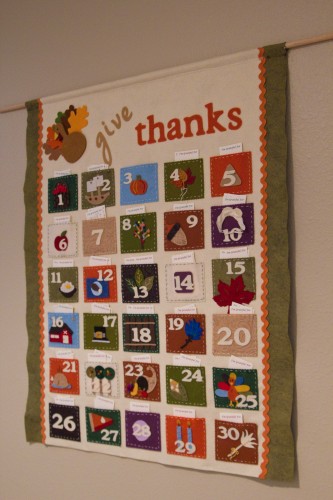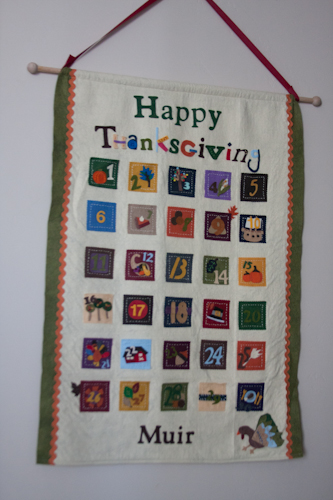 Here are some pictures of mine and one of my girl friends.   All the dimensions, supplies, and patterns are below the pictures.  Enjoy!
These pictures are from my friends calendar.  I like how she used the same color and font for all her numbers.  She also made her pockets bigger than mine.  I will be giving the dimensions for her pockets, because they work better bigger.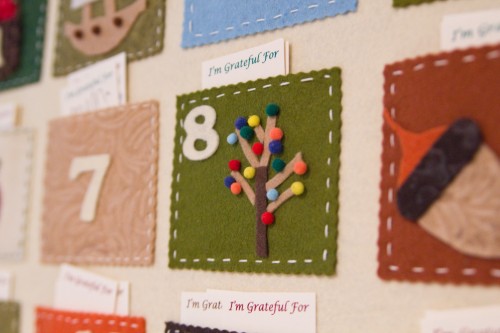 Her husband has a b-day in November so she added some candles to on of the days, very cute.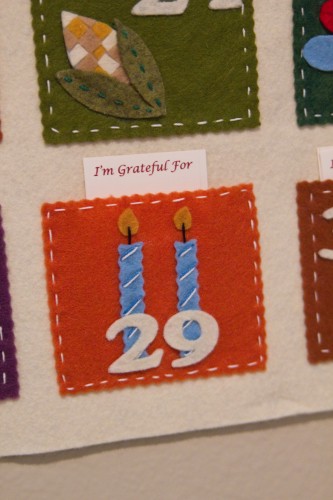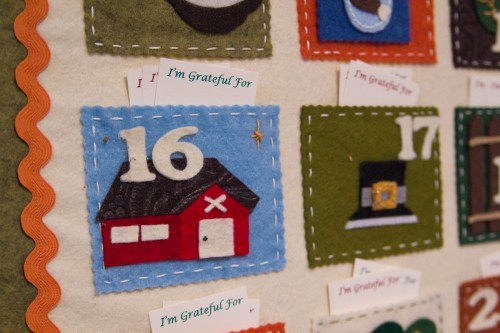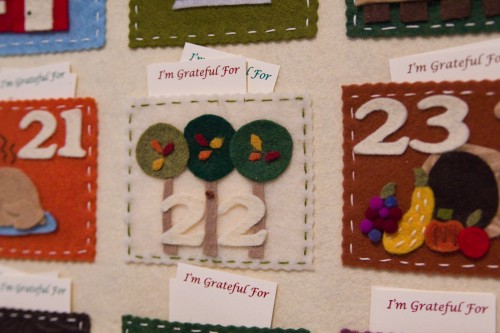 And maybe my favorite thing on hers is the  cooked TURKEY.  I love her turkey, I wish I put that on mine.  I don't have it in the directions, so you will have to figure that one out by looking at the picture. It's on the 21st, a little hard to see sorry.
I also love her apple basket on 1 and fence on 18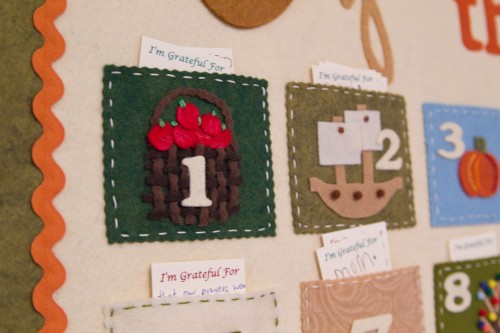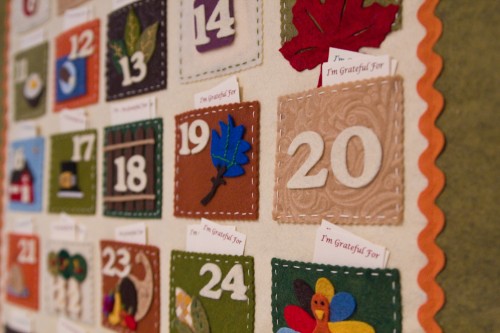 Her and my top is different.  There were two different Pottery Barn calendars, she chose the more classic one and I did the more funky mis-matched one.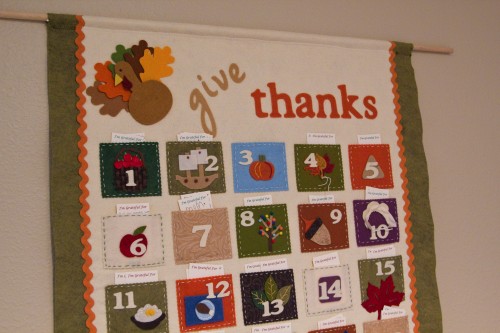 Here is mine-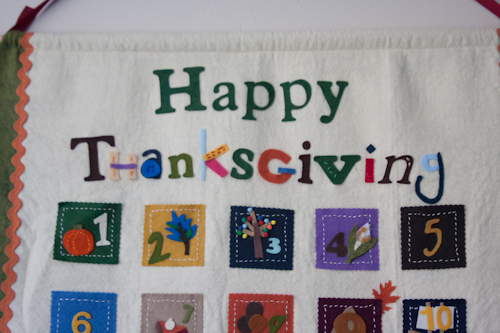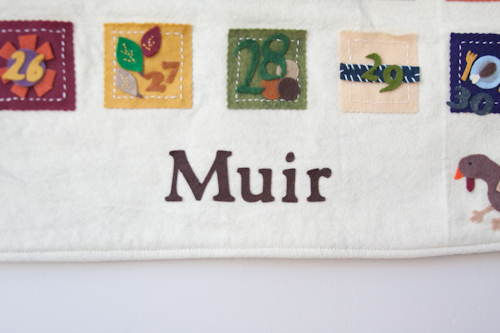 I so added room at the bottom of mine for our last name.  The directions include space for that.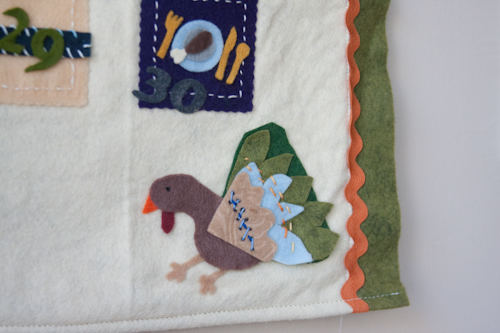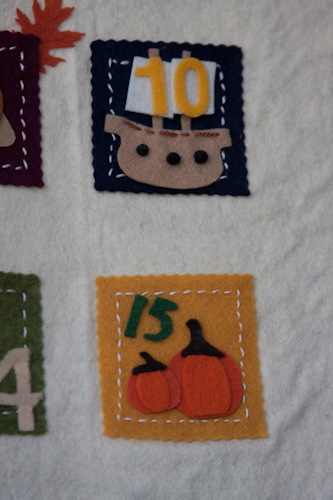 You will need:
Two pairs of scissors- regular and a small sharp pair for intricate cutting
embroidery needles with a medium sized hole
embroidery thread
felt- lots of felt!
mini pom-pom balls
tweezers
Paper cutter with wavy blade or pinking shears
felt glue or tacky glue that dries clear
A piece of ribbon 1 1/4 yards long-to hang from dowel
Ribbon or Rick Rack for the sides
Dowel with end caps
Optional- a electronic cutting machine.  I used my Cricut to cut the letters and numbers out of felt.
Directions and Dimensions-
Cut One piece of felt 39″ long by27.5″ wide
Cut the inner piece of felt (the off-white on ours) 39″long by 23.5″ wide
Lay the smaller piece down on top of the wider piece and sew down both sides.  2 inches should be showing of the bottom piece on both sides.  Can sew ribbon or rick rack down the side on the inner piece of felt.
Create a space for the dowel at the top by folding back the top 1-1 1/2 inches- depending on the size of the dowel you buy.  Sew across top.
Optional, but looks nice. Fold bottom back about 1/2inch and sew across the bottom.  You could also glue all of these if you aren't into sewing.
We cut our squares 4″ wide by 3″ tall.  We cut them with a paper cutter that had a wavy blade.  You could also get that edge with pinking shears.  We then did a running stitch around the sqaures.  This does take a while, watch a moive while you do this part.

The squares are in rows of 5.  About 2.5 inches from the edge and 4-5 inches from the top.  They are 1/2 inch apart from side to side.  And, the rows are about 1 inch down for each other.  You will want to lay it all out before you start gluing them down.  Make sure to leave room at the bottom for your name and a turkey if you want that.
To cut felt on your Cricut there are a few steps.
First, just like cutting fabric you will need to iron on some heat and bond on the back.  This helps it to stay in place while cutting.  Next make sure you use a deep cut blade, this is different then the blade that it comes with.  Cut as deep as you can and slowly.  I used blue painters tape to help hold the felt around the edges. It was a process, but if you are doing it just for your self and a friend or two it will be great.  I did all the numbers and letter for about 20 women.  It took me three days to cut the felt!  With the help of my mom.  I went into labor a week later lol

 Good times. 😉
Patterns
Click below for the pattern for the little pieces on the squares.  This link will take you to Box.net where you can print out the pattern.  And, sorry they are not the most well organized patterns, but they get the job done.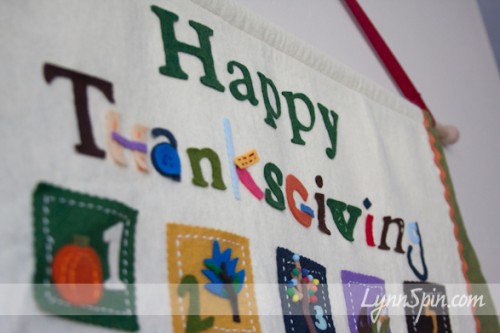 I know it is a little late in November for this calendar, but start now so you can have it for next year!  😉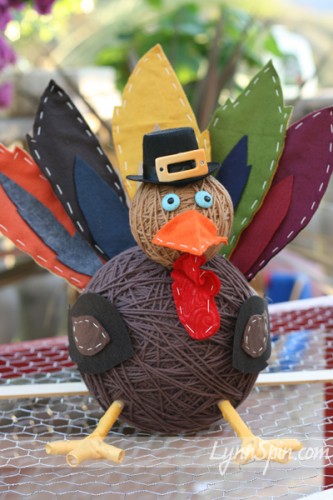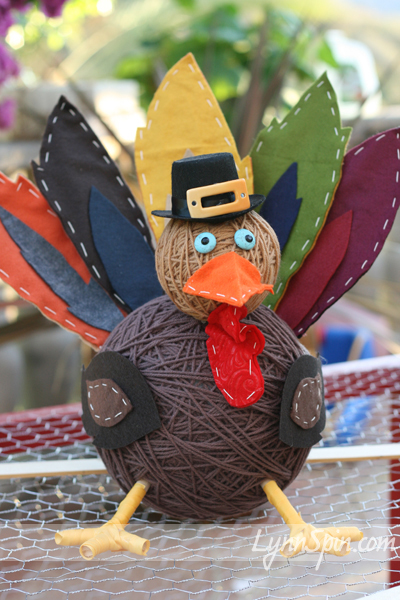 I wanted something for my table that was exciting for kids to look at.  I saw a few people wrapping yarn around styrofoam to make a turkey body last year and came up with this idea.  I love my turkey and so does my two year old.  It's a pretty simple/fast craft after you buy all the supplies.
Here's the supply list-  You can print it out if you click on this picture.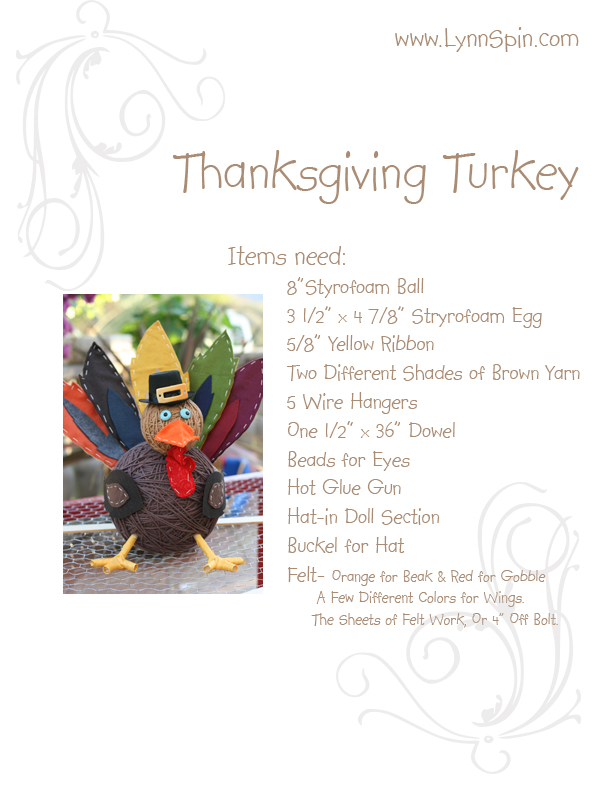 To get started PRINT out the pattern for feathers, beak, and gobble here. Click on pictures below to download.



Cut these out and then cut out felt.  Then do a running stitch around the 2 large pieces of the feather to hold them together(and to look cute).  DON'T GET GLUE IN THE MIDDLE OF FEATHER.  The wire hanger goes in the middle.  Glue the out side/decorative piece in the middle of the front of the feather.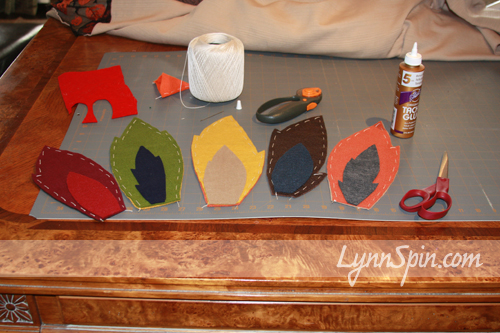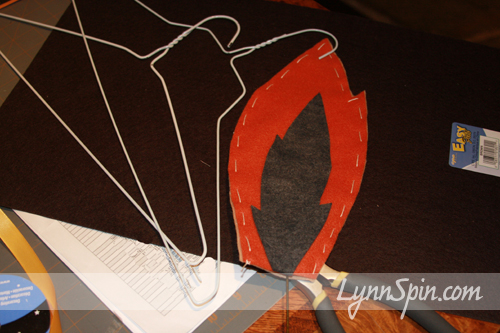 After your felt is ready, now you are ready for the easy part.  You might want to get your kids and have them help you with this part.  Wrap the dark yarn around the body, gluing the first piece to the styrofoam  ball if needed.  Secure ends when covered ball.  Then wrap the egg shape with the lighter yarn.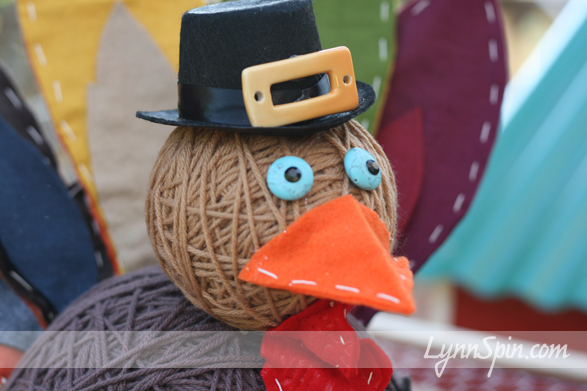 I then figured out where I wanted my head to be placed on the body.  I stuck a four inch piece of the wire hanger in the body(about 2″ sticking out) glued it with hot glue and attached the head to that.  Sorry I didn't take more detailed pictures.
Now you will need to make the feet.  I cut two 4 inch pieces and six 1 and 1/2 inch pieces of the dowel.  I stuck the 4 inch pieces- 1 inch into the large ball.  Prop up your bird at this point and set it on wax paper.  Then take your six 1 and 1/2 inch pieces and hot glue three to each 4 inch piece.  I just glued like crazy.  I put a huge blob of hot glue down and stuck the pieces in that.  Sorry again I don't have a picture.  After that is all dry wrap yellow ribbon around the feet and legs.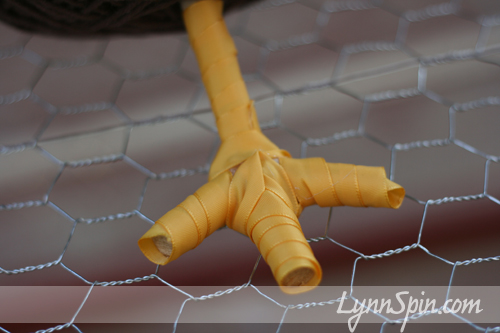 I then cut and shaped my wire hangers into a long u-shape.  Stick both ends into the bird.  Slide feathers you make on to those.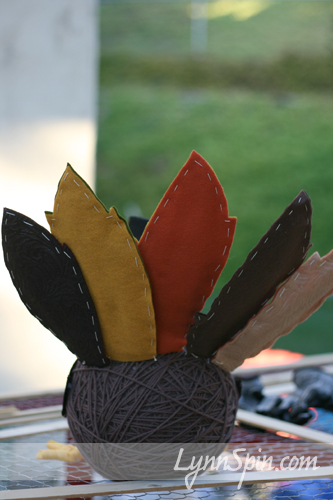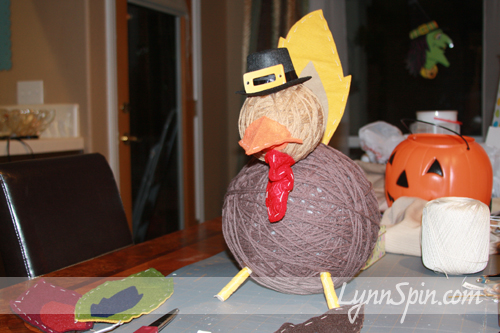 After everything is done add your face and side wings.  Cut out your felt beak and gobble.  Stitch the fronts and backs together.  Glue both pieces on.  Add hat and eyes.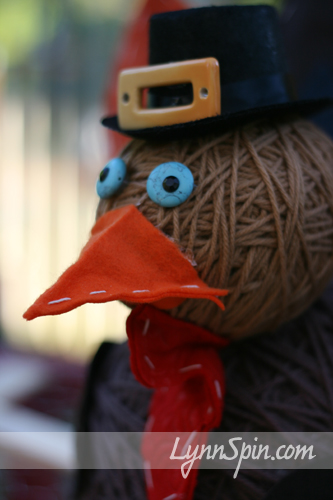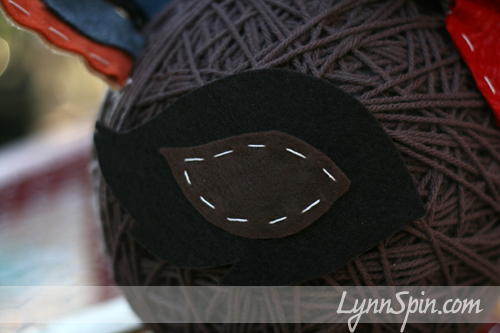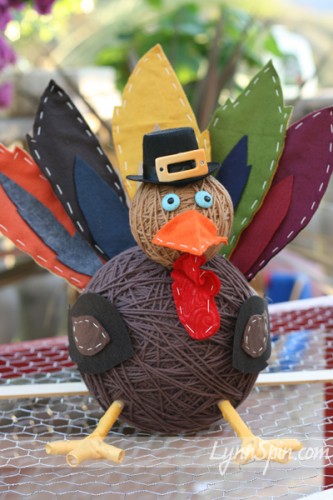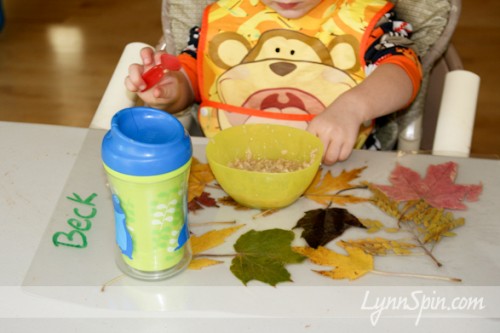 This is a great Family Home Evening idea you can do tonight with the kids!  It requires little to no prep and is easy for all ages.   And your kids can use these at the kid table during Thanksgiving

After dinner onE night we went for a walk around the block and collected leafs.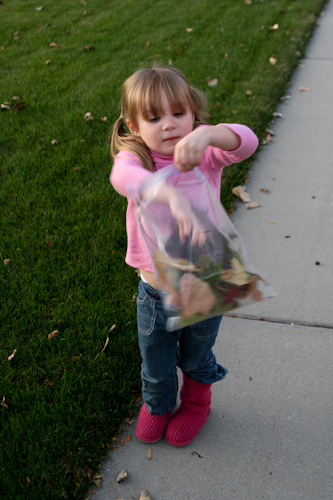 Then we went home and laid them out on our laminating sheets.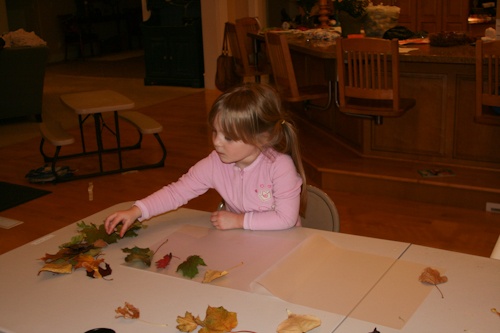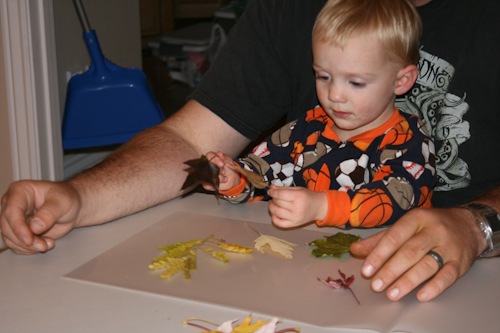 The kids loved watching it go through the laminator.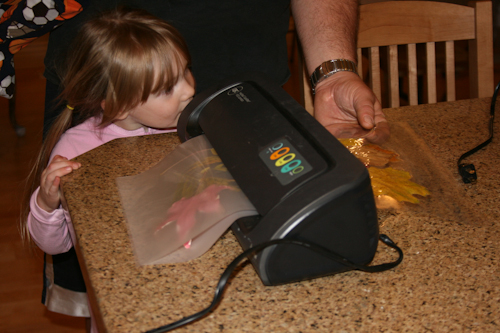 If you don't have a laminator just glue your leafs to a piece of paper.  Add some stickers and glitter too.  You can then take it to any Kinko's, map store, office supply store and they will laminate it for you for a small price.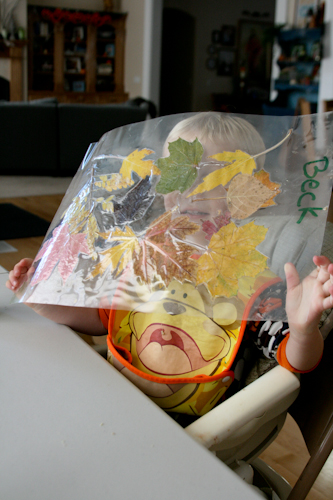 They are so happy with their work!
Get crafty with your kids…they will love it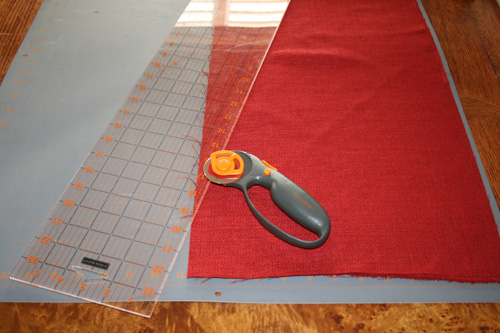 Napkins for Thanksgiving or Christmas
You will need a scissors or rotary cutter, sewing machine, thread, fabric that frays easy.
Cut fabric into a 16×16 inch square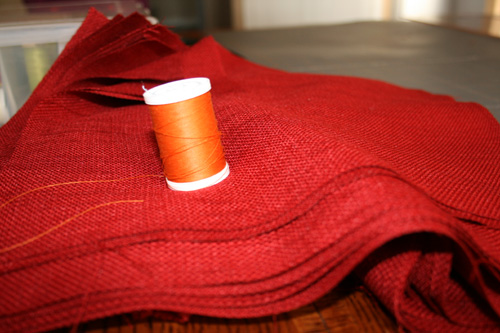 Sew in 1/2 inch along edge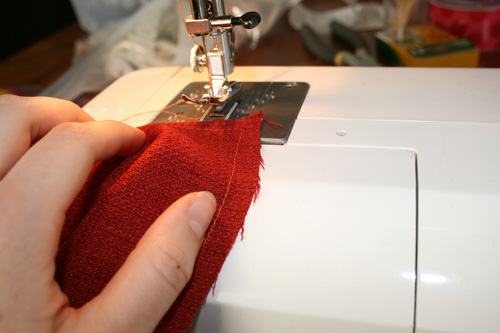 Fray by hand, or stick in washing machine and dryer- speeds up the process
And your done!
I don't have a finished cute picture…dang!  But, you can take one for me after you finish yours 😉
Make Napkins with Your Bad Self!- They are so expensive, making 20 cost me 2 dollars!  Yeah baby!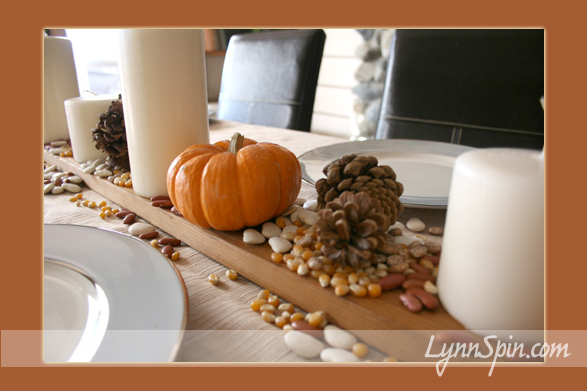 Thanksgiving can be lots of fun and lots of stress.  Here is my easy and classy way to decorate your table.
I bought a bag of  dried corn, white beans, pinto beans, and pine cones.  Used a few small orange pumpkins and different sized white candles.  I sent them down along a  beat-up piece of wood in the middle of the tables.
I wish I had taken a picture with the cups, silverware, and napkins- all decked out.  But, I got too busy cooking ;).   Here is the basic idea.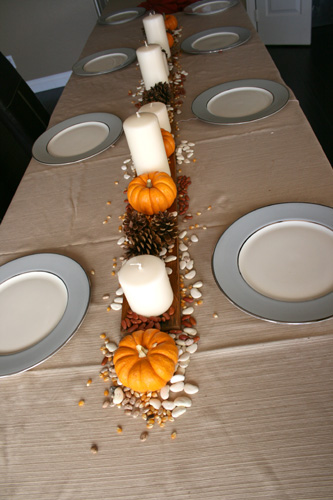 Yes,  I should have ironed that table cloth, but I don't iron hahaha…ahh goodtimes