Fabric bow making 101. You can use this tutorial to make a fabric bow of any size.  Just scale it up or down depending on your needs

Here's how I made this BIG fabric bow.
(if you hate to sew, don't like to sew, or don't own a machine, or have one you can borrow- bust out the hot glue gun.  He is always helpful

)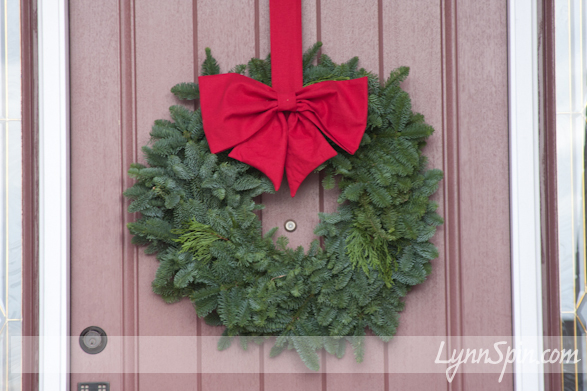 I started by cutting a piece of red linen 16 inches wide by 35 inches long.  I folded it in half long ways and sewed the ends together.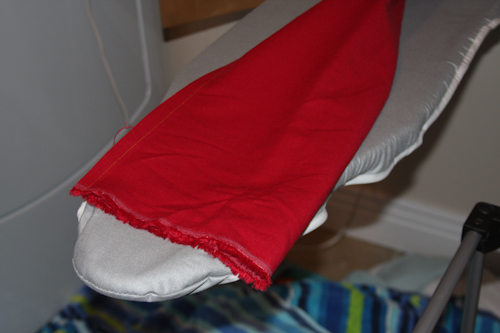 I then creased it  so the seam was in the middle on top and ironed it flat.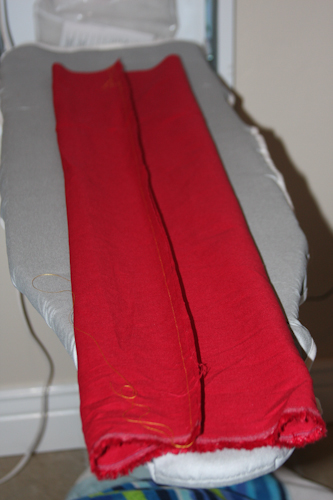 I then folded the ends in to meet in the middle.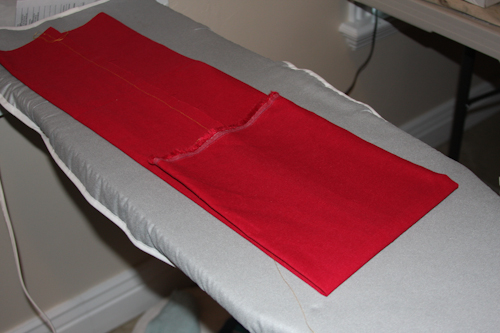 I sewed down the middle to hold the ends in place.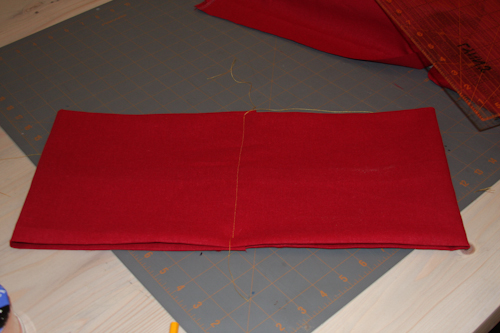 I took a piece of thick thread, wrapped it around the middle of my bow, pulled it tight, and tied a knot.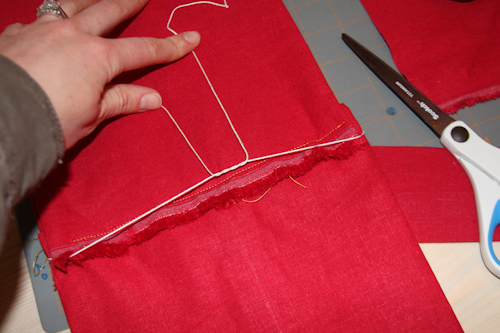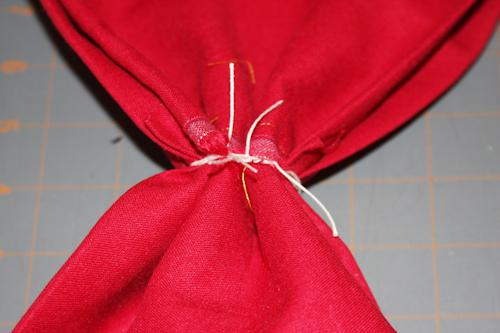 waalaa bow….but we are not done yet!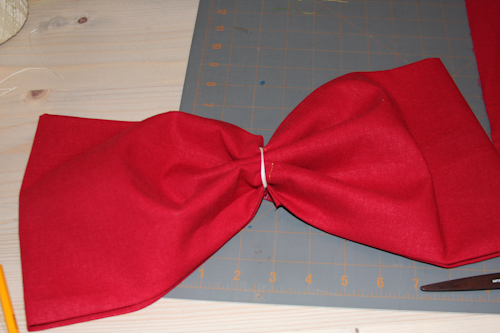 Straiten it out a little and make sure the sides are even.
Then I cut another piece of fabric 8 long by 6 wide.  I did the same steps of folding in half, sewing together, then ironing with seam on top.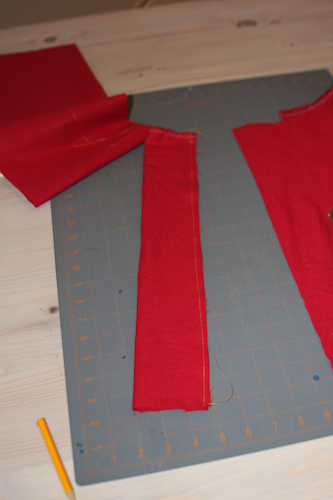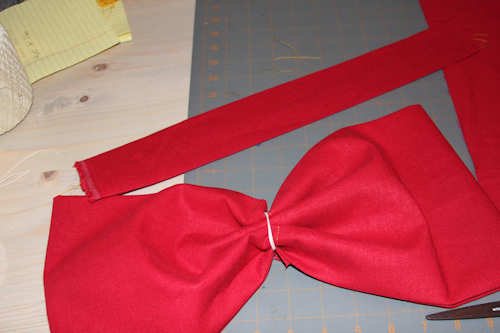 I hot glued that piece over the thread in the middle of the bow.
I then cut out 4 more pieces to be the ends of the bow that hang down.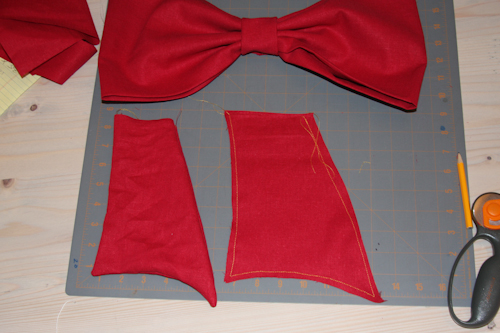 I have the pattern I made for those; if anyone wants it e-mail me.
I sewed two together them flipped them right side out.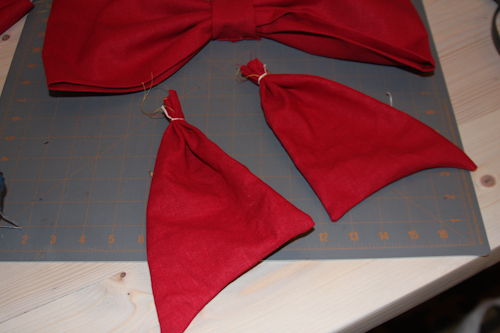 And I hot glued them on to the back of the bow.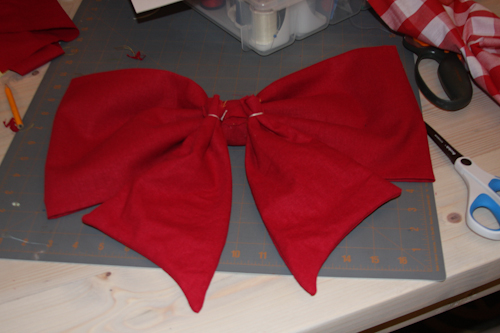 Then I cut and sewed a piece for the wreath to hang from and hot glued the bow on to that.
Took about 30 mins.  I'd say this is an easy project.  AND I'd say "Go get crafty with your bad self!  And pin me on Pinterest while your at it ;)"  wink wink

Here is the finished bow on the wreath I bought at Costco.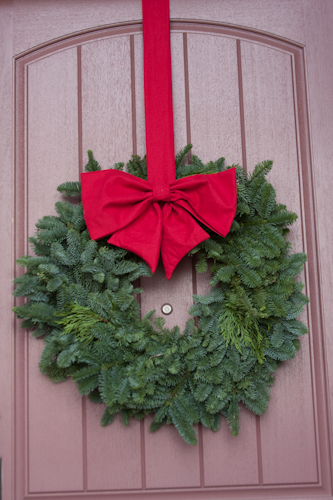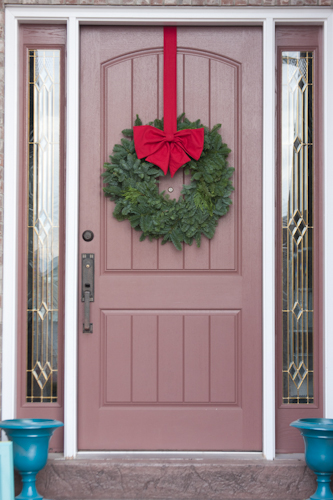 Today I made two envelope pillows and I am going to show you how to do it too.  It is easy! And no zippers to bother with. I have been putting this project off because I was a little intimidated.  But, thanks to my new sewing machine and my sewing classes that came with it I am feel'in good ladies!  These pillows took me 3/4 of Toy Story 3 to complete.  Sooo…. yes, I bribed my children with a movie today, lol.  No worries I took them to the park before nap time.  It's all good.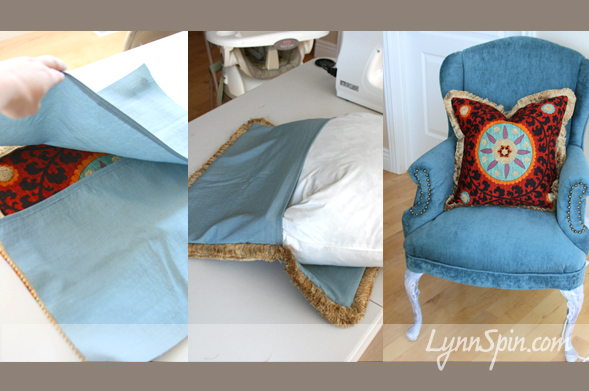 Here we go!
I like to buy pillows at Ross then take out the insert.  It is a cheaper way to buy a nice feather pillow and you get a cover to use at a pattern.  I can then just lay down the original cover and cut around it about 1/4 wider that it is.  If you already have a pillow insert, measure it and cut your fabric 1/4 inch wider as well.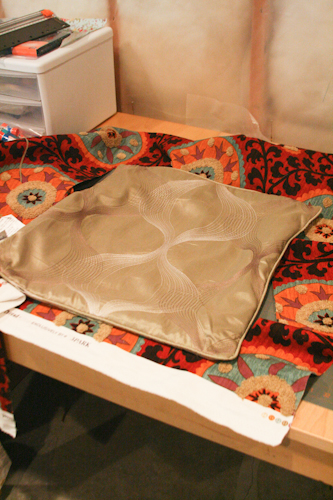 I cut the front piece following the cover.  Then for the back fabric I cut them the same width, but added 8inches to the length.  I then cut these pieces in half making them 19.25 by 13inches.  I have 2 of those per pillow.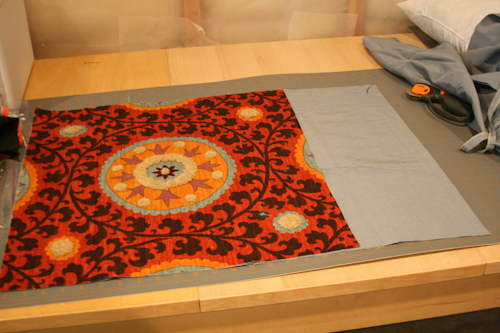 On the sides of the back envelope pieces that will be showing I folded them under and sewed them to have a nice finished end.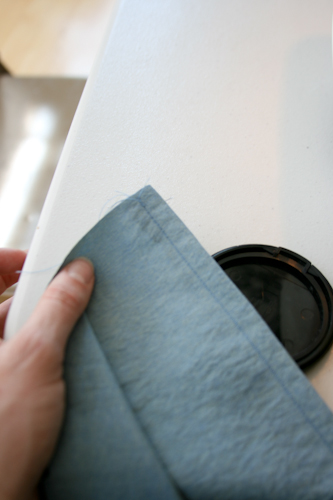 Now I laid down my front piece face up, put the trim on that sitting inside the pattern, and then laid the back envelope pieces face down overlapping each other.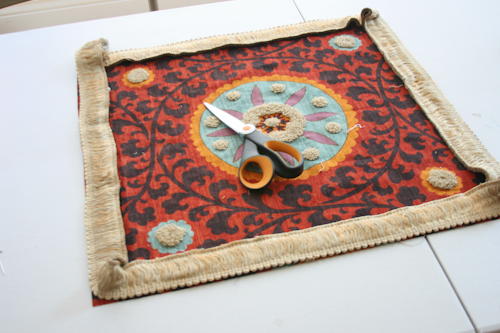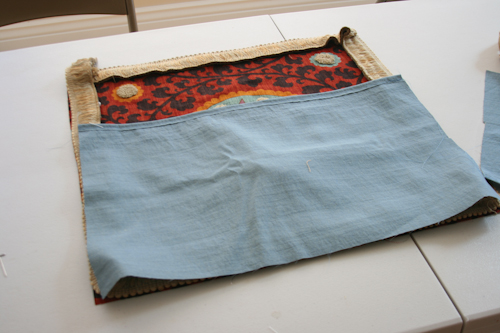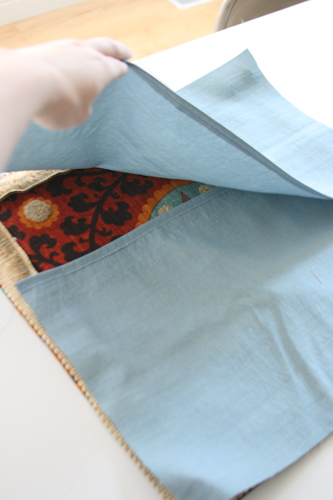 All the parts you want to see when you are finished will be hidden inside your little fabric sandwich.  Pin it all the way around. Make sure your trim stays in place.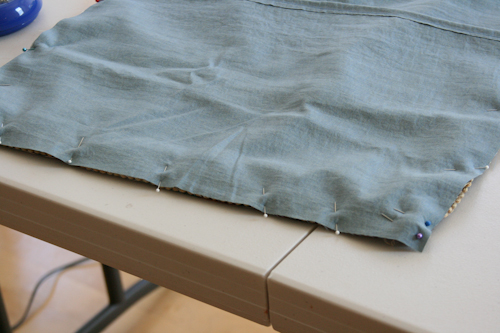 Sew all the way around make sure you are catching your trim evenly.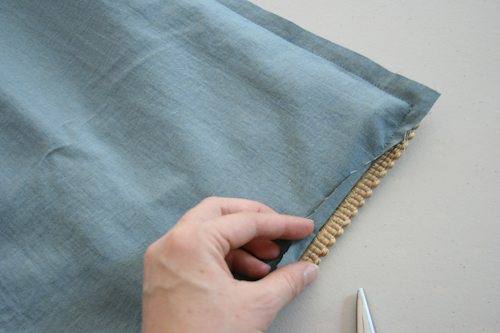 Then cut  your corners down just a bit.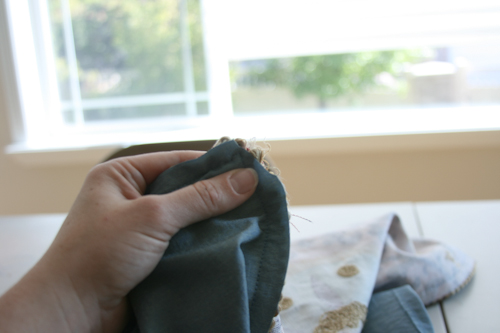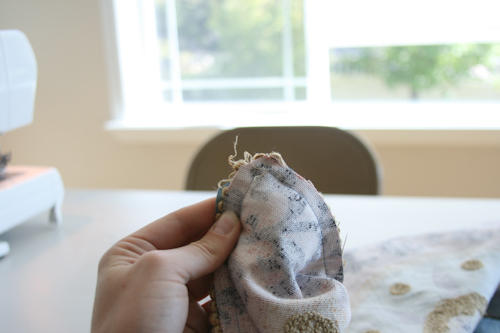 Flip right sides out.  Insert your pillow.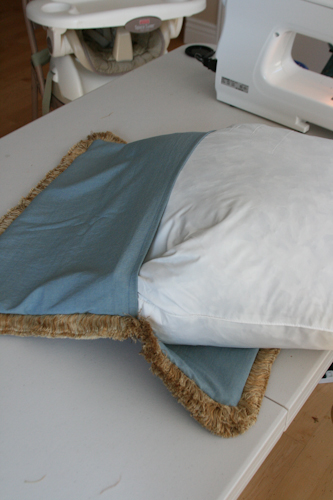 I if you have trim like mine, make sure you pull out the tread that it is holding the little treads together.  Best to do this after you sew; to keep it from getting sewn under in the wrong places.  You can just snip the tread and gently pull it off.   Then play with it a little to get it to be fuzzy.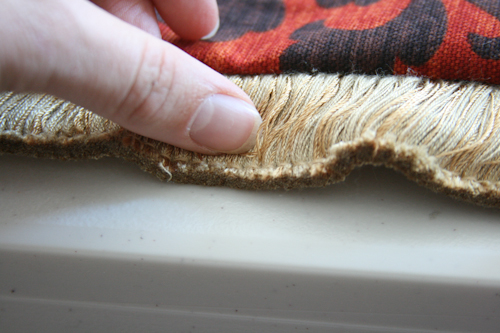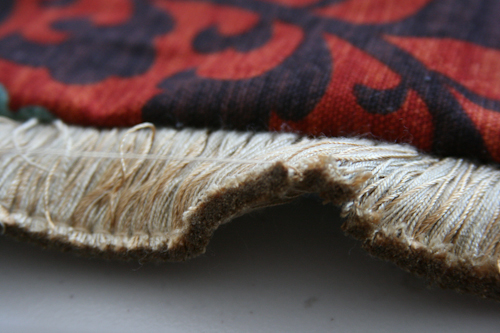 And… da da da YOUR DONE!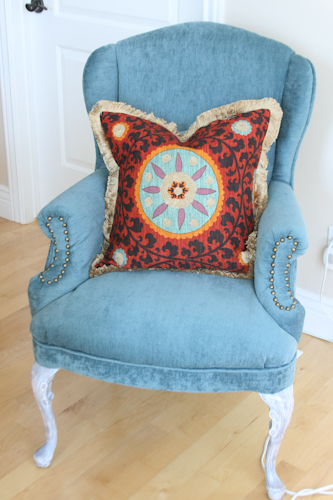 These pillows will go on different chairs, but I am not done with the chairs yet…  soon hopefully!

Check back to see where they will be going.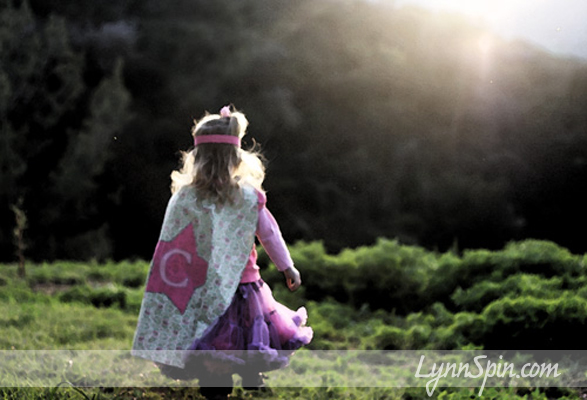 Last Christmas I thought I would be such a cool Aunt and make superhero capes.  I made one of each of my 7 nieces and nephews, plus  two more for my kids.   I was and still am very proud of myself for this, even though most of them didn't quite get it yet (totally didn't care).  Someday they will be glad they have capes

   I probably should have waited till they were 3 or maybe even 5.    Anywhoo…here's how I made them!
If you can sew a straight line you can do this!! Don't be intimated, YOU CAN DO IT! 

Here is what you will need:
A Sewing Machine
Scissors
Pins
Measuring tape
Some tissue paper/pattern paper to make pattern
Chalk
Iron

Heat-and-Bond-sewable
John Mayer on your radio/iPod/CD player

Tracing paper or a Cricut machine
Velcro

3/4 of a yard of fabric for each-front and back
You will probably want 3-4 different fabrics.  One for inside of cape, one for main part,  one solid for shape (12×12 piece of fabric), and one solid for letter (5×5 piece)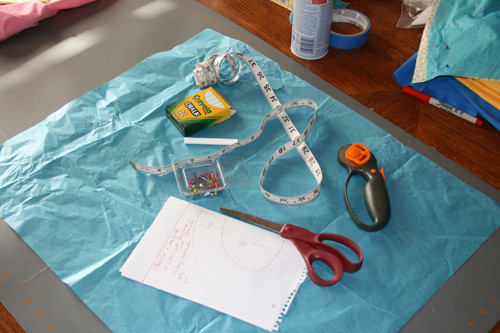 The first thing you will want to do is make a pattern.  I do this by taking a piece of tissue paper and drawing my lines with chalk.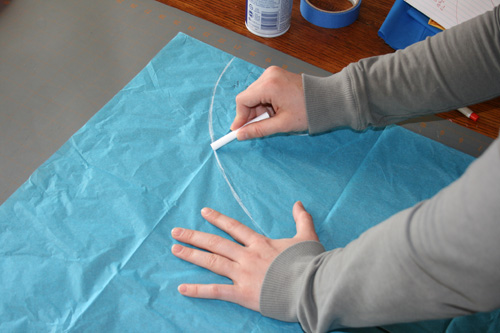 It will look like half a cape when you are done with this step.  I make it 10 1/2 inches to the widest part of the cape and 21 inches long, but you can make it as long as you need.  Don't feel like you have to stick to these measurements, they are just guidelines.  Adjust them to fit your child.  I made several different sizes.  I usually kept the width though, seemed to work for every body size up to age 6.  See Picture below for the neck measurements. Those also work for everyone.  Feel free to change them if you don't like them.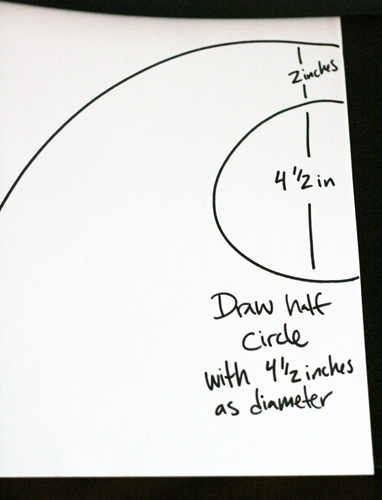 Cut out pattern and pin it to fabric.  Using the edge of the pattern as the fold line.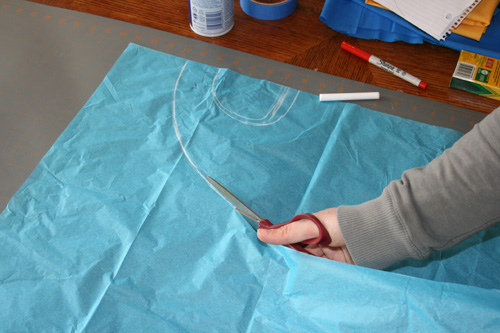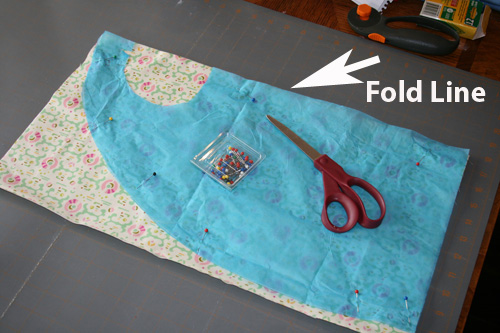 Cut out the front and back of your cape.  You are going to want to take your 12×12 piece of fabric for your shape and your 5×5 piece for the letter and apply the Heat and Bond on the back of these fabrics.  Then cut out your star, lightning bolt, star burst, flower, etc. and letter.  I used my Cricut machine, but you could all so just trace the shape you want and cut it out yourself.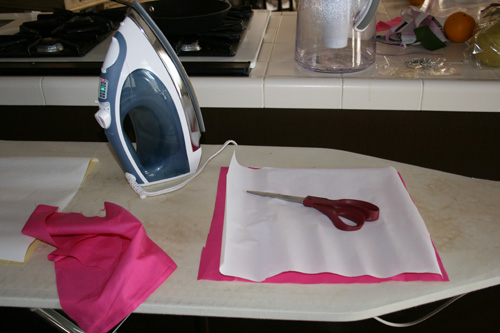 For the Cricut peel the paper for the Heat and Bond off the back, place the fabric on the cutting mat, and load it in.  You will want your settings to be:  Blade depth-3      Speed- low    Pressure- med/high   (you do not need a deep-cut blade for this)
Okay now you are going to iron on the shape and letter on to your fabric.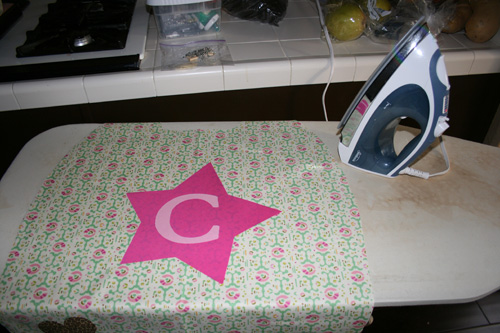 Now to secure it better and make it look a little more cute, you will top stitch over the shape and letter.  I used a zigzag stitch, I thought it was the easiest way to go and looked nice.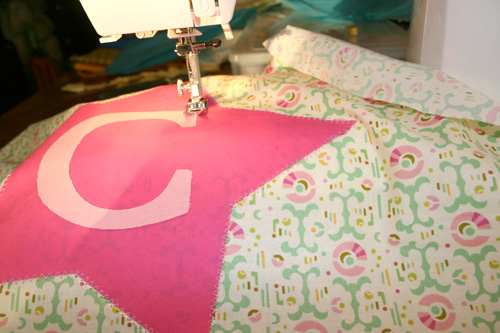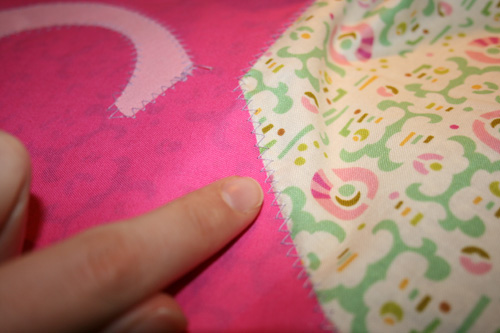 After you have finished this you can sew your back and front piece together.  Place right sides in, pin in place, and sew.  Sew from the bottom corner up around neck and down to the opposite bottom corner; leaving the bottom of the cape open so you can flip it right sides out.  Before you flip it you will want to make sure that you have clipped around the neck to help prevent puckering.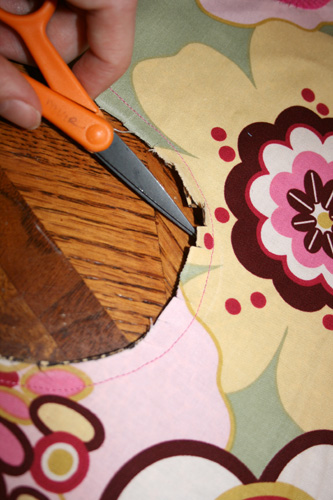 After you flip it back you will need to use an object that has a pointed and rounded tip (I used the end of a paint brush) to push the neck ends all the way out like so…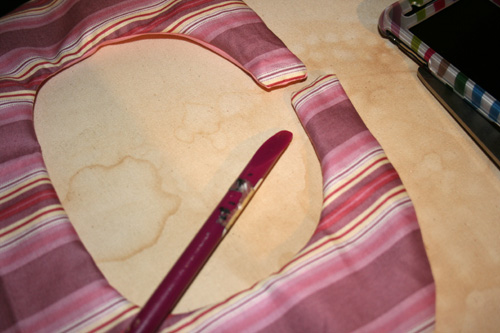 Then iron the edges of the cape.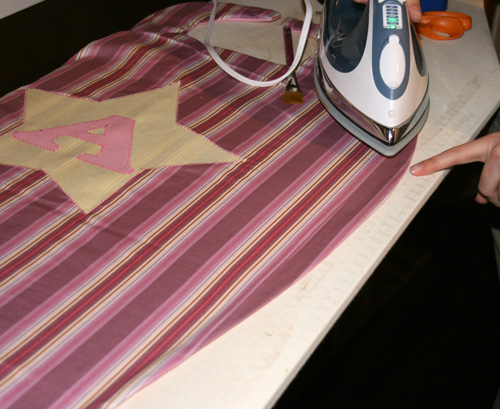 Fold and pin the bottom of the cape.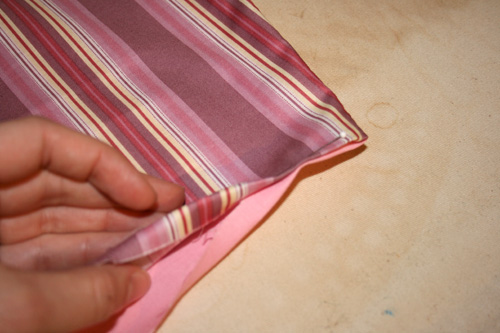 Now, with your sewing machine, top stitch a straight stitch around the entire cape.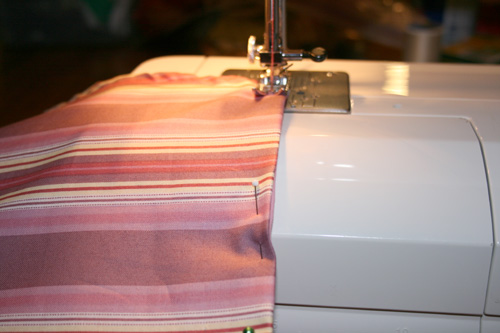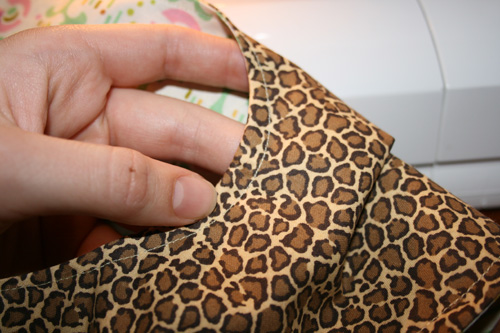 ALMOST DONE

Just add the Velcro and your done!  Decide which flap you want on top and place the fuzzy side under that.  Place the scratchy side on the top of the bottom flap.  I put an extra long fuzzy piece on so that the cape can grow with my child.  (Hope that all made sense)
Sew the Velcro.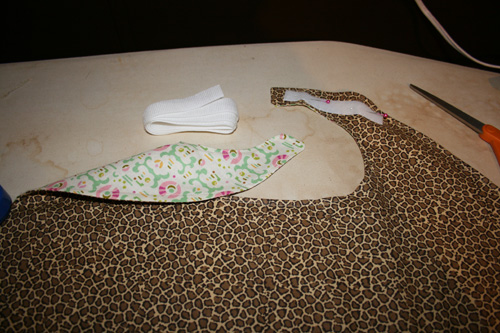 And you are done!  See not that hard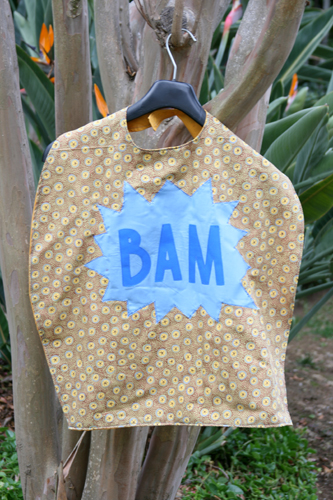 Now bask in the glory of what you made and how cool of a person you are.
(Shortly after making the cape for my two year old she ripped it off and stomped on it)  cool…
I am sharing my idea at…
Long long ago before my 2 1/2 year old was born, I bought this fabric.  Yesterday I finally made a quilt using this fabric.
There are several ways to make this type of quilt, but this is how I did it.

To make a Rag Quilt-
You need:
Different color cotton fabrics- 1 yard total (depending on the size you want it to be, this is baby/toddler size)
1 yard of flannel
(optional) 1 yard of another same flannel or different color if you want a different backing and/or a thicker quilt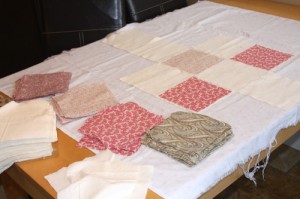 I cut my cotton fabric into 5×5  squares and my flannel into 6×6 squares.   Place the cotton on top of the flannel, facing right side of fabrics outward.
Then I configured my pieces how I wanted the the pattern to look and started to sew!  When you sew you will be putting the pieces together with the right sides facing outward. You will want to sew at least 1/4 inch from the edge, I did 1/2 inch.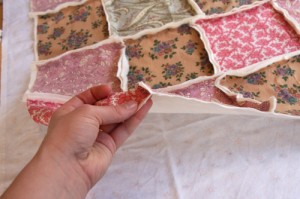 After you have sewn all your pieces together you can sew on a back piece of flannel like I did here, or just leave it.  Cut the back piece to the same size as the top.  When you sew on the back do it just as you did the squares with the right sides facing out, like if you were top stitching.
Final steps!  You will need to clip the hanging fabric down toward the seam, about 1/4 inch in.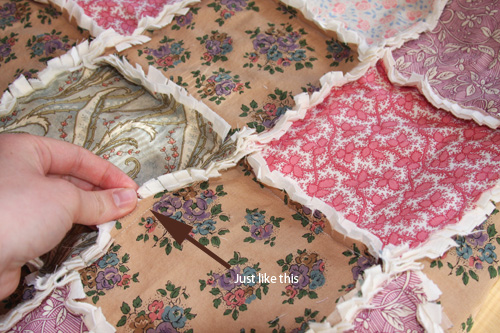 Then you can tie your quilt, although I used buttons to tie mine together.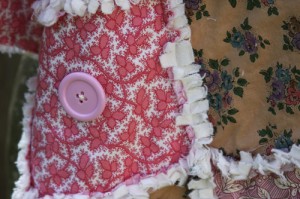 Finally, put the blanket in the wash, then dryer.  When dry, trim anything that has gotten too shaggy (might not need to depending on your fabric).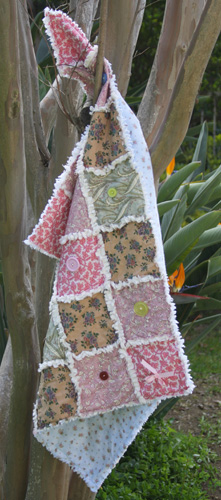 If you make a Rag Quilt, send me pictures!   lynnspins@gmail.com  I would love to see what you have done.