The other day my kids and I busted out the glue, paper, and scissors and created this super simple craft.  They thought it was rad.  I took a picture of their faces on my iphone, emailed it to my computer, and printed it up.  They loved seeing the printer paper come out with their face on it, it was like magic to them haha.  Then I just drew a large tear drop shape on a brown piece of paper, then the feathers on different colored paper.  They cut it out the shapes by following the lines I made.   I had to help the little guy, but my four year old went to town and did it all on her own.  We then grabbed our glue sticks and put it all together.
Easy!
And look how fun it turned out.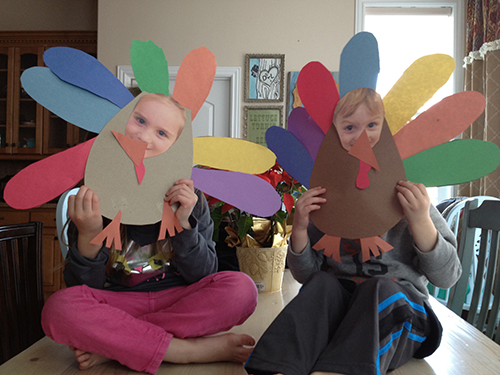 We wrote little bubble messages for dad on white paper and glued those on too.  We taped the turkey's to the door he normally walks in.  My kids were so excited.
Cost me nothing since I had all the supplies and took about 20-30 mins. Perfect amount of time for this age.