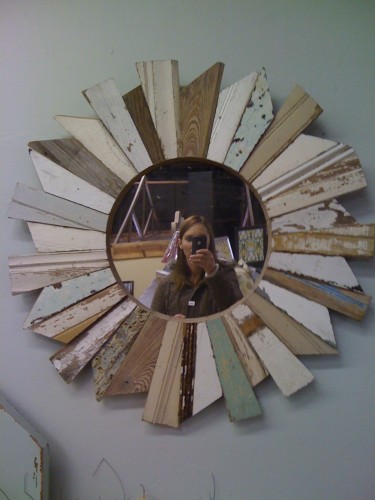 I saw this mirror in a store I love here in Utah, but it was $395.00.  I just don't have that kind of cash right now.   I showed the picture to the hubs and he said that "You could totally make that."  "I", "Me, Lynn" "BY MYSELF" could totally make it.  Uhh… what?!  He said he would give me tips, but I was pretty much on my own with this one.  OK.  Hear me ROAR ladies.  That's right, I used the saw, the man tools, and I got crafty with MY BAD SELF!
My sister in-law and I decided we would both make one of our selves.  SO! Here is how we recreated this beauty.
We started by collecting wood that looked reclaimed, like the wood on the frame.  We took some wood out of a friends yard, a few pieces off a really old looking pallet, and went to the Re-store to buy a few left over molding and other wood boards.  I also bought a 4ft pieces of cedar from Home Depot.  We started by cutting the wood boards between 6-9 inches long.  We cut the tops at angles between 20 and 45 degrees.  We then cut, using the chop saw, and angle from the top to the bottom of the wood.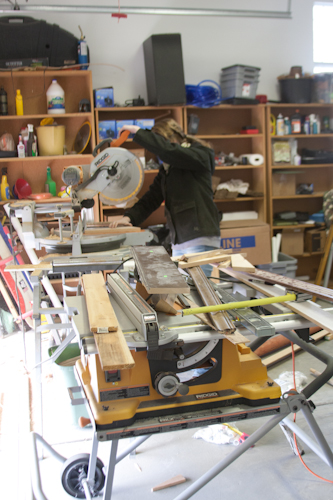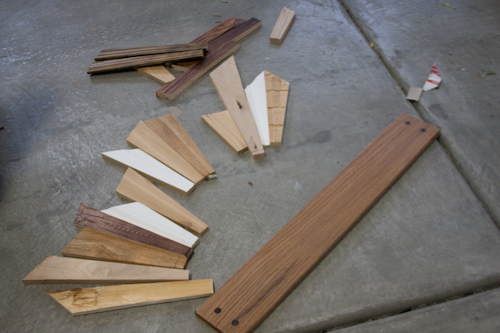 We each laid out the pieces to see how we wanted it to be.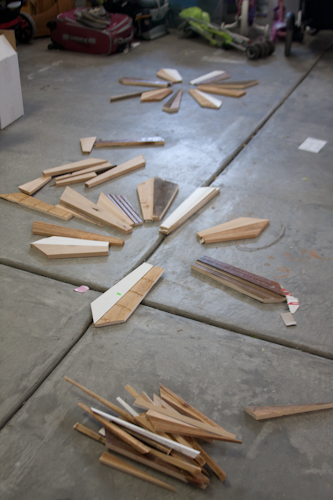 We first cut out all the pieces that would be "kissing".  There are six sets of the ones that face each other,  "kiss".   And then just like a puzzle we pieced them together to be the overall size we each wanted.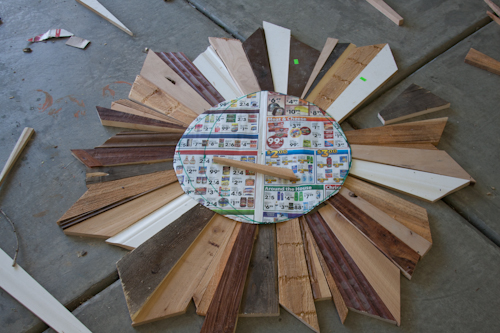 After this we numbered them on the back side.  Then transferred them into my laundry room for painting/distressing.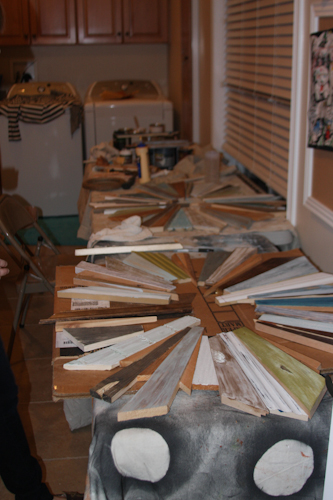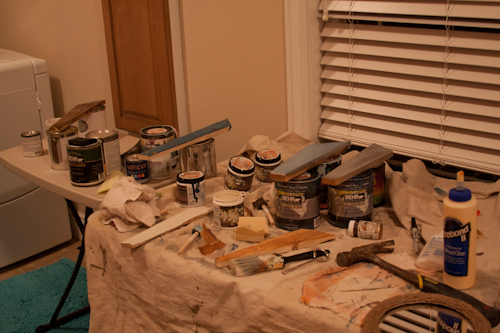 We used multiple painting techniques to give them each some character.  We used 220 and 100 sandpaper to rough some of the paint up.  We did a crackle finish on two, with silver underneath and blue on top.  And I'll talk about that more towards the end of the post.  But, we had a fun time play with different techniques.
After it was dry I started to put it together by glue the sides of each piece together.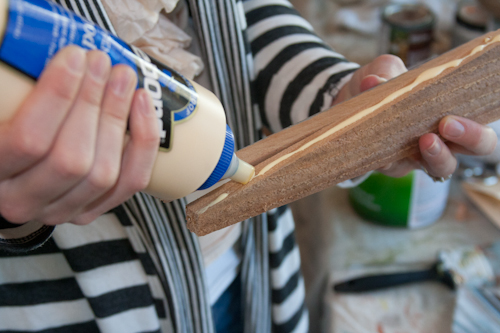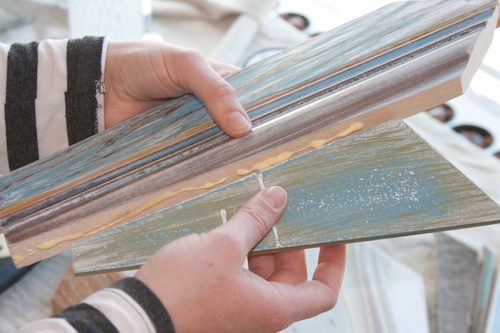 I clamped a few of them together to help make a stronger hold.
After it was all nice and glued.  I added a few small pieces of thin wood to the back for added support.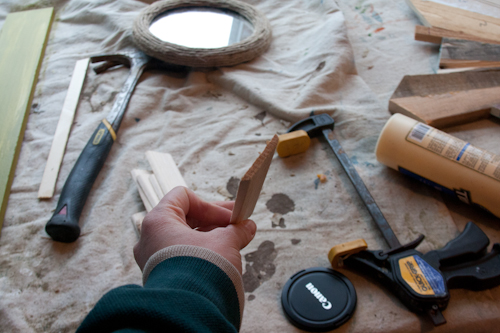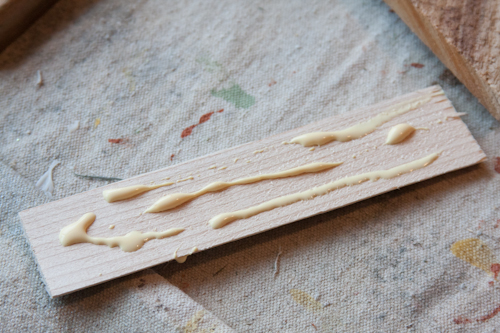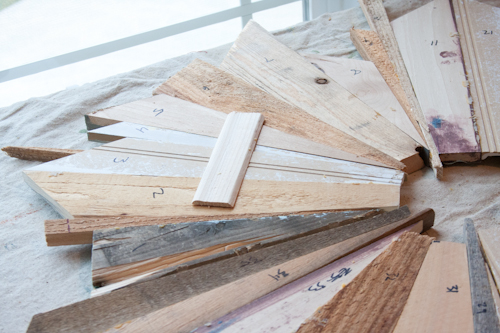 Okay, maybe more than just a few….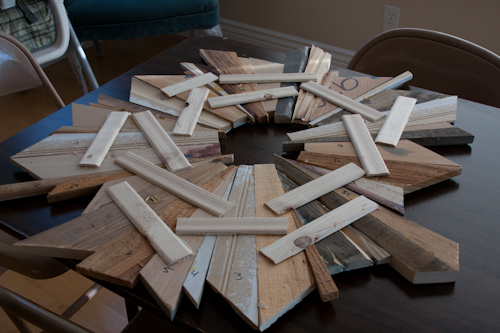 This is going above my bed.  I wanted to make it strong

 I am sure there is a better way to do this, but this is the best thing I could think of.
I then placed some heavy books and stuff on top of it till it was dry.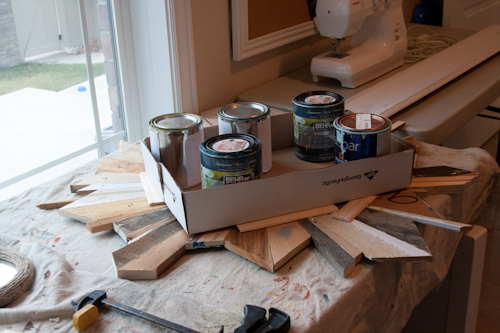 When it was dry and nice and strong I flipped it over to add the mirror.  I had a left over mirror from my gallery wall.   I took one of them down from the wall.  Cuz  the one next to the M, it made it look like "MOO" and it was driving me nuts.

So I had the mirror and it was wrapped in jute.  Great for the look I was going for.
I would have glued or nailed the mirror on, but I decided instead to use some heavy duty Velcro.  That might seem weird, but it works great.  And if it breaks or I need to remove it for some reason, I can easily take it off.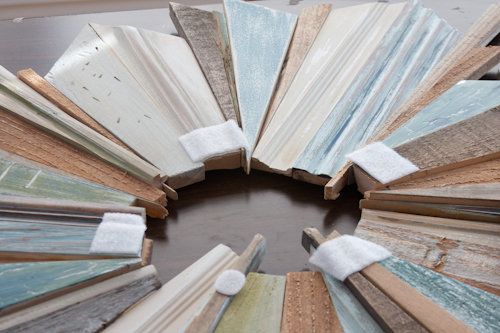 I added some picture hanger hooks and wire to the back and I AM DONE!
I love the look

 It totally goes with my "beachy barn look"  I need to find a better name for that…. any suggestions?
Here it is all done hanging above my bed!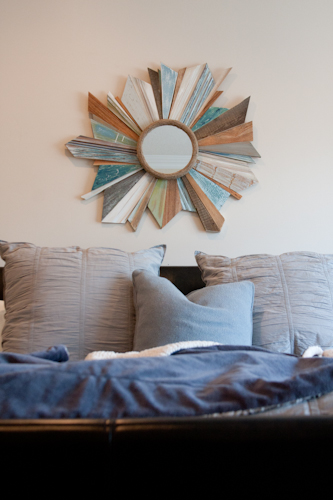 It's not a perfectly shaped as the one I saw in the store, but I like it this way.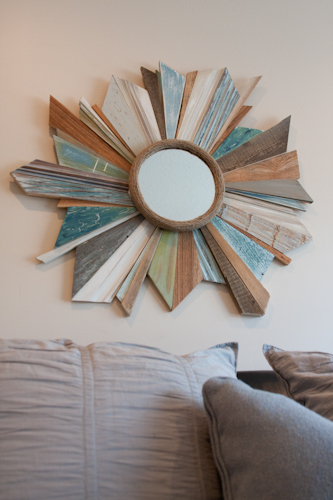 Oh! And by the way.  This starburst mirror did not cost me  $395, it cost me about $10!!!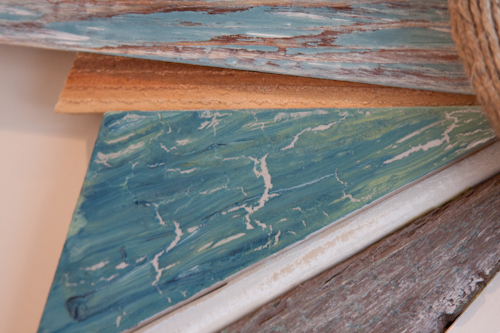 Here is the crackle I mentioned above.  I wanted the metallics to be subtle.
Mostly we painted, sanded, painted more, sanded more.

It was all an experiment.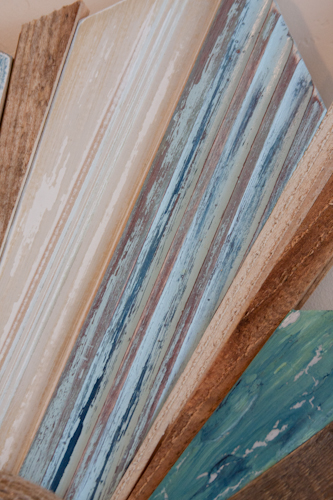 On both the white above I paint a few different colors, let it dry, then sanded with 220 sand paper.  That was already white then I started.  The blue one, I painted blue then sanded, then added a navy blue glaze, then sanded again.  I white washed the thin one next to the blue one.  A few I left natural.  Mostly the cedar ones.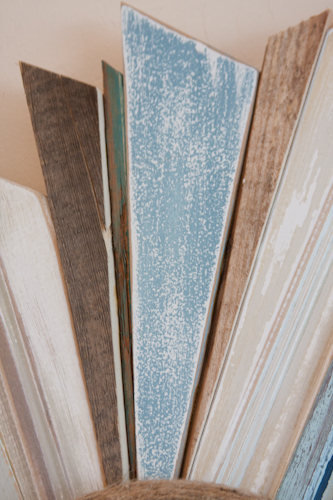 I just added the blue to this already white board then sanded with 220.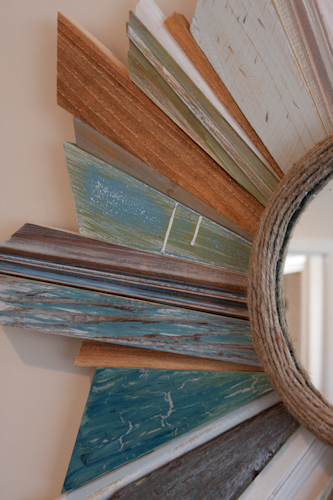 Some we dinged up with a hammer or nails.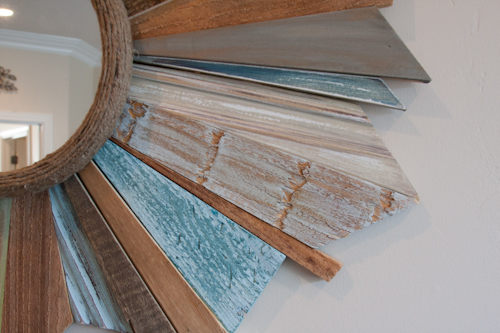 We also added a little gold leaf to others. You can't see it very well in the pictures.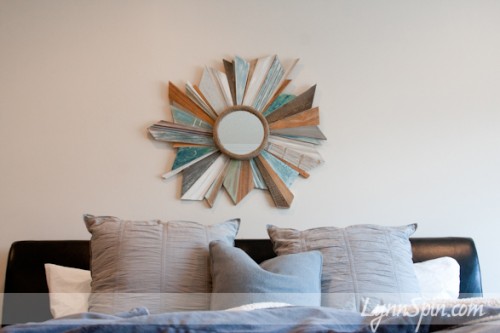 This was a fun project.  Now I need to work on that pillow situation 😉
Always a project at my house

Always getting crafty with my bad self!

TTTAAAAAA DDDDAAAA!!!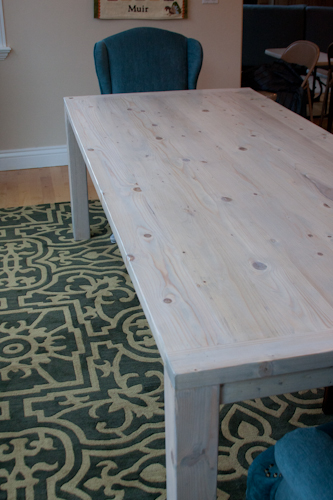 Here is two pictures of the table Devan made for me last week!  It is a beautiful solid table.  And when I say "solid" I mean sturdy, that bad boy could be danced on!

 I love it.  I mostly love the way it was built.   I am not sure if I love how we stained it.  I might be sanding it down and starting over.  The white wash didn't turn out how I hoped.  We will see about all that soon.
But!  I can't believe how quickly and well Devan made it.   I will be giving a tutorial and directions on the process next week.  But, for now here are two pictures to share.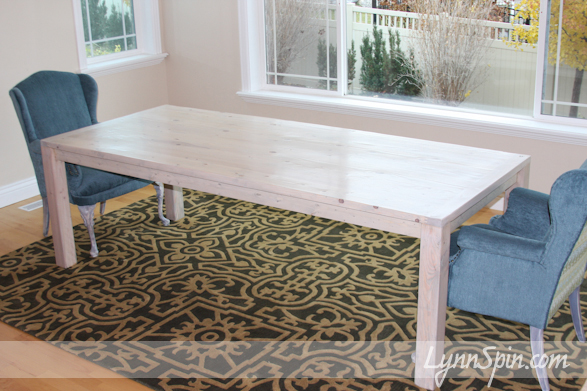 P.S. You could totally do this!  Just get a little DIY with your bad self and the hubs too. 😉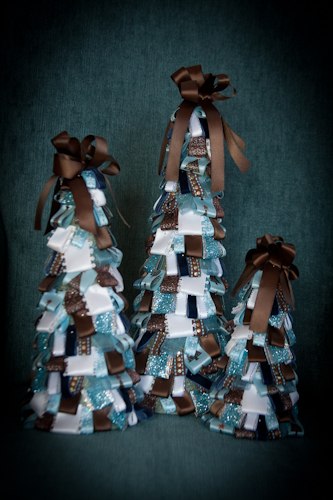 These tree are pretty easy they are just a little time consuming.  This is a sit in-front of the TV and watch a good show kinda project.  They make a great center piece at Christmas dinner.   I would normal make these red and green, but I made them for my mom and these are her colors.
Buy 3 different sized foam cones
A few different sizes, colors, textures of ribbon.  About 5 or 10 different ribbons.
A box of 3/4 of an inch to 1 inch needles.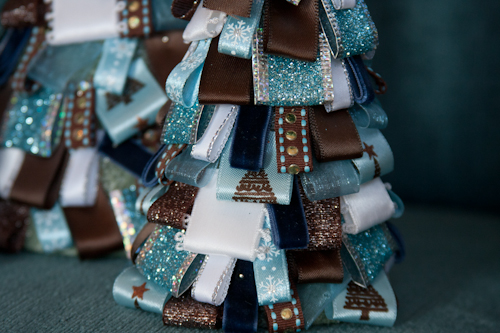 Cut the ribbon into 3 inch pieces.   Start at the bottom of the cone folding your ribbon in half and pinning it to the cone.  Work your way up alternating the ribbons in a pattern.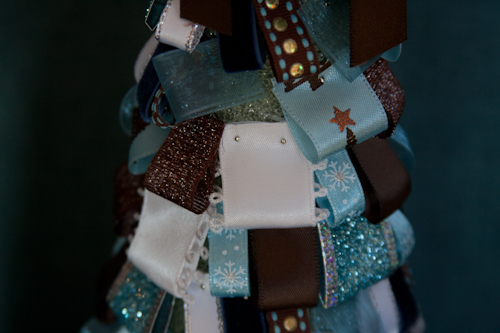 Create a bow at the top by twisting and pinning one of the ribbons.  Done!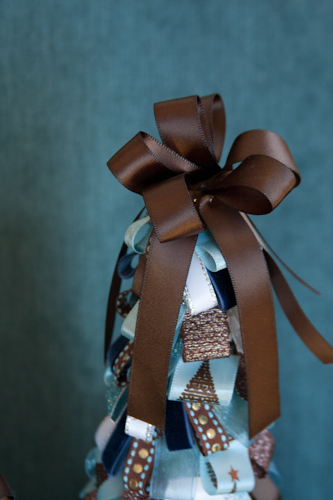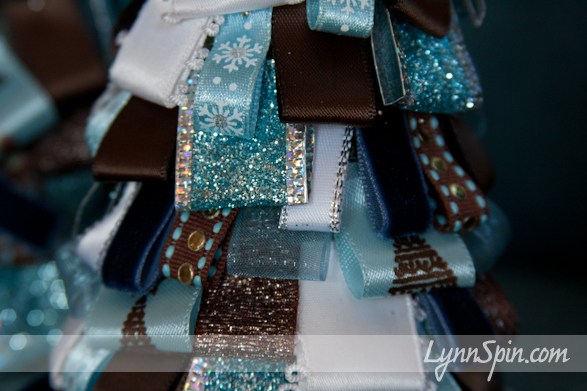 I have been wanting a chalk board for outside my house to write different fun things on.  Like those chalk boards you see outside of restaurants with the daily specials.  I looked them up online and they cost around $189 buck-a-roos! Crazy! I recently discovered a place called Re-Store in Orem, Ut.  It is for Habitat for Humanity.  You can drop off old cabinets, doors, paint, any building materials.  They use some of it and the public can come in to buy it too.  It's like a thrift store for building materials.  I love it.
I bought these two lovely old cabinet doors there.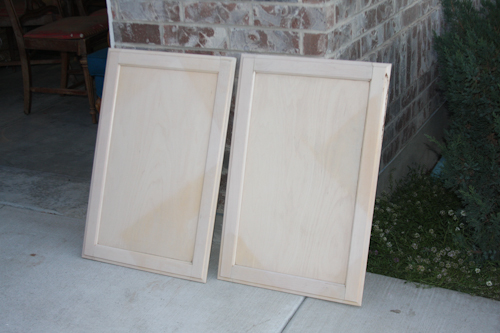 I painted them two different colors, to get more use out of them.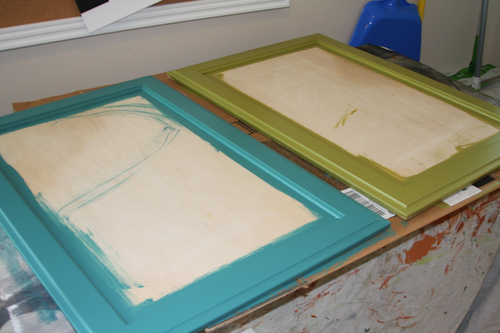 I tapped of the inside and painted on some chalk board paint.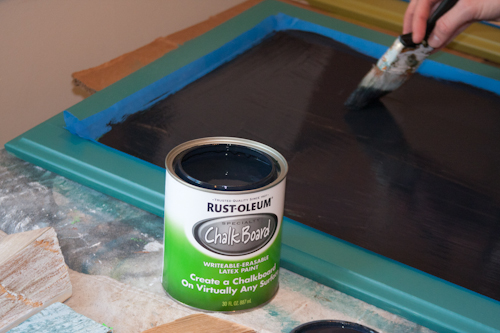 After that was dry, I turned them over and screwed in some regular door hinges to the tops.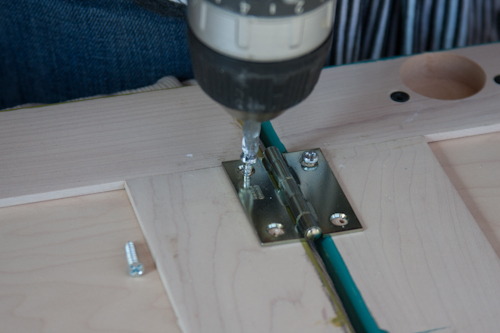 I probably should have painted the backs too, but I am too lazy.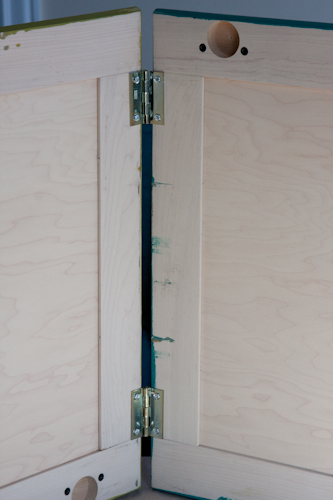 These are the top of the cabinets now attached together. (turned sideways)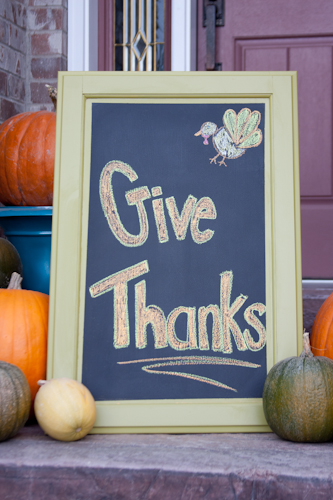 Done! Easy as pumpkin pie!  Took me only a few hours, mostly waiting for paint to dry, but was fast and easy!
And, because I had the hinges and the paint it only cost me the $2 dollars for the doors.  Sweet!  I LOVE projects like these!
Now I can use it all the time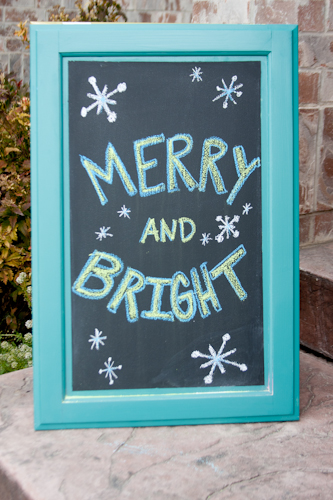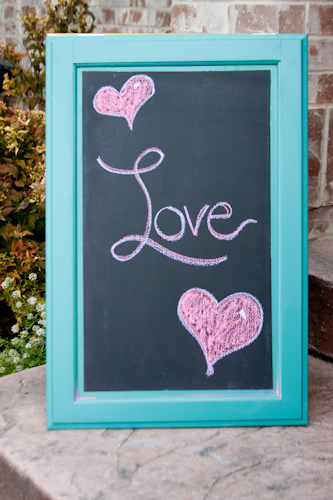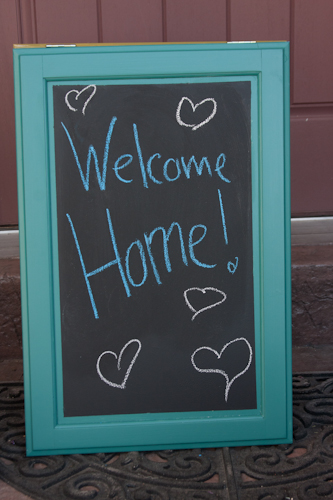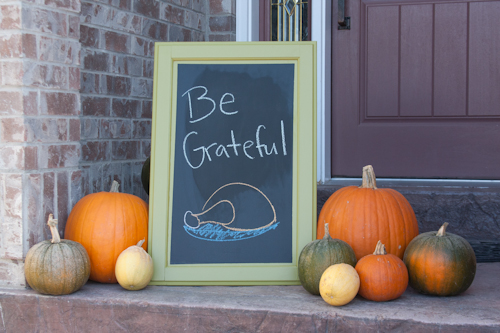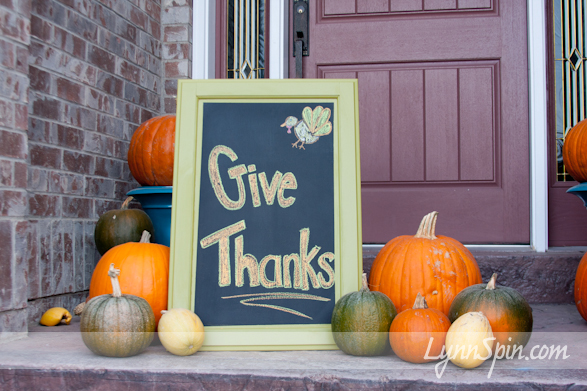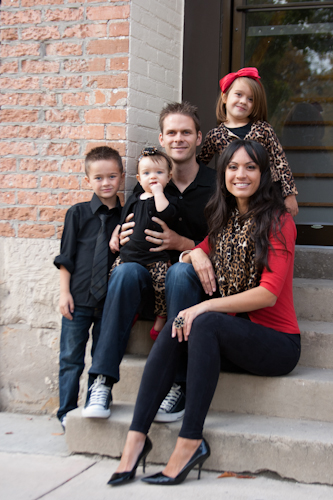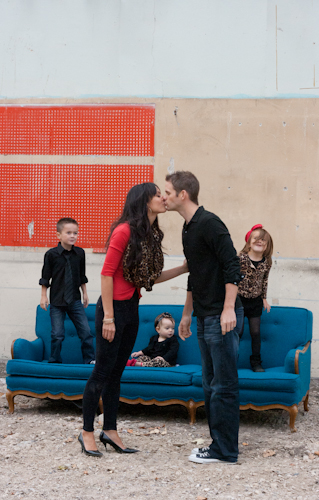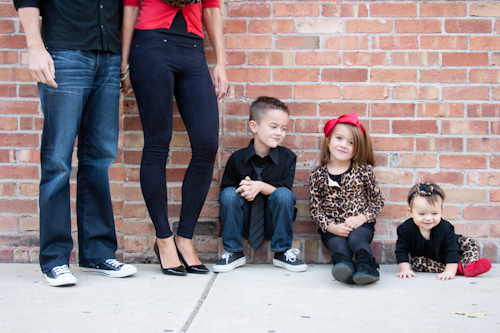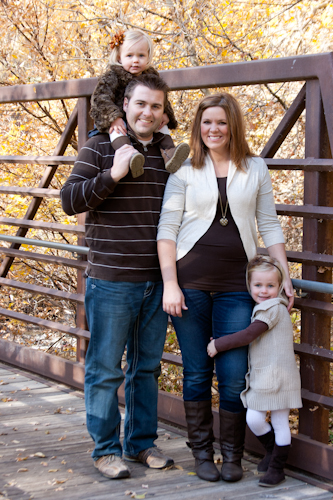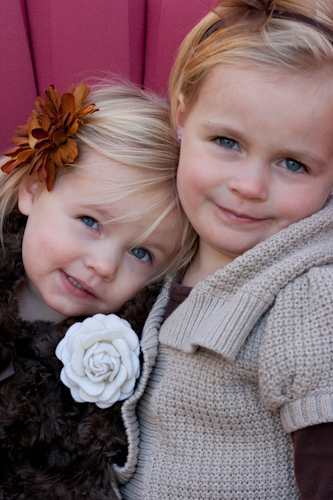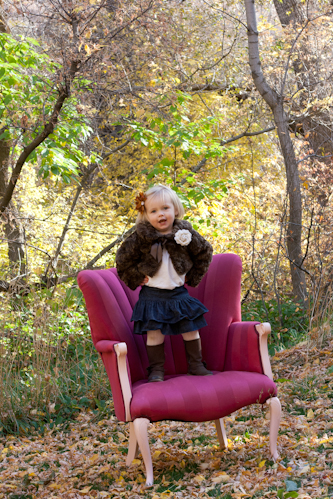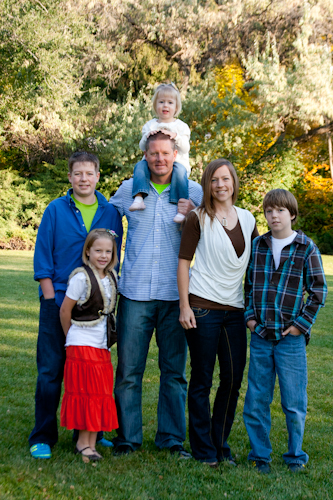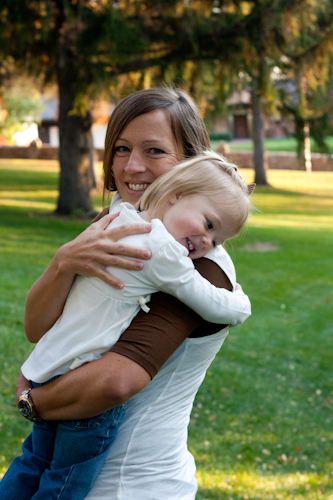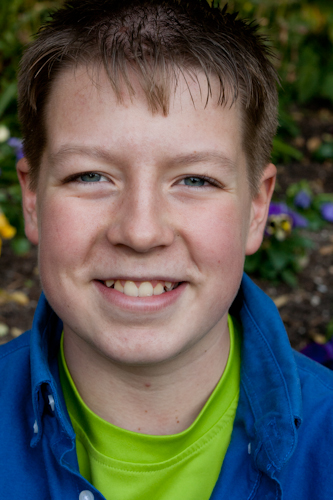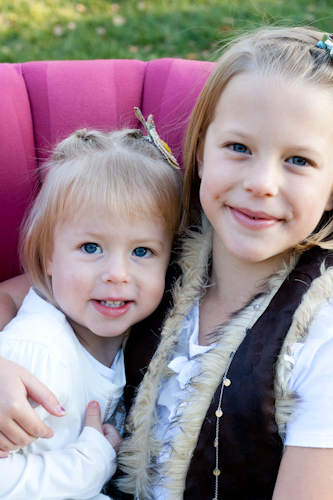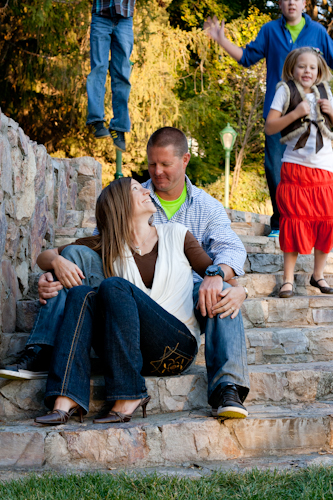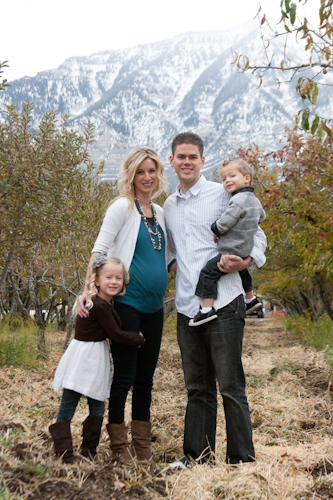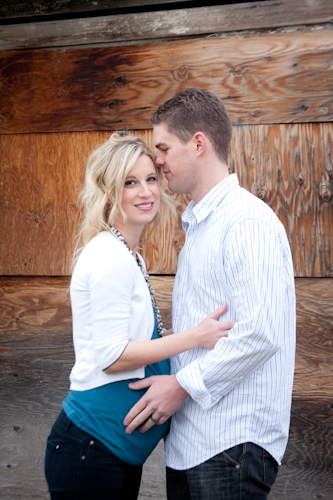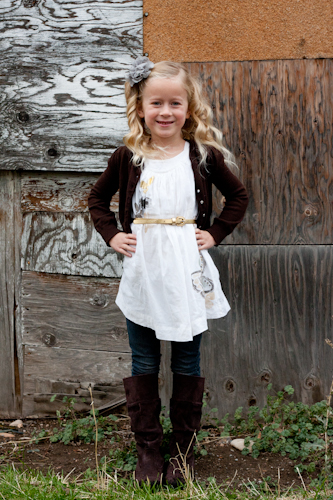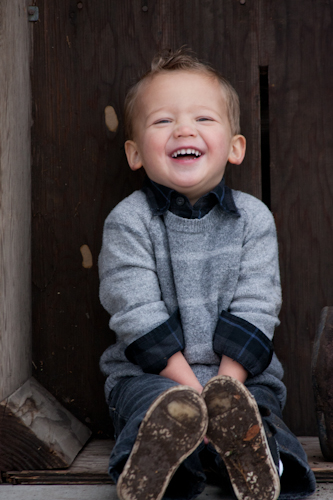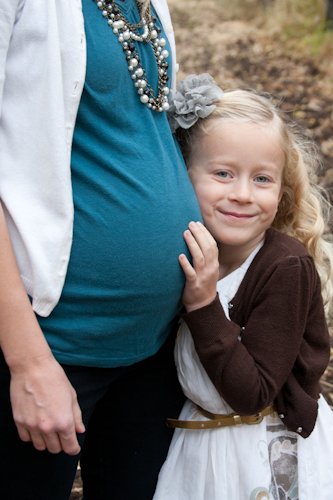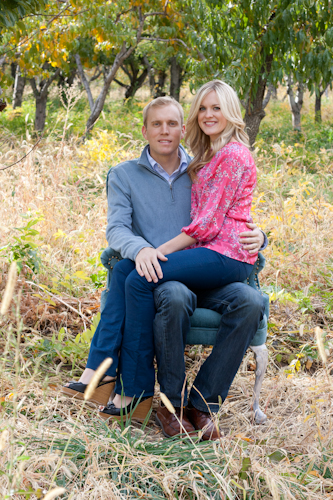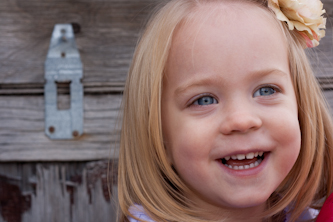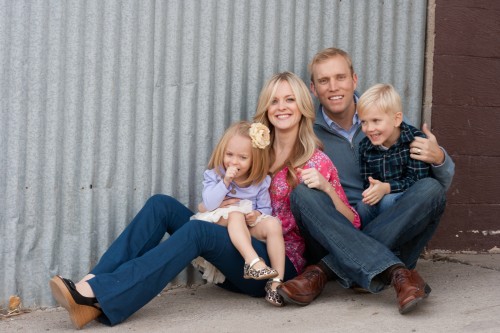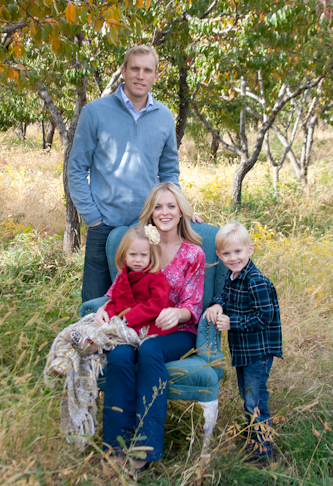 Okay, I know it doesn't really fit to make shell necklaces in November.  But, it is a good way to remember summer will come again and it's kinda fun as the snow is falling outside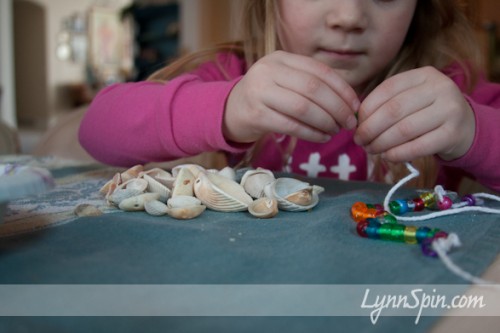 This could be a fun Family Home Evening idea.
Look through your pictures or scrapbooks of summer with your kids.  Talk about the things you liked about being at the beach, swimming, playing with them on vacation.  Maybe have them write down or draw pictures of their favorite things to do in summer.  Talk about the seasons that Heavenly Father created and why each one is essential.  Then bust out all those shells you collected last summer, get some string, and go to town.  You could even make hamburgers or Hawaiian haystacks for dinner- that's summerie.

 Or make a coconut cookie as dessert.  An easy FHE with almost no prep and it's hands on!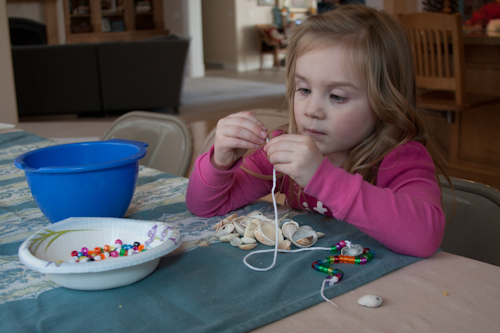 I wrap a little thing of tape on the end of the string for the little ones to help the slide the beads and shells on easier.  Charlie and I like to practice counting while she strings her beads.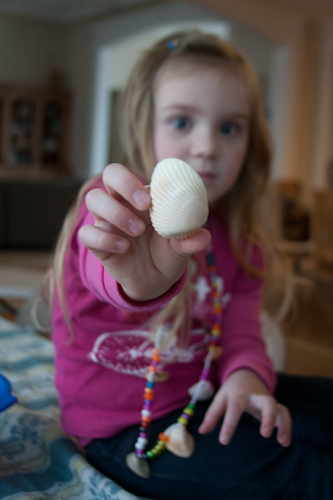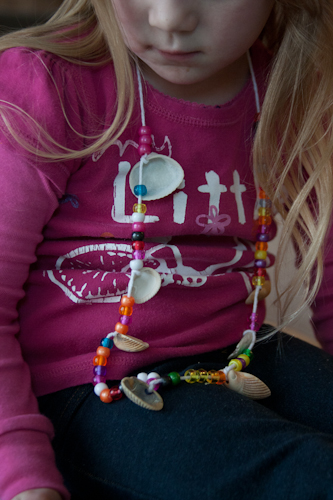 Oh summer days, please come back soon

 We miss you already