I found this rug online at West Elm.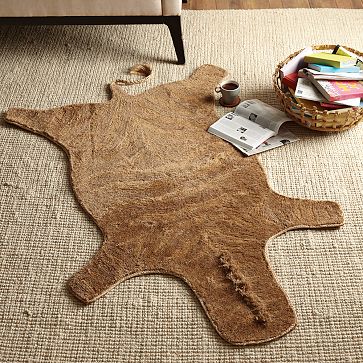 I loved it and thought it would look awesome for Beck's room, but, I don't want to spend that kinda moola on a rug for a 1 year old's room.  So! I made it

 I'm so cool

  It was another super easy five minute craft.  Sweet!
Here's how I did it.
I bought some fabric that wouldn't fray with a thick back and I wouldn't need to sew.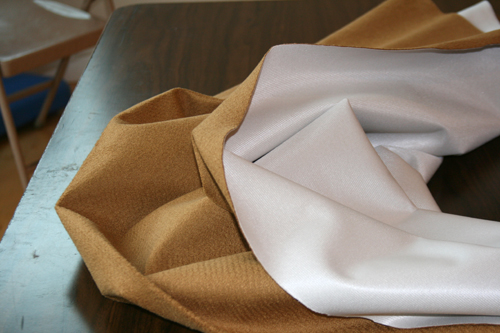 I printed out a picture of the rug.  Folded my fabric in half, draw an outline with chalk, then cut!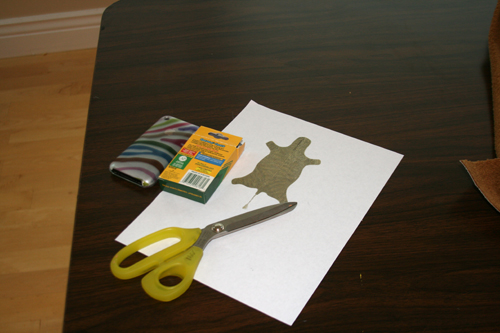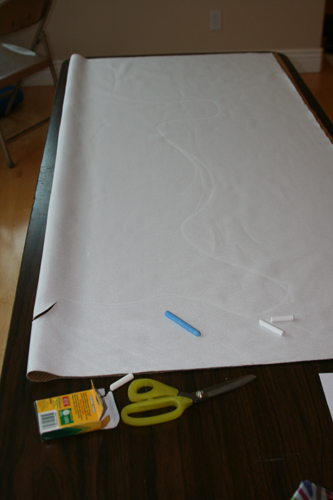 The outline was in white chalk, so it's hard to see.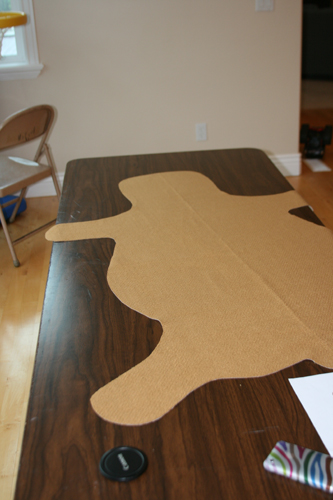 Then I took it to the next level and added a tail and a mane.
I used this-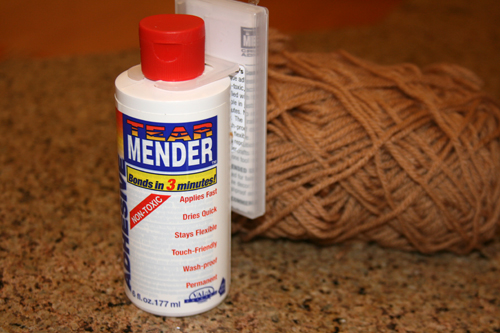 Tear Mender, it's great for creating without having to sew.
I braided some matching yarn and glue it on with the Tear Mender.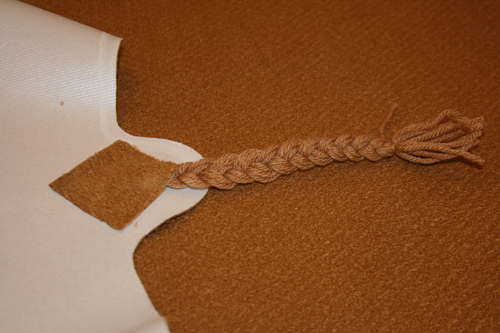 Then cut out some felt and glued that on too.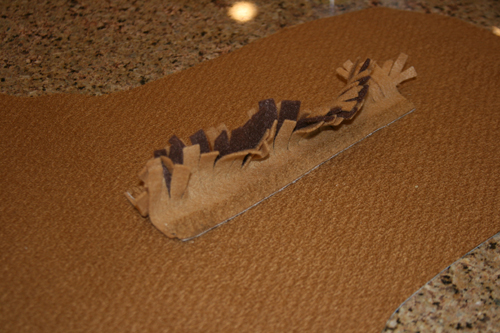 And waalaa!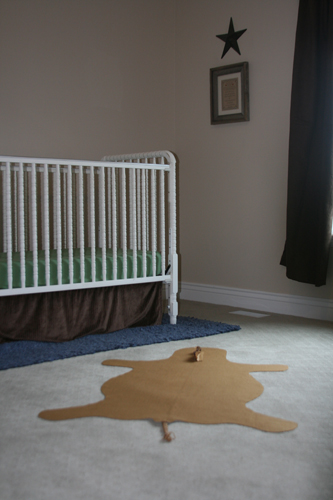 One faux animal rug.  I'm not sure what animal it is…looks like a horse.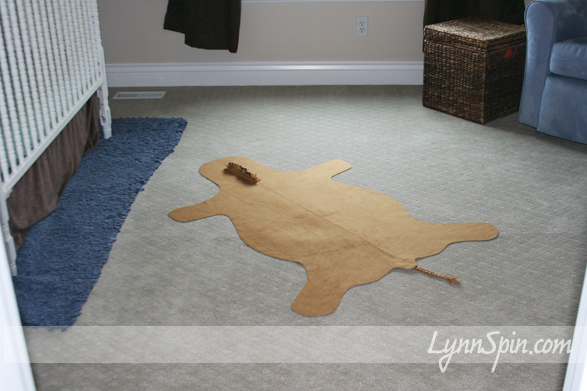 So I had a crappy Saturday.  I've been working on a dresser I bought off KSL.  And, I must have done something wrong on the very last step because the stain(that I spent hours on) started to come off as I applied the clear top coat.  I was P-I-S-S-E-D to say the least.  Then everything else that's not perfect in life right now just seemed to snowball and I was in a full blow crying fit before my husband knew what was going on 😉  (He's a good man, thank goodness)  He listen while I threw a childish fit about how I had "totally messed the dresser up"  "I miss San Diego, the beach, MY FRIENDS" ,  that I "Don't have" this or that and blah blah blah whine whine whine and cry big tears.  So, now that I have composed myself and realized I am not falling in to a never ending hole of doom and gloom, my dresser will be okay

I would like to share these pictures with you, they make me smile.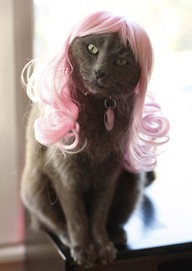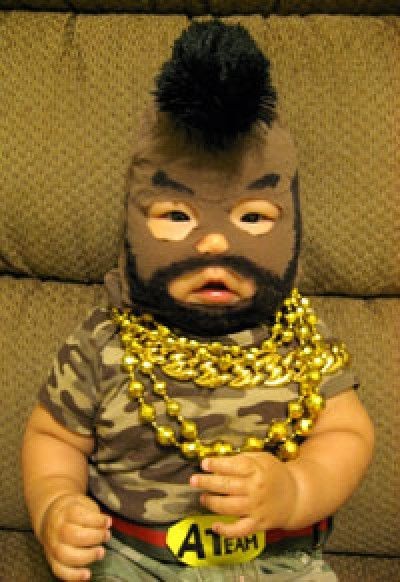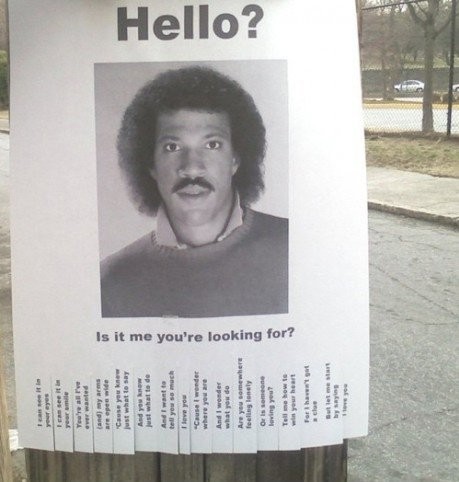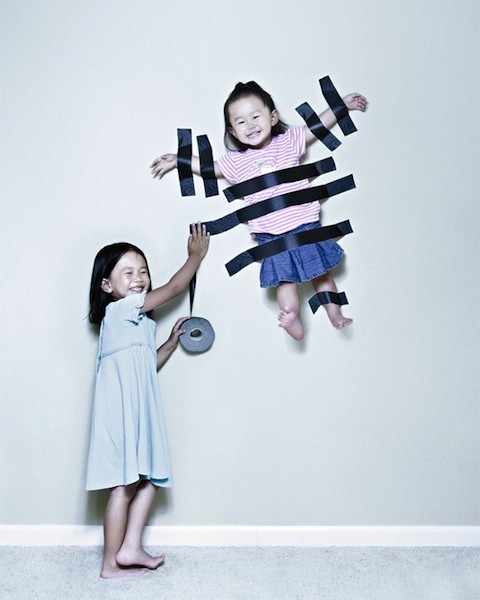 I wish I could do this to my kids.
For Photographer info click here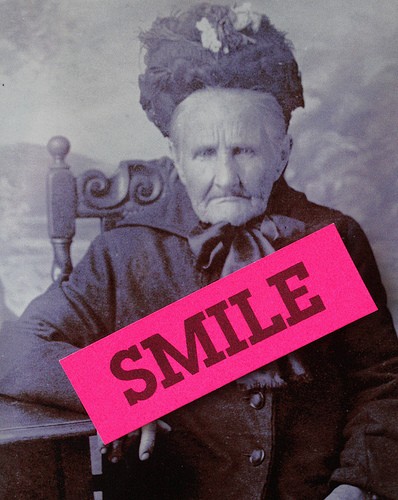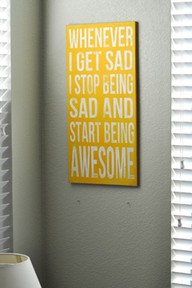 What I try to do

( Hopefully I share pictures of the dresser around Wednesday, maybe sooner.)
This is sweet!  Who thinks to iron fabric to walls?!!  Well now you will.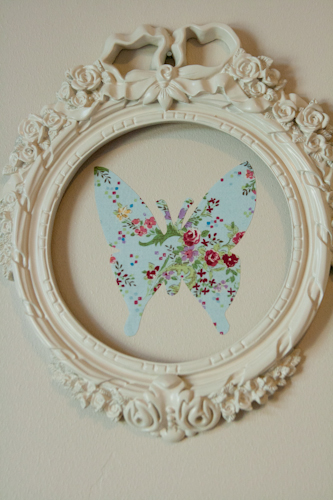 First of all, I am kinda a spray painting freak these days.  I sprayed this frame that I found for $1.50 at the thrift store last week. Perfect for this room.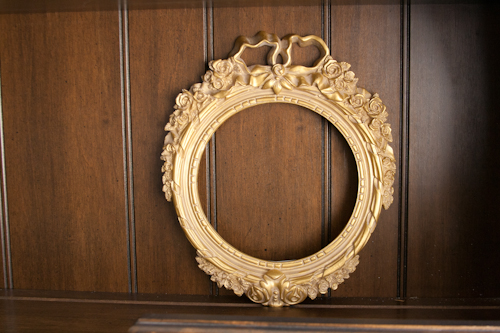 Then got started on my fabric butterfly.  I found a butterfly silhouette online, sized it right, printed it and cut it out.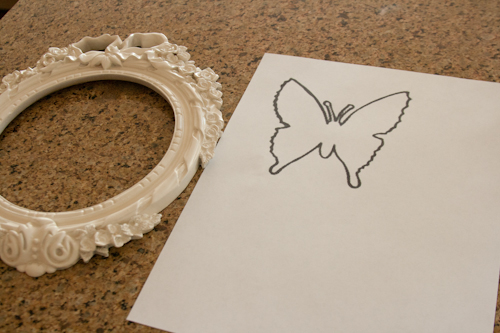 I applied (here's the trick) HEAT and BOND to the back of my fabric.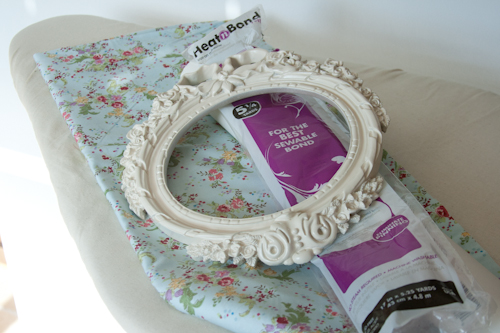 Then I traced the butterfly image on to the paper backing and cut it out.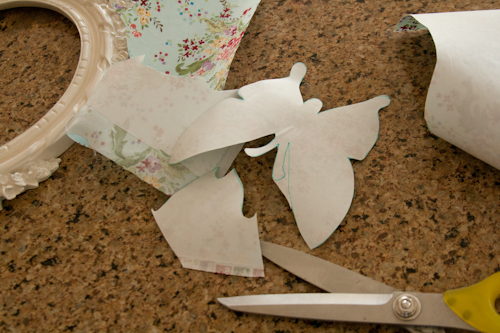 I then peeled off the Heat and Bond paper backing and ironed it straight onto my wall.  Sooo easy!!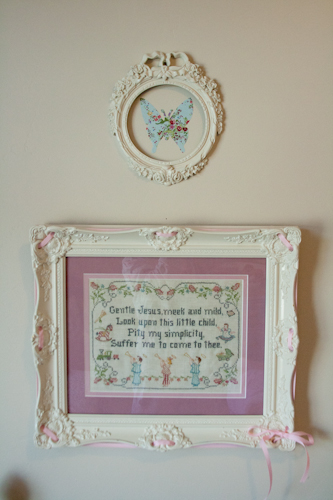 I am thinking I should have done a darker fabric, but oh well, it's cute! That the cool thing though, I could peel this off and iron another one on it about two minutes.
Here's a few pictures from the art I have made in Charlie's room.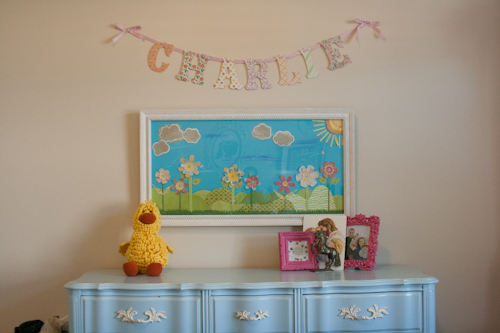 Find the painted dresser here.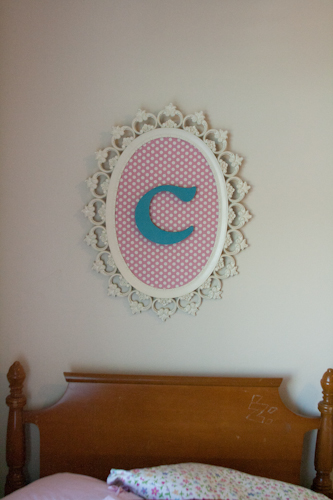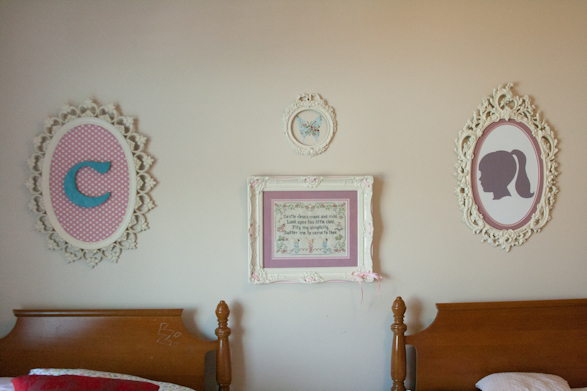 And here's how to make a silhouette.
I am hoping to get a little lamp to stick on the table between the beds and the bedding is in the mail.  It will be so cute when its all done.  P.S. those beds where mine and my sisters growing up.  If  you look close you can see where I carved my initials L Z in the wood.  oops

 And that cross stitch was given to my Grandma when my mom was born.  It hung over her bed, mine and my sisters beds, and now Charlie's bed.  I love stuff like that.


And make it pretty 😉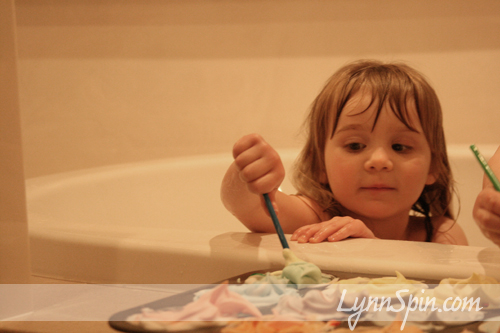 We found this tutorial the other day on another fun blog and wanted to share it here too.   My kids loved it!  And it was super easy.  Fun + Easy = Everyone is happy

All you do is:
get some sensitive skin shaving cream.
Spray it into a cupcake tin.
Add a tiny dot of food coloring to each cup.
Mix up well.
Then let the kiddos paint away.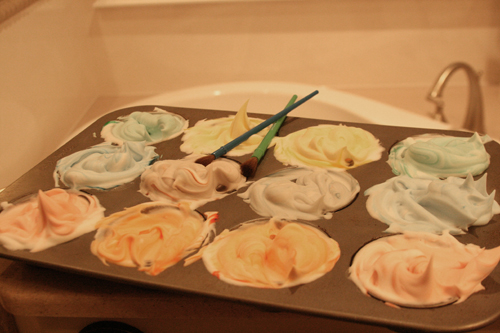 This idea was found at Meet the Dubiens Check out their blog, its full of great ideas for your kids.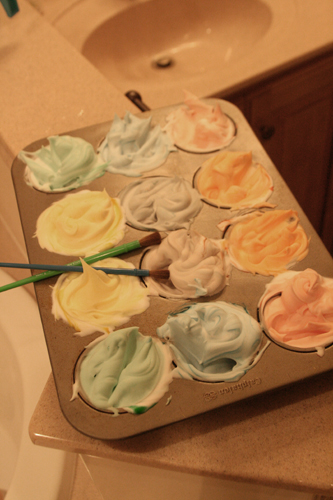 I have had these bottles forever, but in a box….
I just moved and now have the counter space to put them out.  I love them.  I bought these at an estate sale in San Diego.  I have many favorite finds from estate sales. ( Hmm.. I'll share the rest in another post soon).  Any-who, there are lots of tulips in my new yard so I thought they'd be fun in my fishy bottles.

 Makes me happy to have fresh flowers in my house.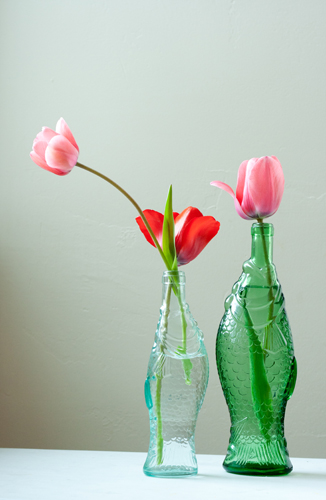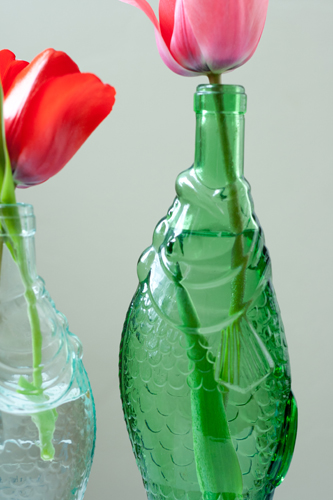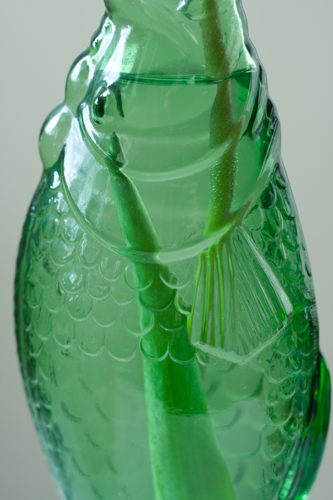 I love the details on these bottles.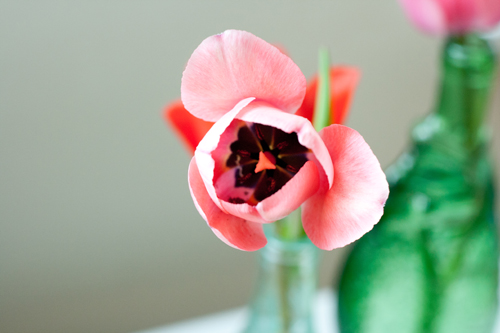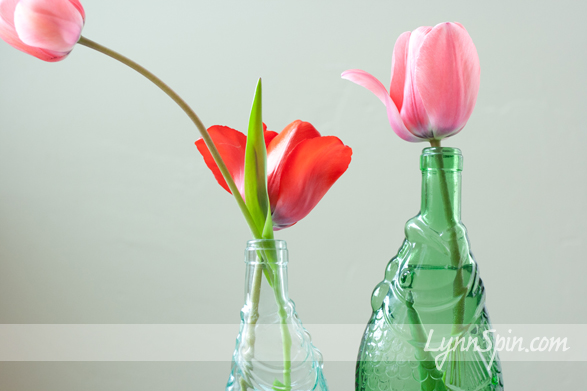 Do you have a fun vase that makes your heart happy?  Please share it by e-mail lynnspins@gmail.com and maybe I'll add it to this post.