Etching glass may seem a little scary, but it's actually very easy and fast.  My favorite kind of craft!
Here's a candy jar I am making for the hubs for Valentine's Day.  I etched "Be Mine" on it and filled it with a few different kinds of M&M's.  I am not going crazy this year for V-day, so I hope he likes it.  He will probably just be happy I didn't much spend money. 

  Men… hahaha
Here's how to etch glass!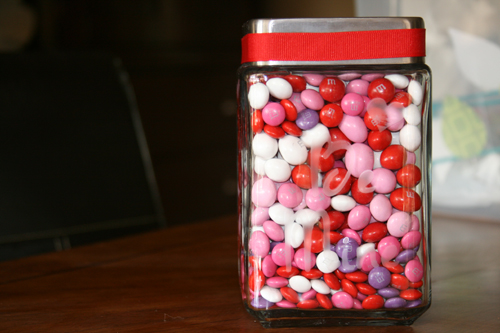 First find your glass.  I also like to etch my pyrex baking dishes with my name.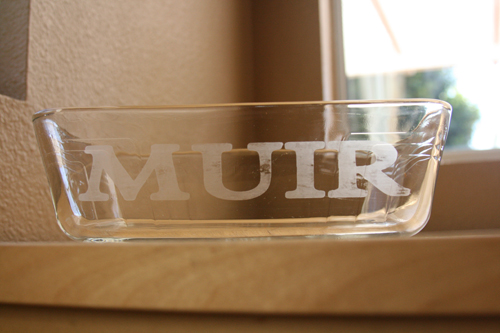 Next you will cut your letter's or image out of clear removable contact paper.  I can only ever find this at Walmart.  If using my cricut, I place the paper side down on the mat. This way I don't have to worry about flipping the image/letters.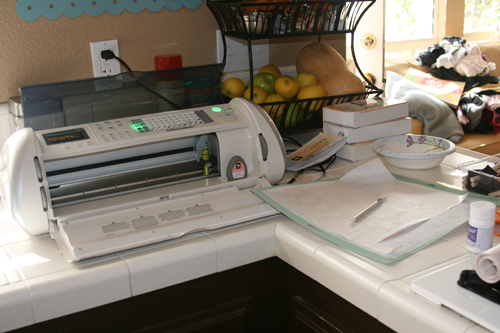 I use the Plantin SchoolBook font when I cut the letters for my bakeware.  I would cut at 1 inch for longer names, 1 1/4 for 5-7 letter names, and 1 1/2 inch for shorter names.
For "Be Mine"  I used the Opposites Attract font at 1 1/2
To cut the contact paper I have my depth at 2, pressure 4 and my speed at 4.  I cut all the way through the contact paper.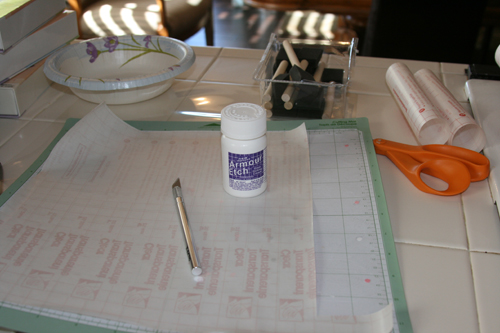 I think Armor etch works the best.  If you live in San Diego, you can't buy this at Michael's anymore.  You will need to go to Value Craft.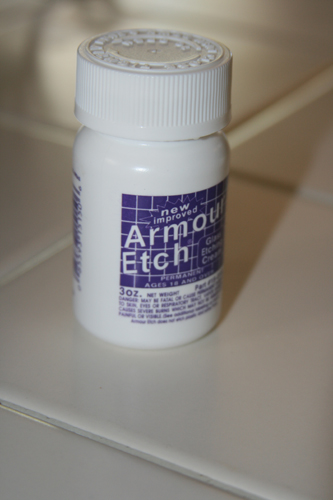 I then peel the paper off my cut letters and place them on my glass.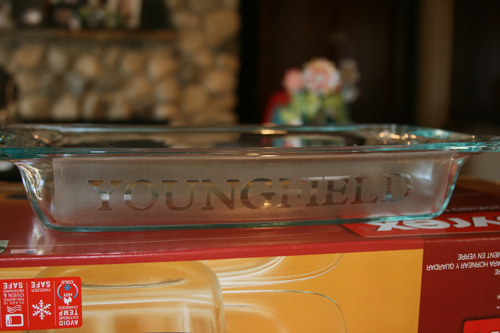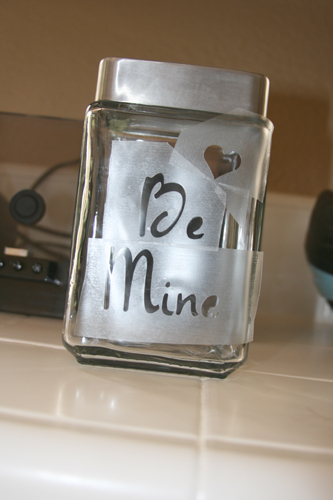 Then I put on gloves (cuz the armor etch will burn your skin, Yikes! Becareful!)
I glob the armor etch on to the cut out letters on my glass and let it sit for 10 mins.  The bottle says it needs only 60 seconds.  But, the longer the better in this case.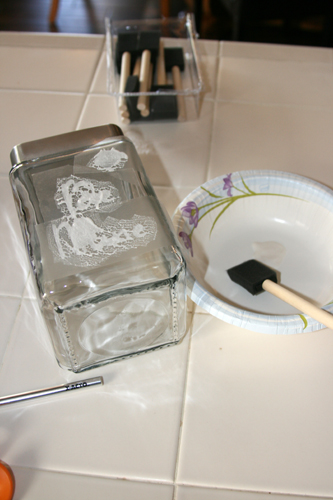 After it is finished, take it to the sink and wipe of the armor etch with a wet sponge.
Peel off the contact paper and rub with a dry paper towel.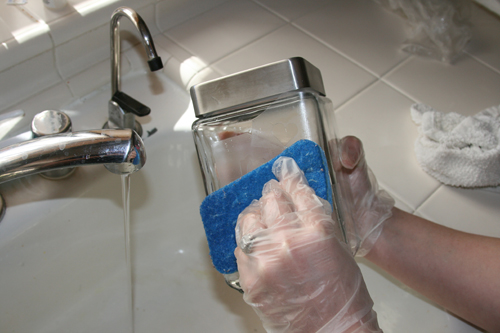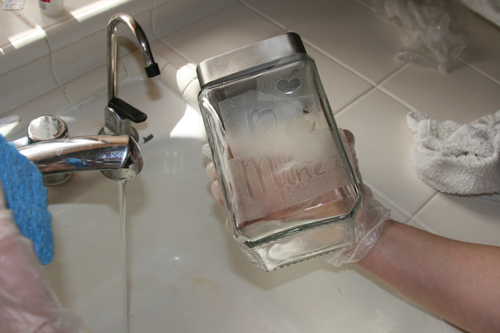 You can still put your pyrex in the dish washer after you etch it.
I then filled my jar with candy, although lingerie would be fun too 😉
Done!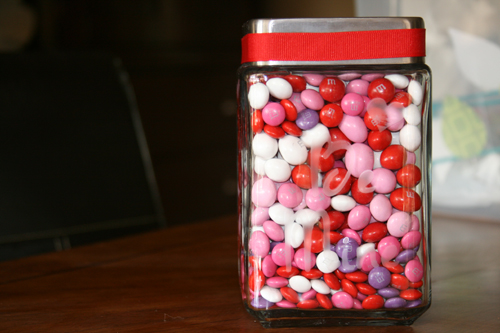 You can see it much better in person.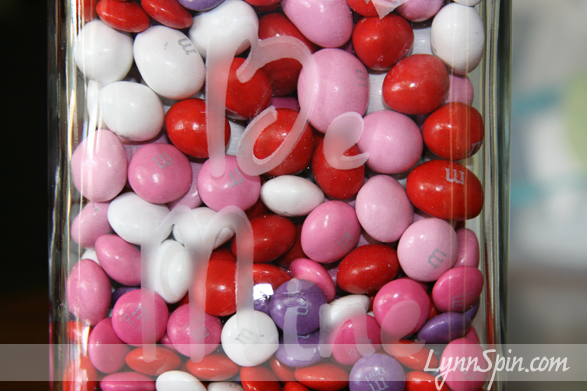 Yuck!  I hate this tile… it annoys me so.  Today in my madness of spring-ish cleaning, I thought I conquer the nasty dirty grout.  I feel like I have tried so many things to clean this.  But!  good news I found something.  AND MAN!  It was amazing.  Who knew Lemons and Baking Soda! My friend Cynthia did a little class once on using lemons to clean and inspired my to try this out.
I didn't measure things out.  I used one lemon and a whole-lotta baking soda to make a paste.  I spread it around my grout and then scrubbed a little.  Waa laa magic!
Dirty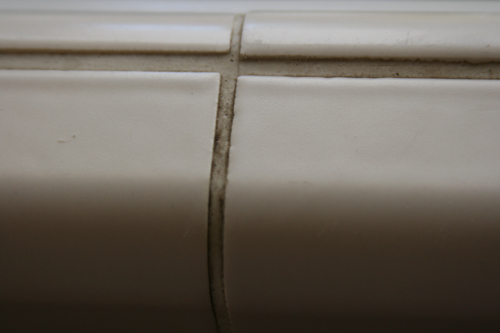 Dirty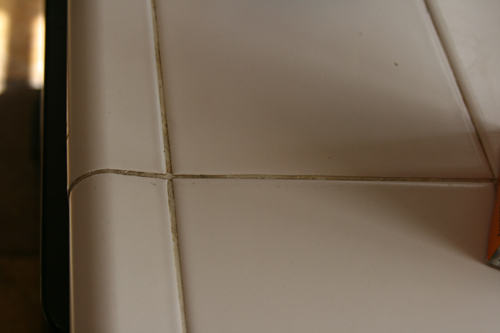 Clean!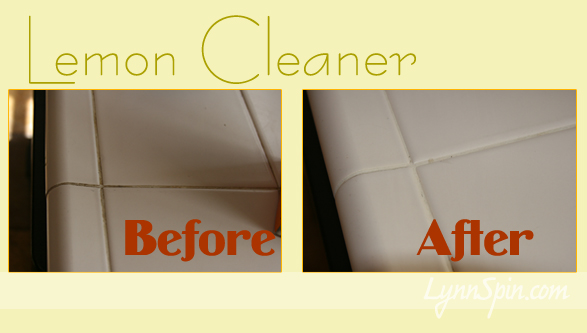 My Relief Society group had a night of lemons!  With little mini classes on cleaning, decorating, and eating them.  Very fun night.
Relief Society is a world wide organization for women.  Find out more by clicking here.