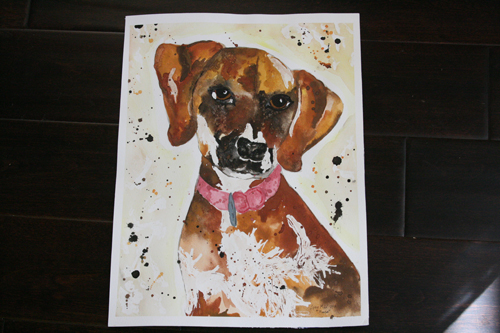 This is Moose, my friends dog.  One day my friend asked if I could paint her a picture of her dog like a painting she had seen at The Pioneer Woman's blog.   I haven't painted for a long time, but I love watercolors.  The painting she liked was a watercolor so I thought I could take a stab at it.  I haven't painted for two years.  I remember the last time I tried; I strapped my 3 month old (at the time) in the baby bjorn to my chest and attempted to paint.  A few drool drops later and I had to stop.  I was in heaven yesterday painting this, it felt so good to be painting again.  I am glad my friend gave me the challenge to put paint on paper again.
But, enough about that.  Here are a few tips to help you with your watercolors.
Use the white of the paper-not white paint.  It looks so much better.  To help with this some times, I use something called "art masking fluid".  It is kind of like rubber cement, you can peel it off the paper after you are done painting.  It seals the paper so that paint doesn't get in places you need to stay white.
Here my other tip-  Look at artists paintings that you like to get ideas and try different techniques.  Don't be scared!  Just keep painting.  And paint the same thing twice if you have too, I do all the time.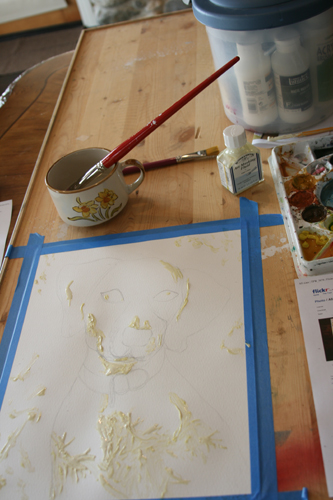 You can see here how I used it.  I sketched out the dog just a little, the put the masking fluid on where the fur is white and in the eyes.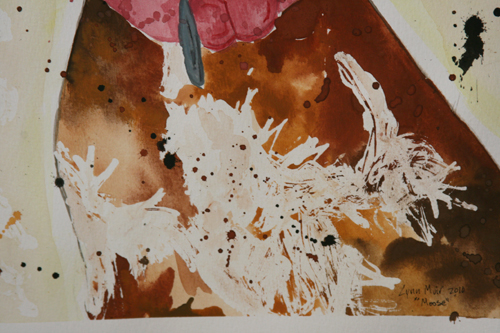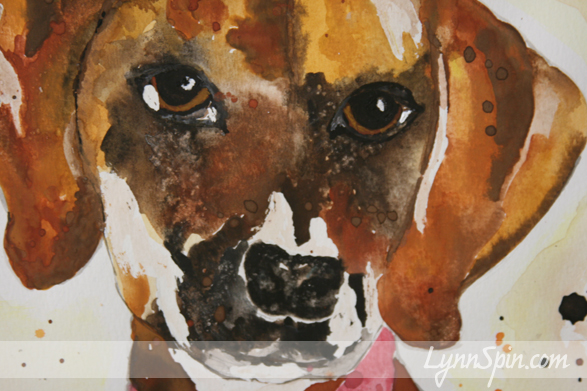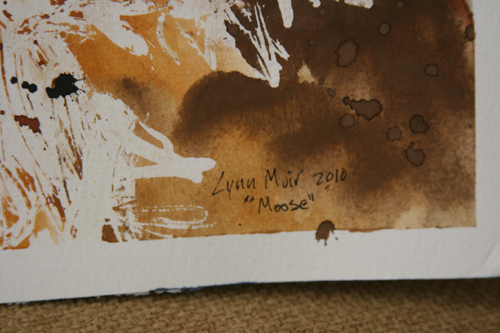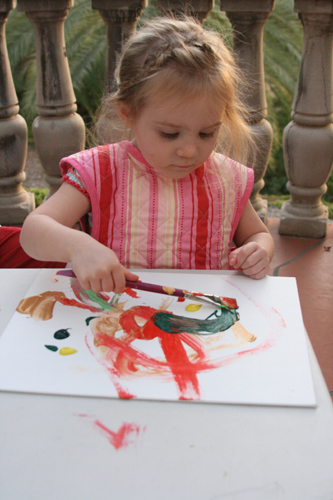 Charlie who once drooled on my painting is now becoming quite the little artist too.  Maybe the drool was the start of it 😉
Get Crafty with Your Bad Self!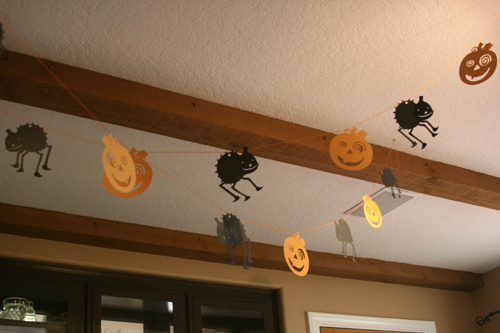 It was hard for me to get a good picture of this.  But you get the idea right?

  Super easy craft to spruce up the dinning room table.  I used my Cricut machine to cut these out.  I used the "Use your imagination" front cartridge.  The spiders were 5 inches and the pumpkins were 4 1/2 inches.  I needed a little more decoration for my annual pumpkin carving party!  Super excited about it!  My hubs and I met- well first spoke to one another while carving pumpkins.  So in honor of that we have a pumpkin party carving party every year.  How romatical

Enjoy your Halloween!!  I am now off the pumpkin patch!  Peace out!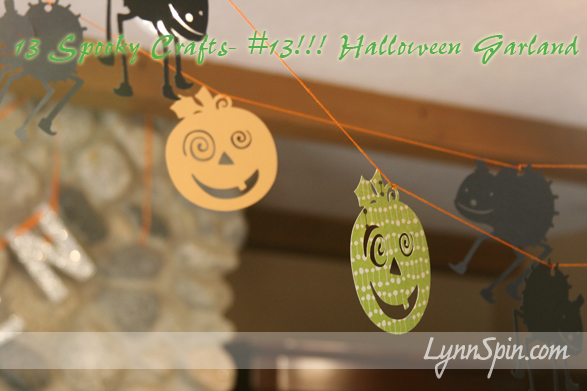 Can't believe I actually did 13 posts about Halloween.  Yikes-a-Ronda!
Get Crafty with Your Halloween Decor!!
My clever friend Katie came up with this craft.  I had to share it with y'all.  I randomly found spider paper my mom had given me years ago and had blocks left over from the boo plaques.  I had to make Katie's cute craft!  It was just what I needed for my fire place.
Here is a  picture of the one Katie made.  It is on 4×2 blocks.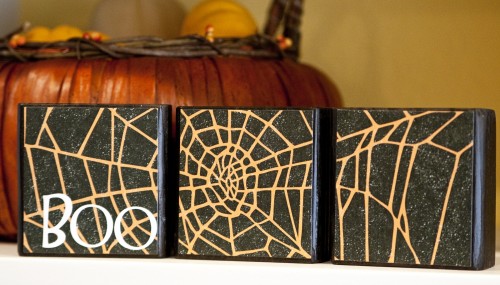 Mine were on 6×2 blocks.  I think the 4×2, like the ones Katie did would be much better.  The EEK was cut with my cricut with the Schoolbook font.  The first E is 3 1/2 inches and the rest is 3 inches.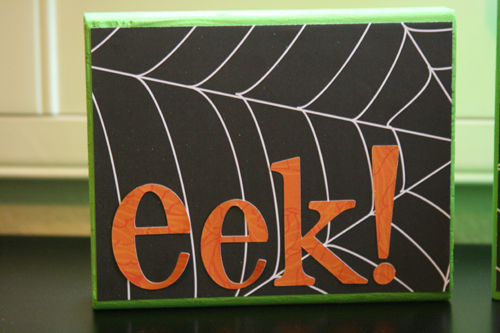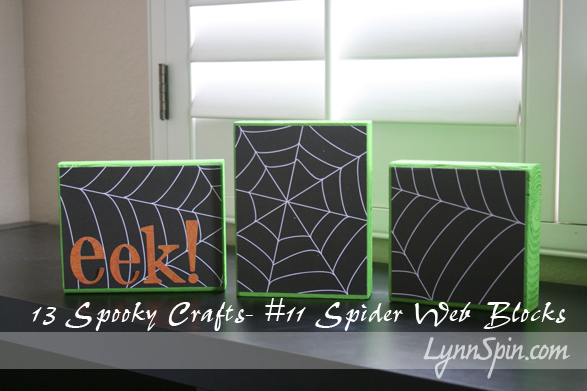 I wanted to add a little decoration to my Boo Plaque's.  I found this skull in a bag-o-skulls at Michael's and then  I painted it green and sprayed it with glitter.  I had to poke a hole in it so I could hang it from the Boo Plaque- that was a little weird, but it turned out cute and extra spooky!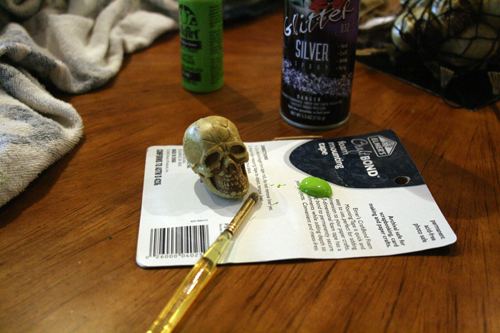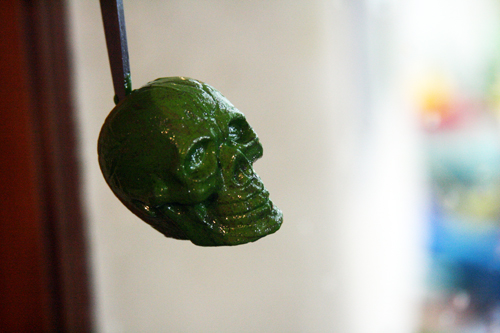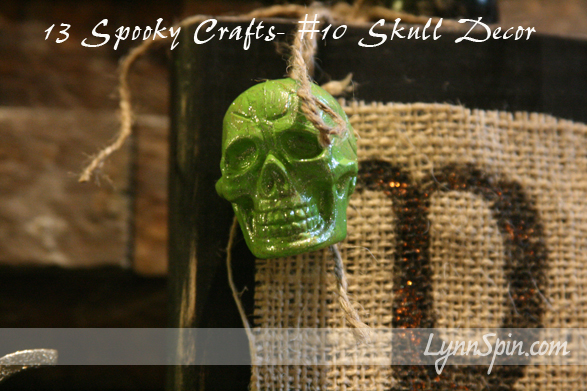 Get Spooky with Your Bad Self!
Yikes!  Spiders!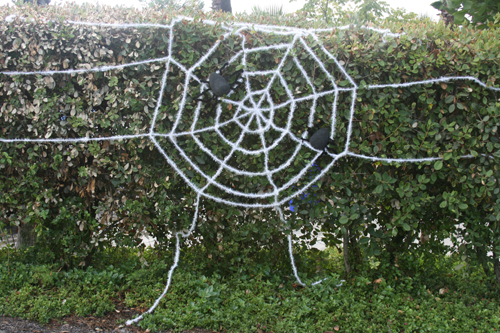 These spiders are pretty easy to make. You need:
Black tights
hot glue
Styrofoam egg
Scissors
Black pipe cleaners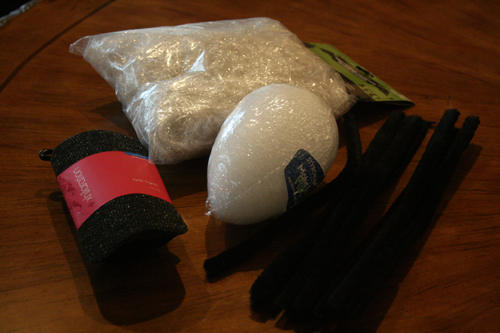 First cut the egg in half.  Then slide the tights over the egg.  Cut the the tights and glue the ends down.  Pinch the pipe cleaners in the middle and twist once to get a knee. Now glue on the legs.  For shorter legs use one pipe cleaner for both legs.  Glue a piece of felt on the bottom of the spider to cover where you attached the legs.  Done!
(sorry pictures are so dark, it was a rainy day)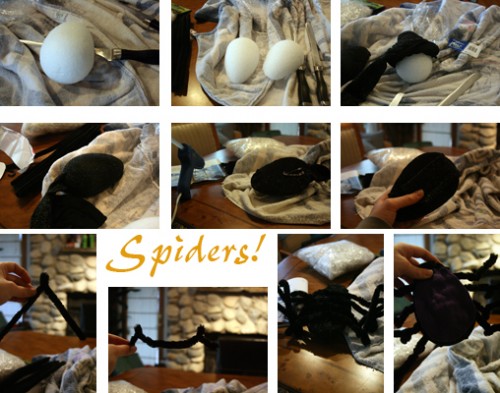 I bought the web at Lowe's.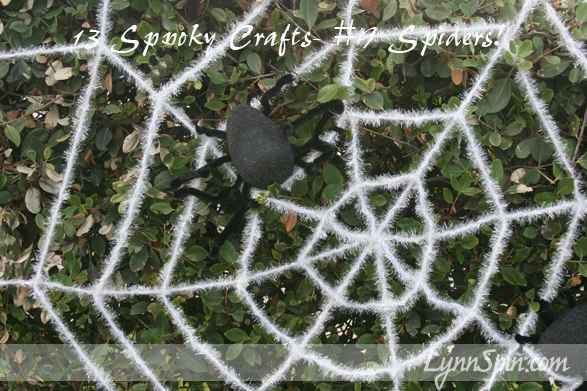 Get Crafty with Your Bad Self!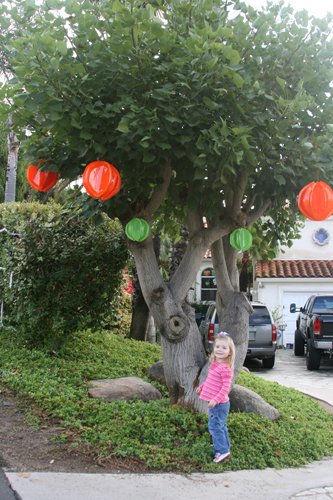 These are easy and cheap to make!  Fold six plastic plates in half, hot glue them together to form a ball, attach some string, and hang from a tree!  Easy!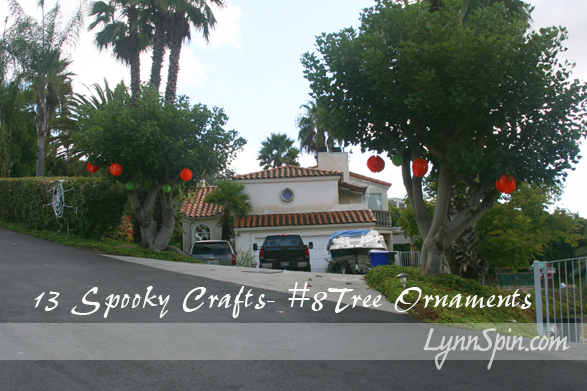 Get Crafty with Your Bad Self!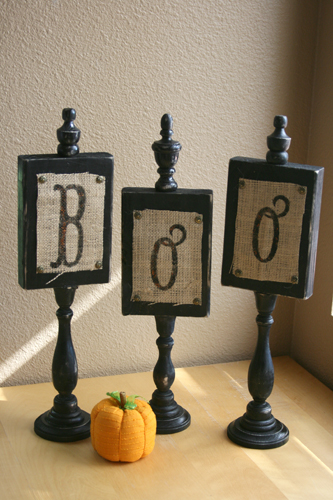 This awesome craft was found at Shanty to Chic; by my best bud Allie in search for a Super Saturday craft.  Allie has good taste.

I browsed through Shanty to Chic's Blog and they have some cute stuff!  Check them out! Their Plaques say JOY, but after thinking about it (and being in the Halloween mode) I decided to put Boo on it.  I love how it turned out.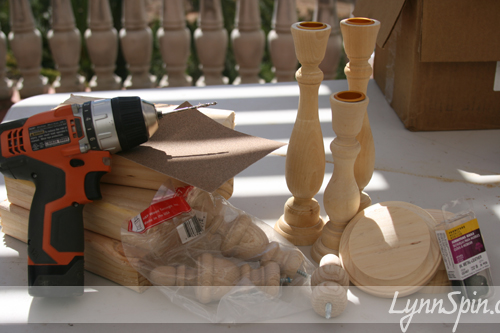 You need:
3 3in wooden circles
3 wooden candle sticks.  Two tall and one short. You can find these supplies at Michael's in the unfinished wood section.
3 Finials- Found mine at Lowe's
3 8in pieces of 2 x 6
Liquid Nails (I did use Gorilla Glue, but on other ones I made I found I preferred the liquid nails.)
Black paint or spray paint
Burlap
Boo Stencils- made mine with the cricut and heavy paper.
Spray adhesive
Decorative nails-Upholstery Tacks
Sand Paper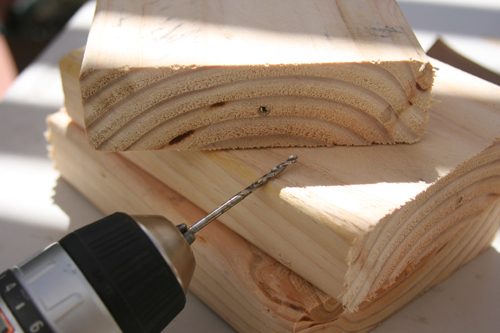 Start by cutting your 2×6 in to 8 inch pieces or have the nice man at Lowe's do it for you.  The sand down the jagged edges.  I drilled a hole in the top to help the finials go in easier, but you can just use your muscles in twist it in.  FYI I did this a little differently then Shanty to Chic, but look at theirs too and decide what works best for you.
I then used my liquid nails to glue the base circle to the candle stick.  I centered it, pushed it down hard, and let it dry for 20 mins.  If you want to you can tape to hold it together, but with the liquid nails it's not a must.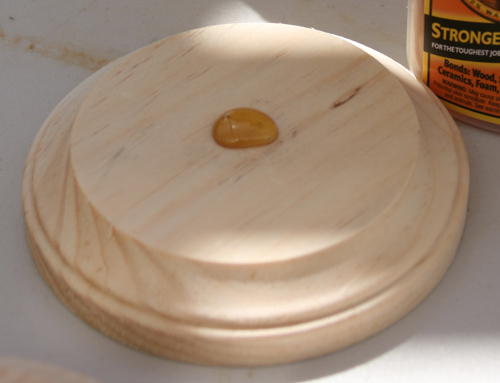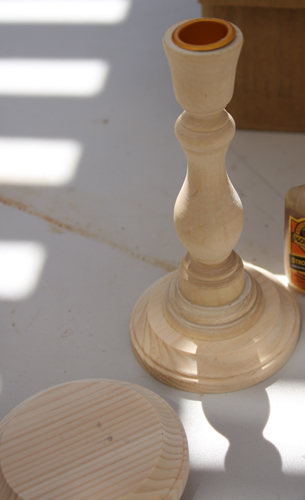 After that's dry glue the 8inch piece to the candle stick.  If your candle has a metal holder in it rip it out with pliers, so that wood glues to wood.  You can either put your finial in before you glue the block to the candle stick or after it has been glued and set.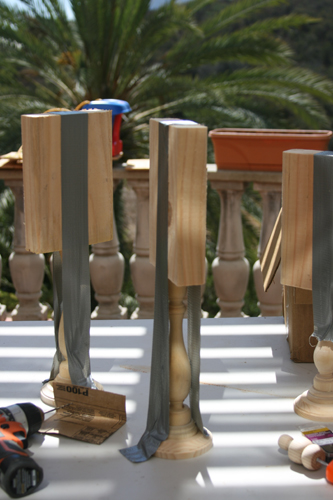 Again the tape can help, but it's not a must.
After you put in the finial and the glue has had time to dry, it's time to paint!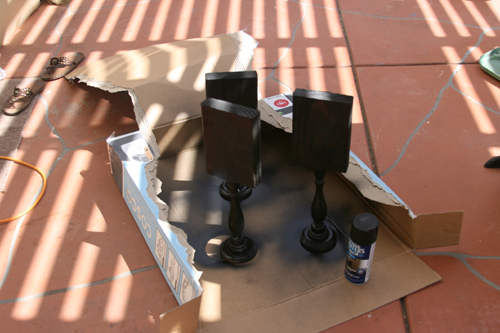 I used spray paint, but when we did this for Super Saturday (big church craft day) we used regular paint.  So either way is good.
While that was drying I cut my three burlap pieces.  I cut them 4×6.  I made a stencil for the letters using my cricut and the Storybook cartridge- font The B was Tall and the O's were Fancy and they were all 4 1/2inches tall.  Originally I did these out of heavy paper, but for Super Saturday I made them out of quilters plastic.  This was a bit tricky, but use a deep cut blade, dept at 3, speed at the highest setting, and pressure at a 3 or 4.  You can buy a sheet of this at Joanne Fabrics. Buy two sheets incase you mess up, less driving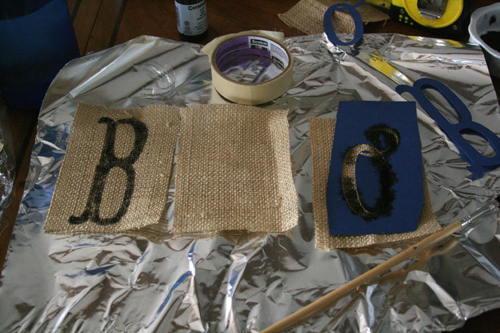 I lightly put the paint on to keep the lines sharp.
For Super Saturday we did JOY on the Front and Boo on the back. Multiple uses, nice!
Now if everything is dry spray the back of the burlap with spray adhesive and attach to wood block.  This will keep it from stretching. Push your upholstery tacks in the corners of the burlap.  You're done!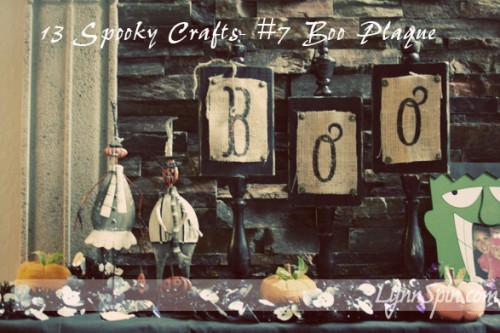 Get Spooky with Your Crafts!
Check out Shanty to Chic's blog!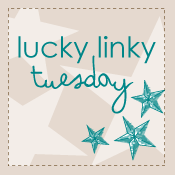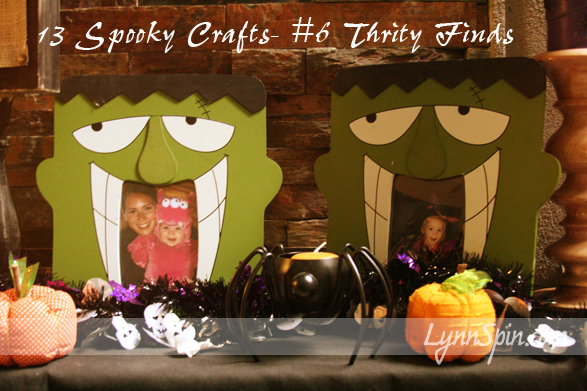 A few years ago I found these sweet frames at the Goodwill.  They put out all their decorations and costumes about the same time as most stores.  It is always fun to check out what they have and find a treasure.  They had tons of these frames.  Also the spider in front of them was in Pottery Barn a while back, maybe still is.  But, good news Big Lots has them for like $3.00. The dollar store also has sweet decor.  I bought a chain necklace with a sparkly skull on it and hung it on a door handle-voila!  Spooky!
Another fun way to decorate that doesn't cost must is a black boa.  I used my Micheal's coupon and bought three to hang above door frames.  Makes things very spooky 😉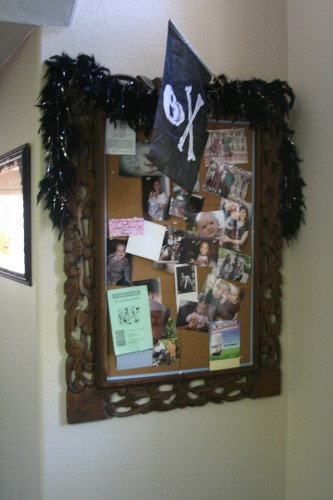 Get Crafty with Your Bad Self!
OK, so this is not that creative I know.  But, I really love this.  I love glitter, especially during Halloween.  I got these letters at Jo-Anne Fabric's in the dollar section.  I just looped them through some string and thumb tacked them to the ceiling.  You could also cut out letters on your circuit or other die cut machine and make this.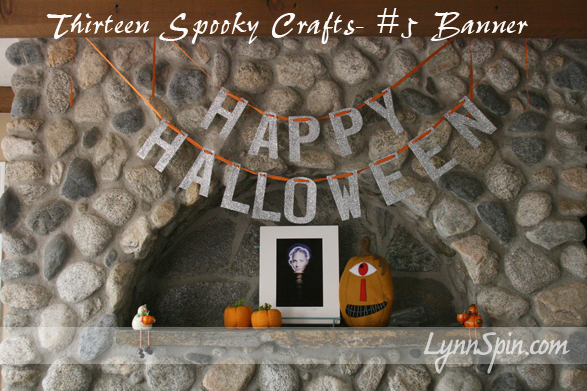 Just had a fun thought.  You could use the birthday banner instructions found here to make a sweet Halloween Banner.  OOooo Good idea.  I will do that next year.  I am up to my ears in crafts right now.  My Super Friday-(yearly church craft day) is tomorrow and I am in charge! I am kinda sick of driving to Micheal's, Walmart, and Jo-Anne's – which I never thought I would say.  Because of that my 13 spooky crafts will resume on Monday,  I am going to need a break after tomorrow 😉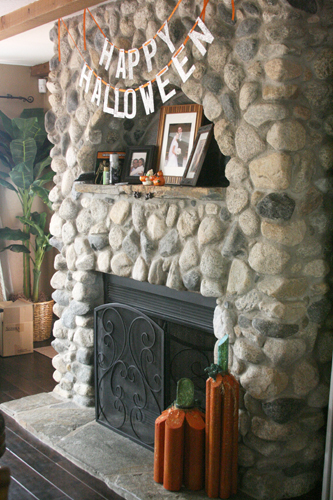 Also I have a new button for my fabulous 13 days of spooky crafts.  Get it here

Thanks!!- Lynn
Here is something to do with the kiddos this week.  They will have fun and you will feel like a "the best" mom 😉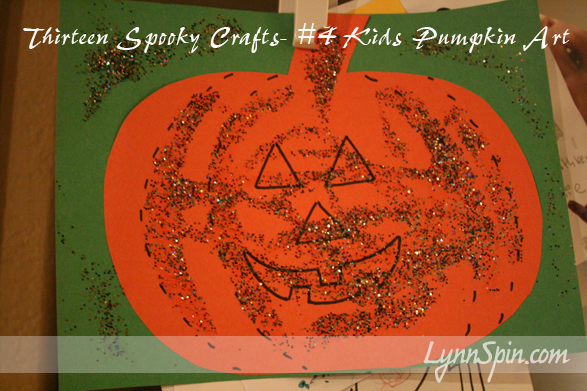 You need:
Glue stick, glitter, orange and green paper, a marker, and scissors
Cut out the pumpkin- if the kids are old enough draw the shape of a pumpkin and let them cut it out.  Draw a face on it.
Glue the the pumpkin to the green paper.  Let them use the glue stick to rub on the paper, then help them sprinkle the paper with glitter.  Shake over a trash can to remove excess glitter.  Add more glitter if you want.
My husbands super cool Aunt Kathy did this with my two year old while I went to the gym. (I am totally stealing her idea.)  Thanks for entertaining my little lady! Charlie loved it.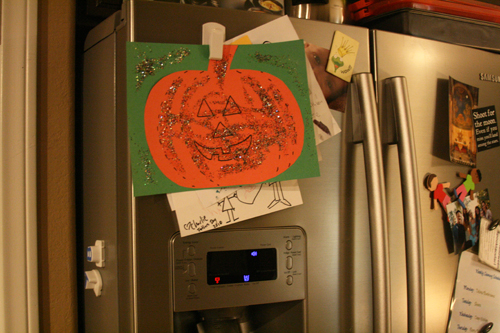 Stick it on the fridge!
Get Crafty with Your Kids!