This  is a cake I like to make!  I don't eat it, cuz it got nuts.  But, my hubs loves it and so does the rest of his family.  It's a Sandra Lee recipe from Food Network.  Sandra Lee takes things that come from a box and then she adds her own little touches to make them great.  An easy way to cook, I like it.  Try this!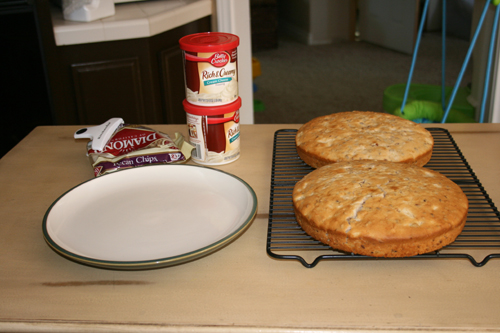 I told a friend forever ago that I would make her girls headband holders.  So, I finally did.  They took me like 20 minutes to make…I am kicking myself for not doing it sooner.  Oh well.  Here is the info on how to make this.
Sami- these are for you!  I will send them out tomorrow!! Sorry for the wait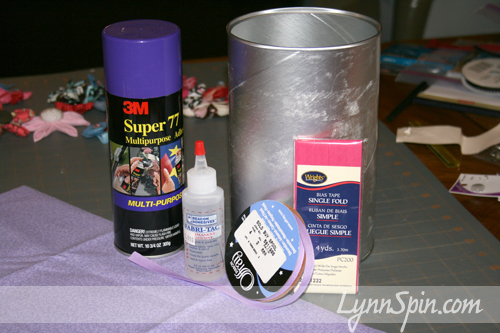 Need:
Fabric
Multipurpose Spray Adhesive-  I used 3m Super 77
Fabric Glue- I used fabri-tac
Ribbon
Baby Formula or Oatmeal Container
First- rip off the paper on your container.  Cut a piece of fabric to fit the can.  I used a Costco size formula can, so I cut my fabric about 7 3/4 inches wide.
I then took my can outside and sprayed it with the adhesive, came back it and slowly wrapped my fabric around the can.  Smooth fabric as you go.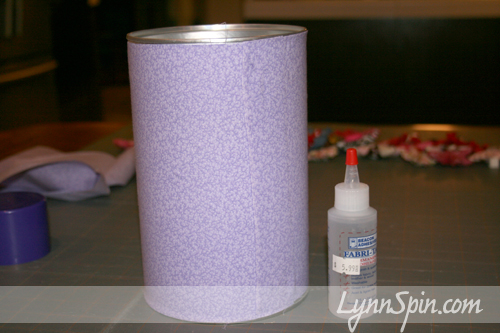 Cut left over fabric off and glue edge down with fabric glue.  Then glue ribbon around bottom and top of can, right over the fabric.  This covers the raw edge and helps to keep the fabric from fraying.  I used fabric for this project, instead of mod-podge and paper  because I thought it would last longer and not tear. The fabric also gives the headbands some grip so they don't fall to the bottom of the can.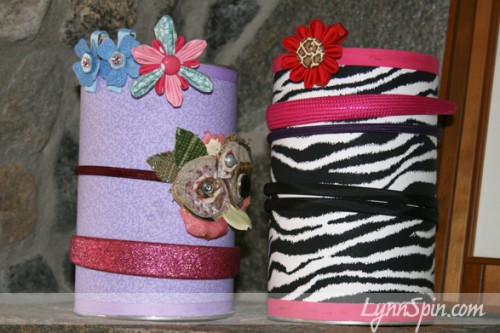 They are great to put headbands on and you can also store bows inside and around the rim.  Awesome!
Get Crafty with your BAD Self!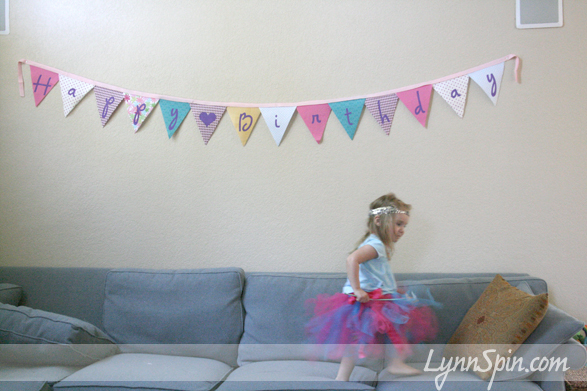 I love this birthday banner!  Another easy craft to keep you festive.  Charlie loves birthdays and parties, so when she woke up and saw this on the wall she was stoked.  She is a party animal.  Now I just need to make a boy one, since Beck's b-day is next month.  lol Charlie's isn't till December, but I had to do a girly one first.  Girl stuff is so much fun.  ahhh… Anyway, make this!  it's sweet!
Supplies:
5-14 coordinating fabrics, you only need a little bit of each.  I made mine 8″ wide and 8.5″ long-triangly 😉  There will be 14 triangles including a space between happy and birthday.
Double fold quilt binding- 3 yards
rotary cutter with mat and guide OR scissors/pinking sheers
Acrylic paint
Pellon/Interfacing- 2 yards
hot glue gun
foam brushes
freezer paper
die-cut machine like a cricut or stencils
Iron
Optional! if you want a felt backing you will need 2 yards of felt and a package of Heat and Bond instead of the Pellon
Let's get Started-
The first thing you will do is cut pieces of your fabric out and iron your pellon to stiffen the fabric and to keep it from fraying when you cut it.  If you are doing a felt backing cut your fabric and iron on the heat and bond.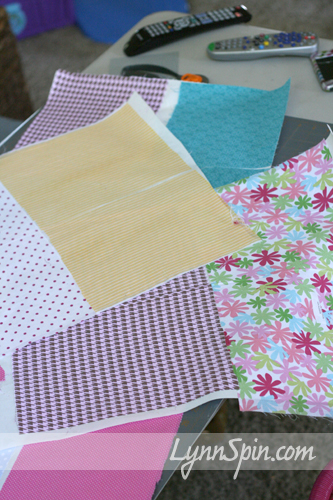 I did the felt on the back, but after experimenting with the pellon.  I would prefer to do it that way.  OR you can even use Canvas material-thicker material and just cut it with your pinking sheers.  Take the first whole step out that way, but your fabric choices will be limited.
Next step!
Cut out your triangles.  I did mines 8.5″ long and 8″ wide.  I wouldn't go wider than that, but smaller would be good.  You just want to make sure you don't go over the 3 yards of the binding.
I cut mine out with a rotary pinking blade- didn't know these existed till last week.  I likes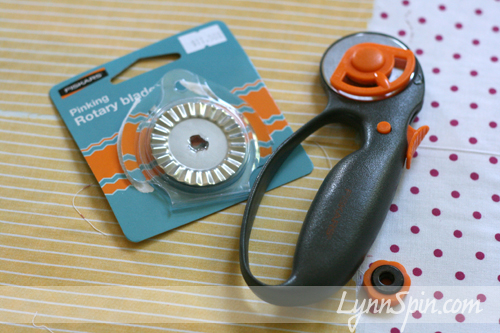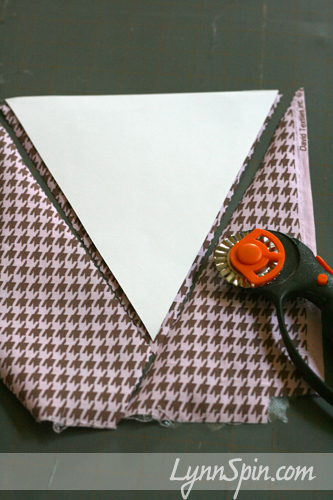 After these where cut I ironed my felt triangles on to the back.  But if you did pellon, don't worry about that.  Next you will want to lay them out and decided how you are going to place them in line.
Then, cut out your letters out of freezer paper with your machine; or with a stencil and an exact-o knife.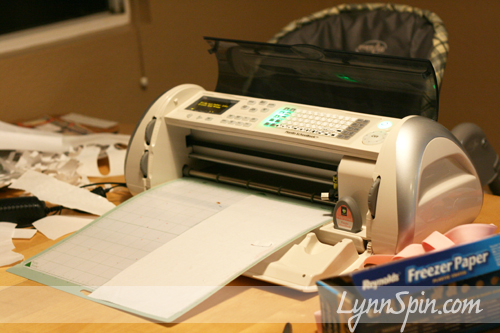 I used my cricut.  For freezer paper you will want pressure of 3 med, speed of 1 or 2, and depth of 2. I used the Plantin Schoolbook cartridge- roly poly font for the heart- 3inches big. For the letters I used Opposites Attract cartridge in the "Upright" font.  For the H and B capital letters I did 4inches and for the lower case letters I did 5inches big.
After cutting out the letters I ironed them onto my triangles.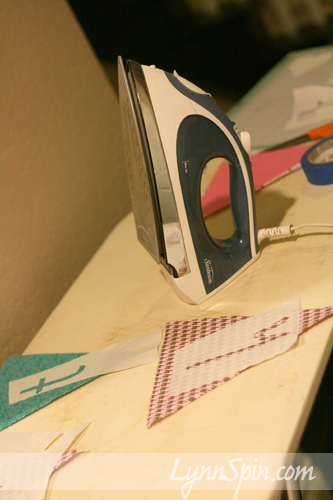 I painted with the acrylic paint.  I didn't like the fabric paint color choices, and this works just as good.  Your probably not going to be washing this, so no worries about the fabric paint.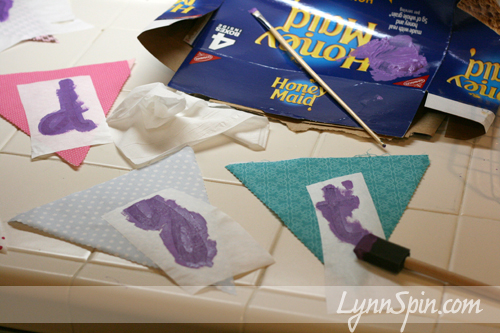 After they were dry I peeled the freezer paper off, lined up my letters, and started to glue.  Make sure you line up your binding and letters before you glue so it is all evenly spaced.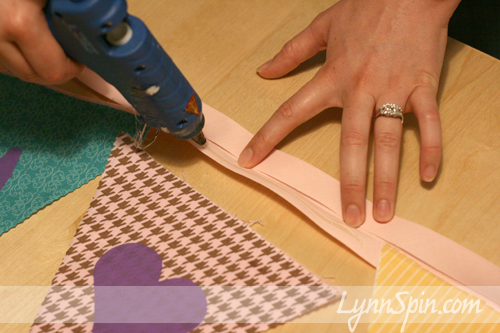 Open up the quilt binding, glue on the bottom first.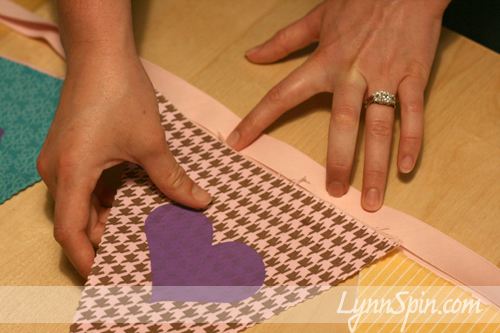 Overlap the triangles just a little.  Place on hot glue; then glue the top and press down.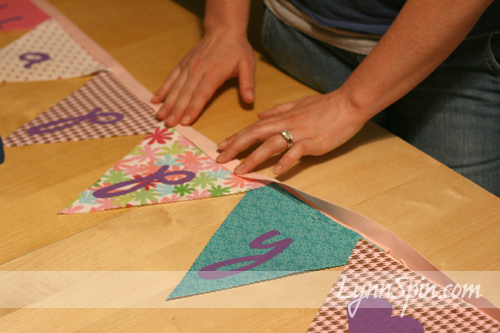 And your done!  Check out these two other blogs that helped me come up with my banner- Craftaholics Anonymous and Twig and Thistle.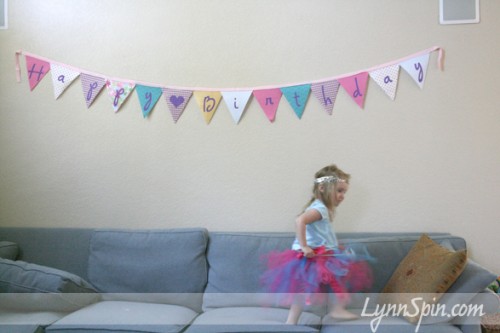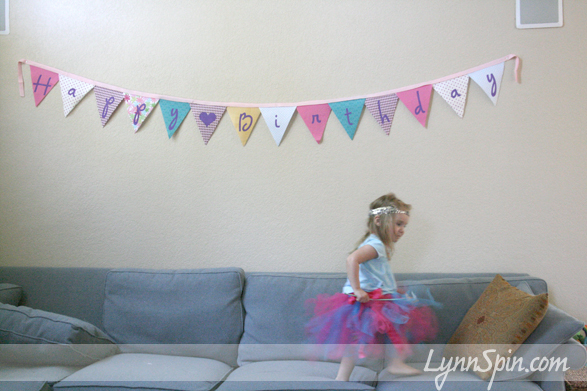 Celebrate with your Bad Self!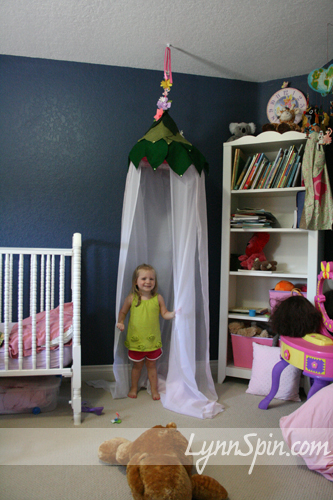 I made this canopy for Charlie the other day.  I have had the materials to make it for the last three months and decided I had the time to finally do it.  It was SOOO easy.  I should have done it months ago.  She loves it.  It will be a fun place for her to sit and read her books.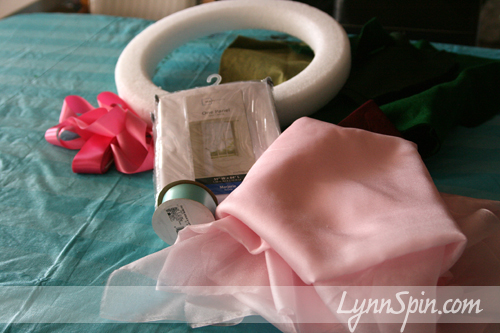 Materials:
Foam wreath form
ribbon
a curtain
tulle or sheer fabric
felt- three shades of green
felt/ fake flowers
gems
hot glue
sewing machine-optional
ceiling hook
How I did it:
I started by wrapping ribbon around the foam circle.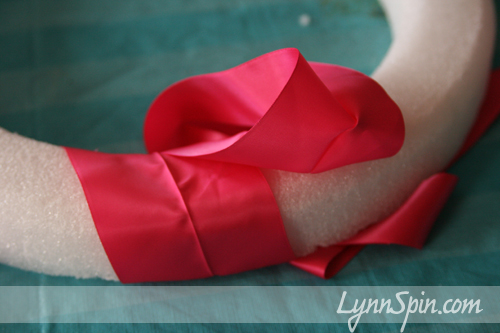 Then I stapled the edge down after I got all the way around.  Glue would work just fine to hold it, I just wanted to staple something. lol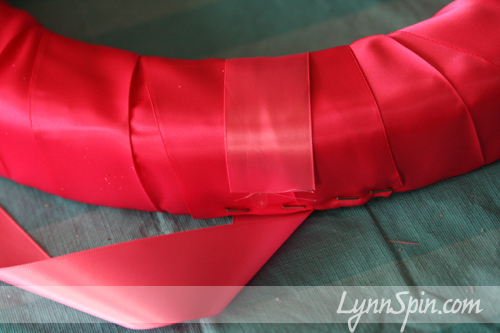 The I took three equal size pieces of ribbon, place them equal lengths around-just eyeballing it, and glued with my hot glue gun.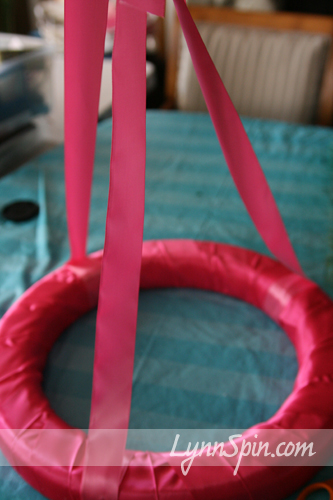 Like this.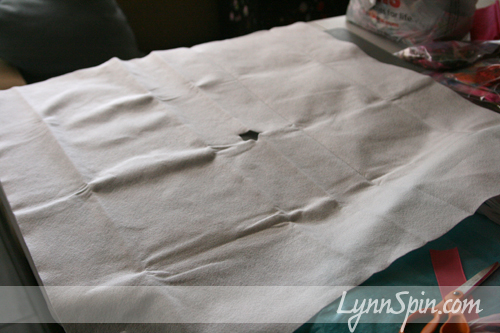 I then cut a circle 40″ in diameter, and cut a tiny circle in the middle.  Just big enough to slide ribbon through.  Ribbon knot holds felt up, so you don't want the knot to slide through. This is white felt, but I recommend doing it in green.
After my circle was cut I sewed my curtain around the bottom edge and then sewed my sheer fabric on top of that, leaving a space in the front to get in and out.  I recommend tulle over what I used. You could try to just hot glue the curtains if your not big on sewing.  Or check out the link at the bottom of this post  for another version my sister-in-law found.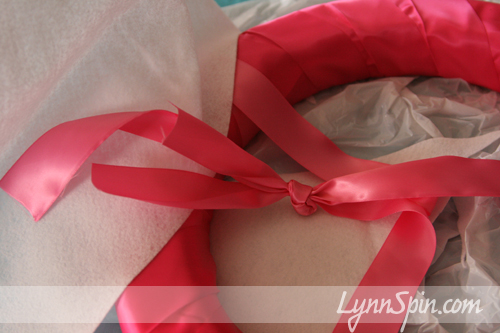 I tied a knot and slid the loose ribbon through the whole in the felt.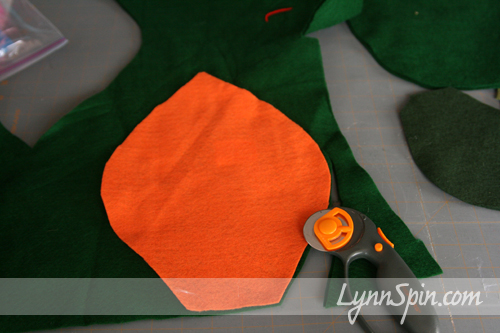 I cut out leaf shapes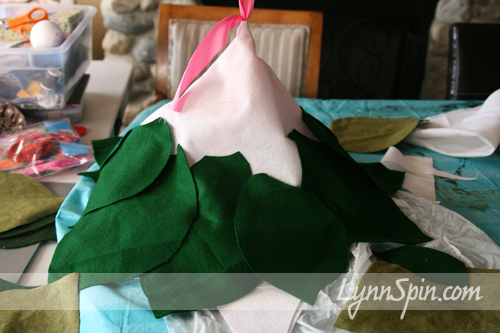 And hot glued them on to my cone.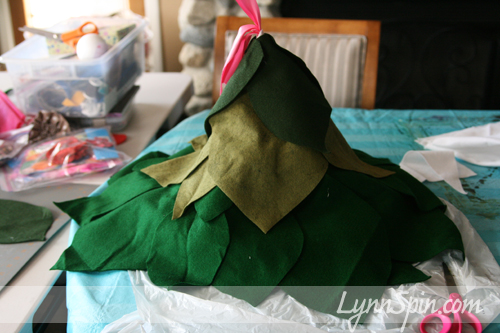 I added gems and felt flowers to the top- this next pic is not good.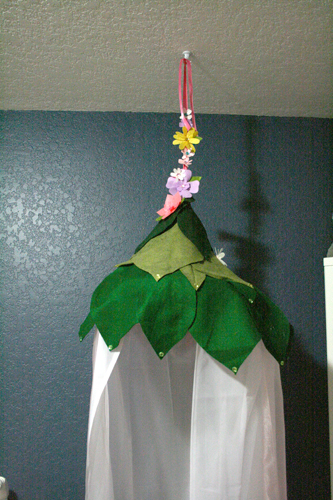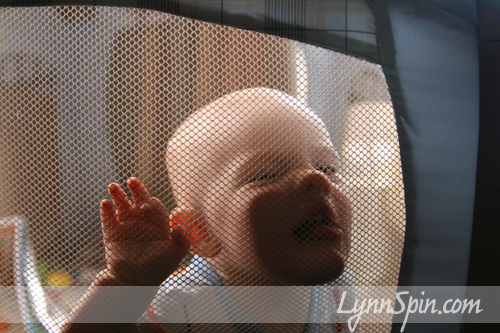 Beck helped with comic relief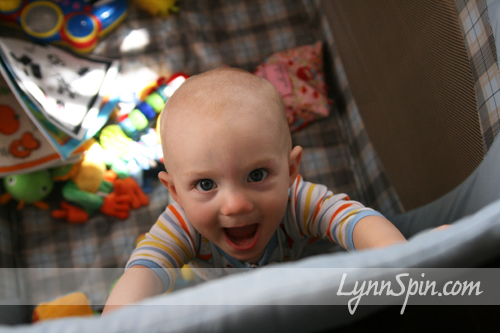 Love that he is almost one and still looks bald lol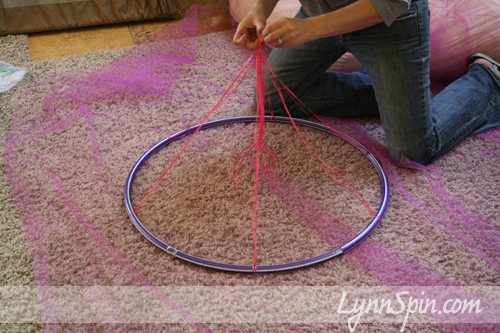 My sister-in-law wanted to make one too, but found a different tutorial online she wanted to try.  And I really liked this one too.  It looked very easy.  Probably took her 30mins to an hour.  Used a hula-hoop!  Great idea!  Check this out.  No sewing involved.  http://familyfun.go.com/crafts/cool-canopy-675544/ This website has tons of fun ideas for kids.  And I can't lie if I had know about it before I started I probably would have done this one.  But mine turned out cute and it fits in the space I wanted it, so I am happy.  And, most importantly so is Miss Charlie.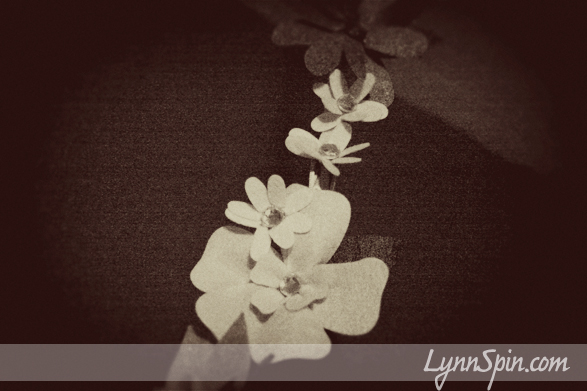 Get Crafty with your Bad Self!
I totally scored with this one.  Made my mother-in-law cry… yup this was gooood 

My mother-in-law sings "You are my sunshine" to all the grand kids, all the time.  Especially the ones that live far away, she sings it over the phone.  Its a special thing for them and her.  So I thought it would be fun to use our hands and make a birthday surprise for her.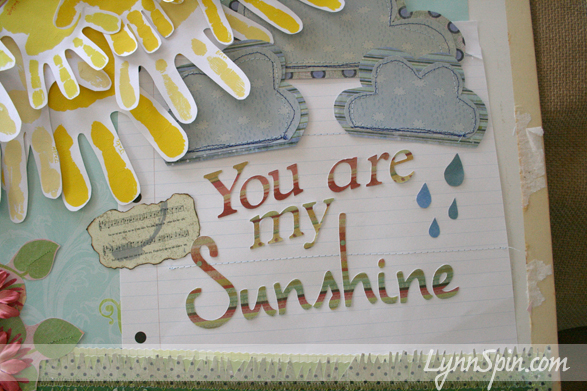 I know all you scrapbookers out there will love this.  It's like a giant scrapbook page without pictures.  I saw an idea to do a scrapbook page with "you are my sunshine" as the theme in ScrapBooks Etc magazine a few years ago.  But, could not find it when I made this… I searched so hard but was bummed that they have taken it off their website and I can't find the July 2008 issue either!  I just had to go with the memory of it- my photographic memory coming in handy.  I also found an awesome layout in my search for the picture that originally inspired me, but (say this next sentence fast and annoyed) someone messed with my computer before I could bookmark it and I can't find that either to give the lady some props!…so poo…  But!  good news I figured something out using my creativity and supplies I had in my craft closet.  (I used only what I had already-such a good feeling)
This is what I used:
Scrapbook paper- lots
buttons and gems
paper flowers
sewing machine and thread
hot glue
card board- for backing
Tombo adhesive- I LOVE
Cricut machine, Plantin SchoolBook cartridge, Opposites Attract cartridge
Different shades of yellow acrylic crafters paint and card stock for hand prints
How I did it:
My sister-in-laws sent me their families hand prints.  I cut them out and started arranging them on a curve.  I then arranged papers for the sun, glued them together and sewed them for an extra touch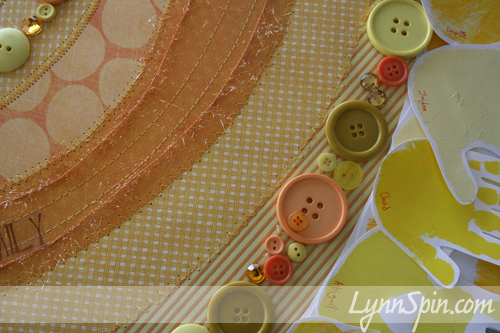 After sewing it I emblessed with buttons, gems, thread, and a sticker that says "family"
I wrote all the names on the hands, because I thought the kids would enjoy seeing which hand is theirs when they get bigger.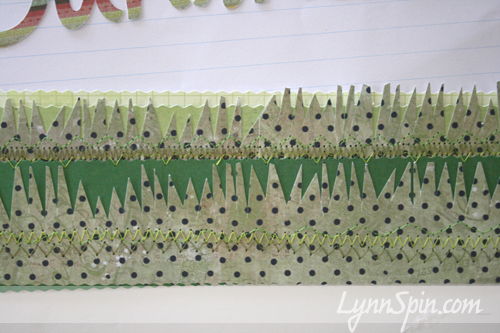 I cut grass by just cutting little random triangles out of the paper, then layering with solid colors.  I glued those together with my Tombo and again sewed different stitches and tread colors for interest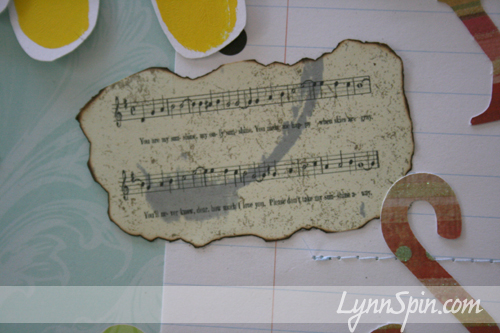 Sorry this pic is blurry.  I printed the sheet music out on scrapbook paper and burnt the edges to make it look antique/old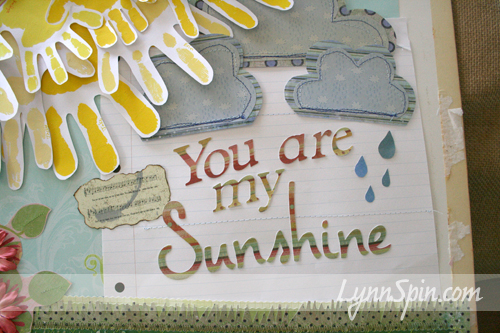 I cut out cloud shapes, glued, sewed.  Cut out some raindrops.  And used my cricut to cut the words out.  My back ground is a piece of scrapbook paper that looks like notebook paper.  I got that idea from the lady I can't remember/find.  I sewed the same color blue on a few of the lines of the paper to add texture.  The other back ground paper, the teal, is two matching pieces of paper just set underneath everything.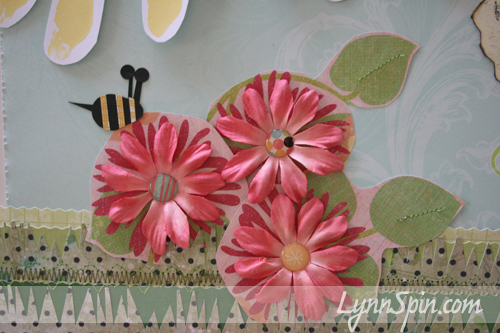 I am not sure why, but this was the hardest part for me.  I knew I wanted flowers, but I didn't know how to arrange them.  I loved the flowers printed on the paper,  but also wanted more texture.  So, I added the paper flowers and used brads for the center.  I sewed the leaves and made that super cute bumble bee.  I think the bee is my favorite.                                                       I am proud of that little bee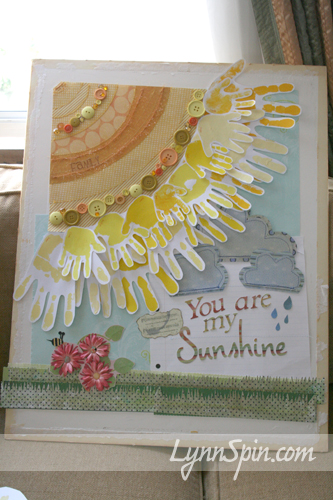 Done!  …………Almost…
Painting/Antiquing the frame!
I used a frame I had bought at a garage sale and never used.  I think it cost $5.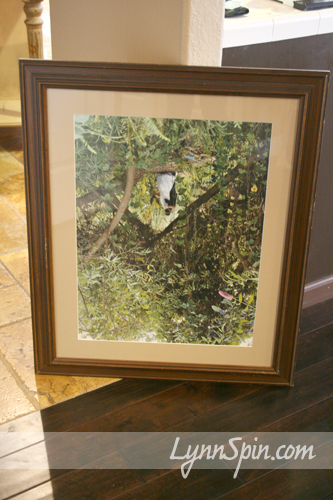 (upside down wedding picture)
I sprayed it with an off-white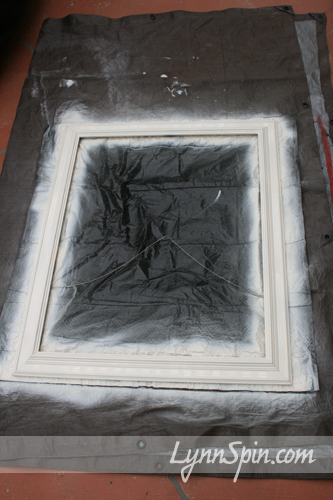 Sanded the edges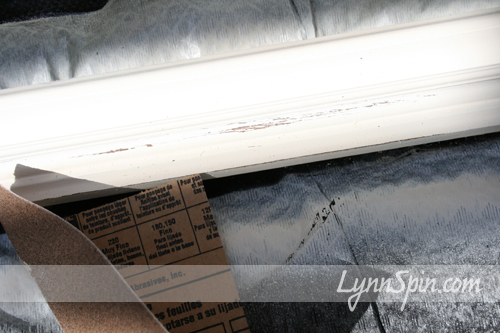 Then I used a clear top coat to seal it… and it totally bubbled up.  I was thinking, "Man, now I have to sand the whole thing and start over!"  But to my surprise as I started to sand it looked just how I wanted, totally antiqued.  Perfect! Love when mistakes work out.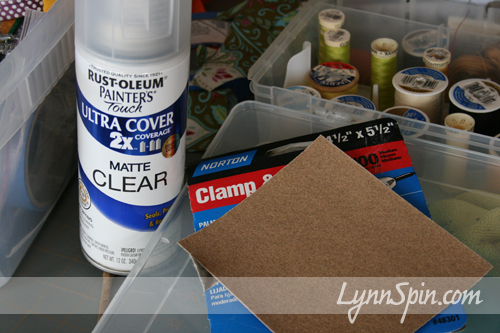 Then I took it over to my favorite framer- Bill Chumbley of ABC Design here in Escondido CA – e-mail me for his number- he's great!  He added a little foam core between frame and picture so that the glass wasn't right on the button or squishing the flowers.  He added a hook on the back and sealed the whole frame up for me.  And here is how it looks all put together!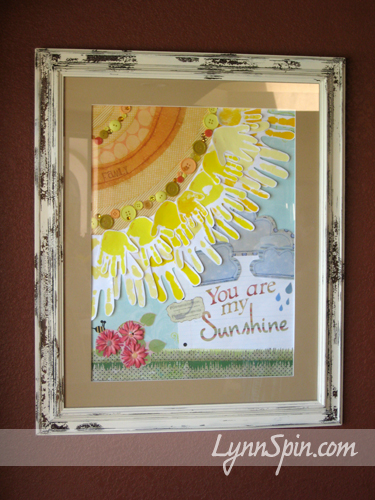 Give a gift from your Bad Self!
Allie thanks for letting me use your sewing machine!  I promise I will get my fixed soon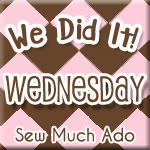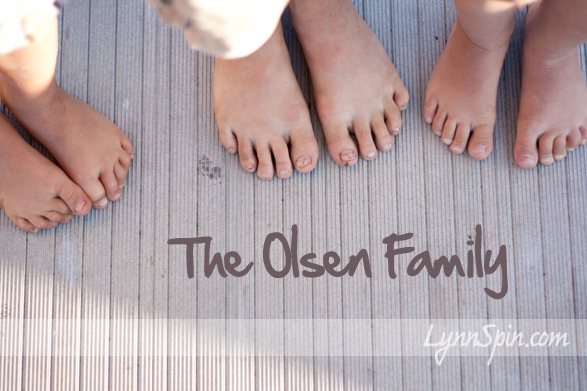 This is the beautiful Olsen family.  I asked them if I could take pictures of their family to practice my skills

  They were kind enough to say yes.  Here's how it turned out.  Hope you budding photographers (like myself) out there can take something away from these, like family posing or something good…  These were taken at Lake Dixon in Escondido CA.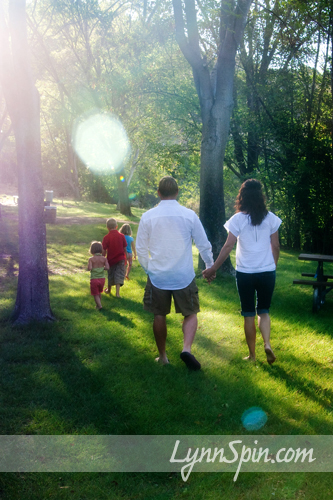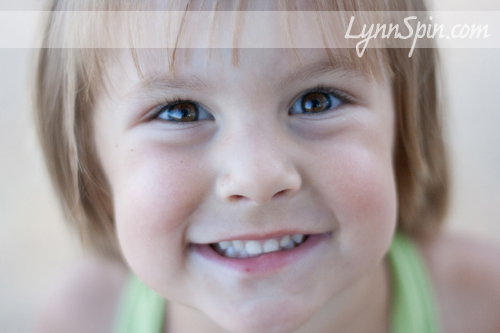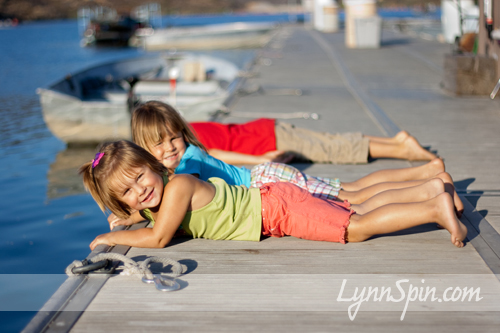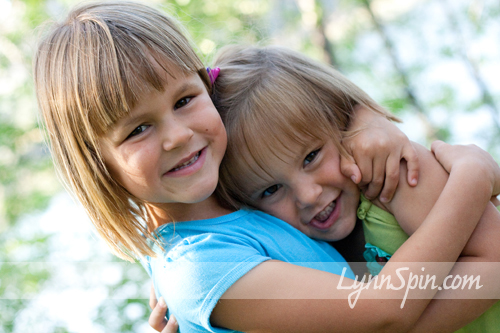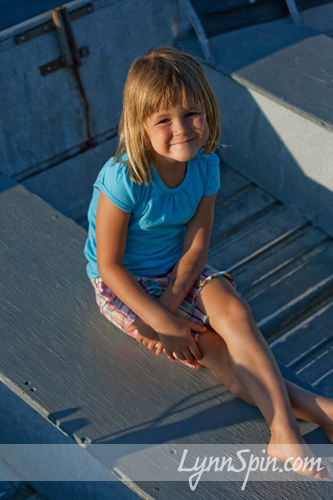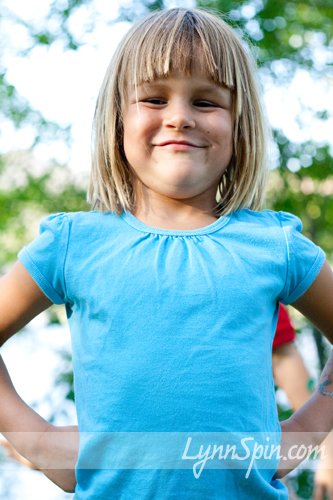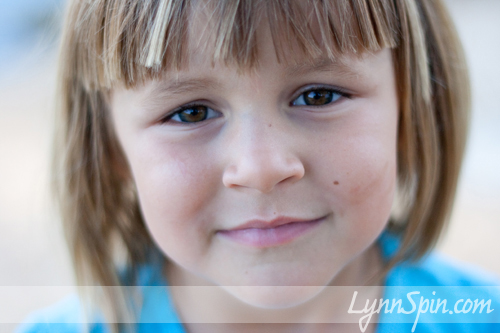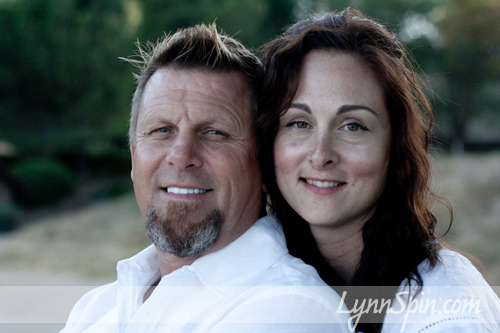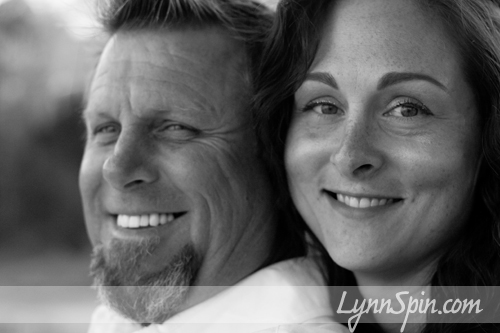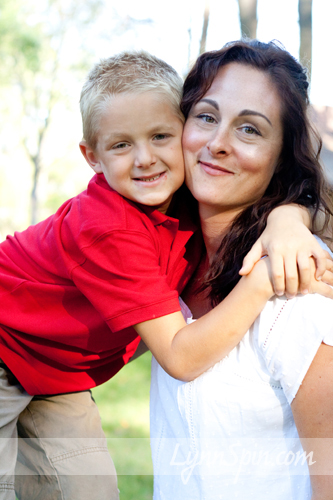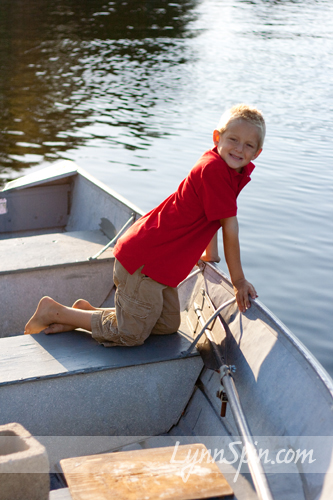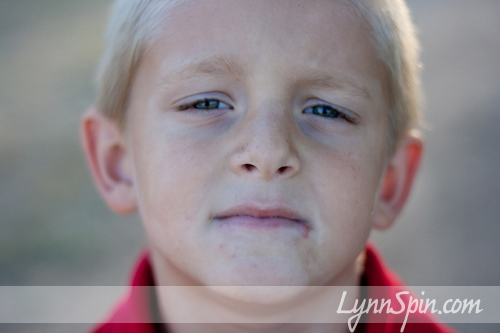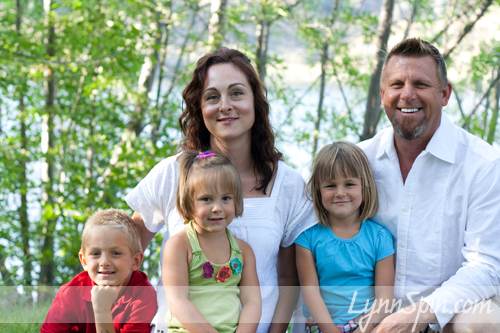 Big THANKS Olsen Fam!