Ah ahhhhh!  (singing like it's amazing)  Cuz it totally is haha!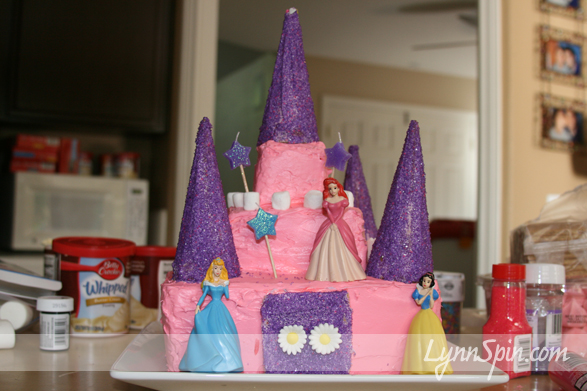 I found a you-tube video from Howdini on how to make a princess cake (that you can find here) and made my first ever decorated cake for Charlie's 3rd birthday.  Holy Cow!  It wasn't too hard, but starting the task was.  Here is a little tutorial of pictures if you need to make a princess cake.  At the end of the pictures I also show two smaller versions I made up myself using the same techniques I learned from the you-tube video.  They turned out very cool and totally made my 3 year olds day.  (I felt like a pretty awesome mom, not gonna lie ;))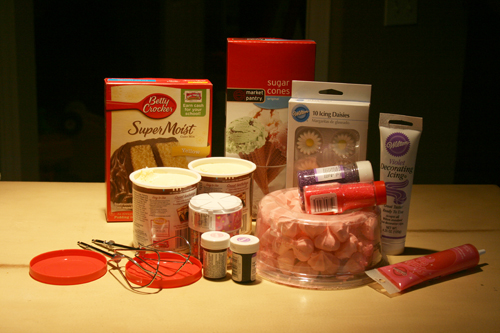 My pictures for this post are pretty crappy.  I was in a hurry and it was really dark.  oh well… here's the info.
I don't make cakes from scratch so, Betty Crocker cake mix and frosting, food coloring, sprinkles, 5 ice cream cones, and a few princesses from the dollar store.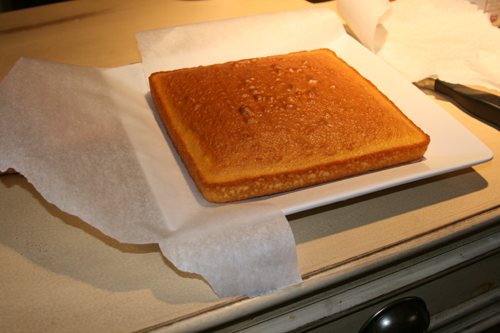 Made my 4 9×9 cakes.  Put the wax paper down so I don't get frosting on the plate, can pull them out when all done and have a clean plate.   Sandra Lee from Food Network taught me that.  Ok, used my bread knife and cut the top off so it was flat.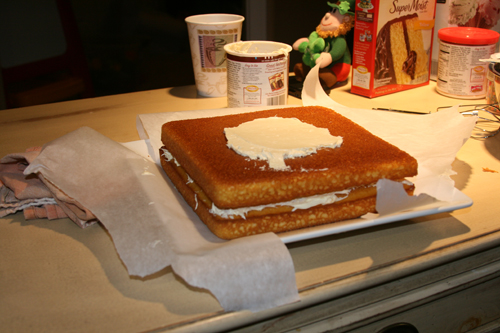 Put some frosting on top- in between the layers.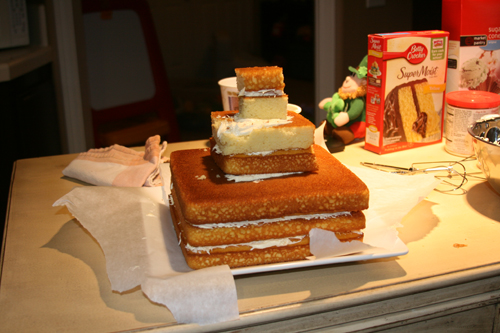 Three on the bottom.  Then cut your forth piece in to fourths, use two of those for the middle, then cut on the remaining fourths in to fourths again and put two of those on the very top.  Watch the video if I don't make sense.  It's good and quick.
Put the cake in the fridge to harden up a bit, before frosting it.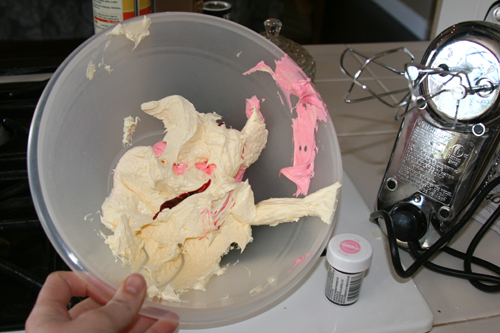 Mix up your frosting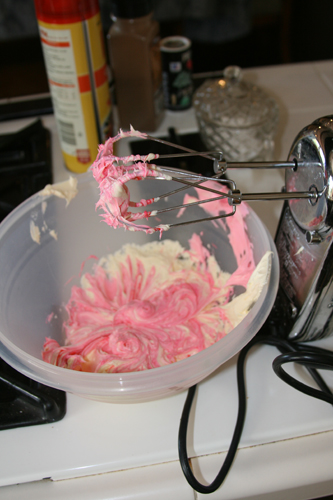 Nice and Pink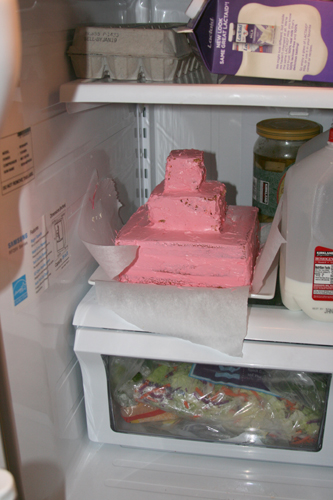 Give the cake a thin coat of frosting- there's a term for this they use in the video- but I am a first timer 😉  Then place it back in the fridge to harden.  It's easier to frost this way.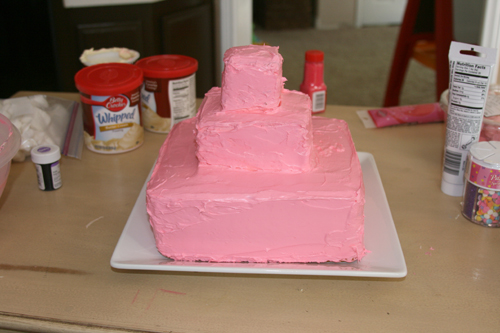 When its hard enough take it out and give it a thick frosting.  You can then pull out the wax paper if you want, or wait till the very end.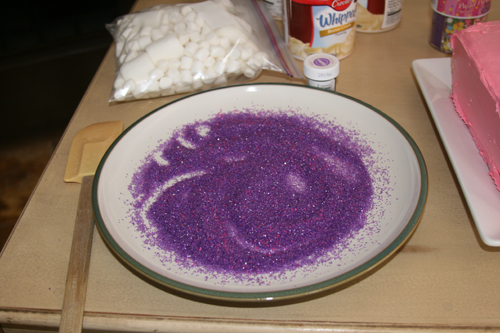 Now for the fun part- decorating!  Put your sprinkles on a plate.
Frost your ice cream cones.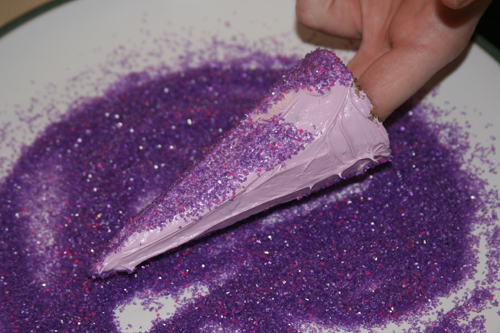 Roll them in sprinkles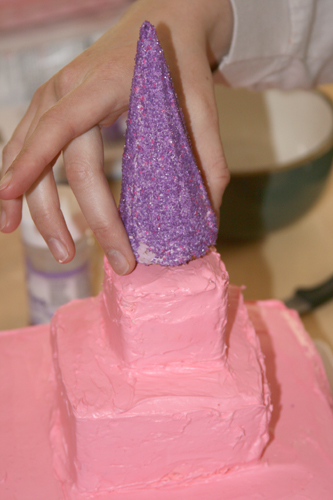 Place on the cake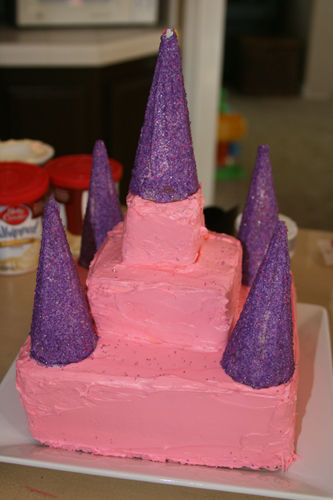 Now add the rest of the decorations.  I used a gram cracker for a door.  Frosted it, put sprinkles on it.  The used a dab of frosting to glue it to the cake.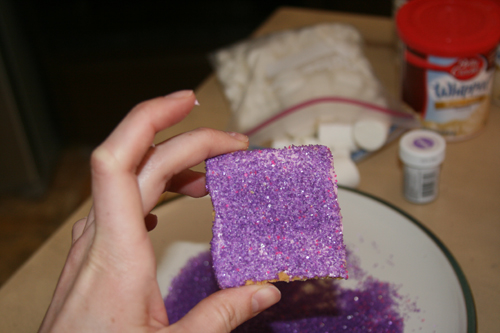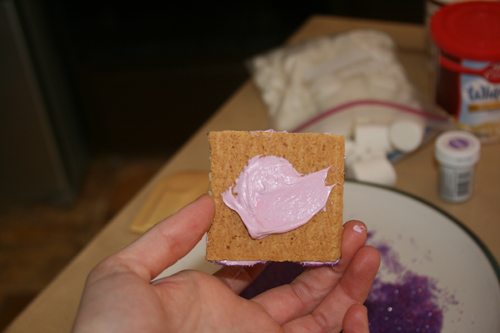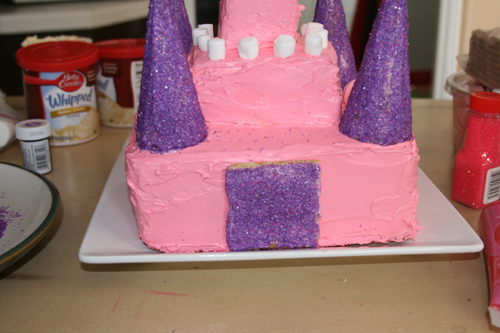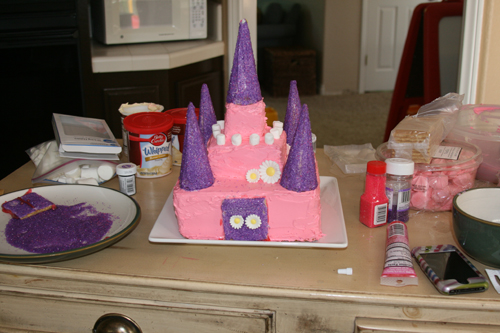 I added little pre-made sugar flowers as door handles and mini marshmallows for fun.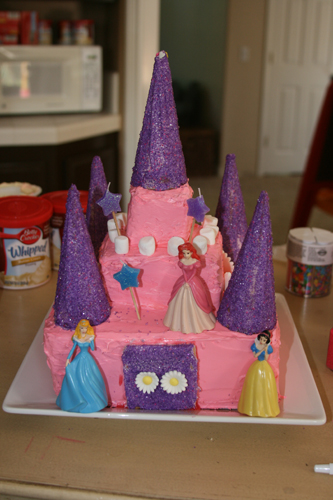 Added the princesses, candles, and a little sprinkles and Done!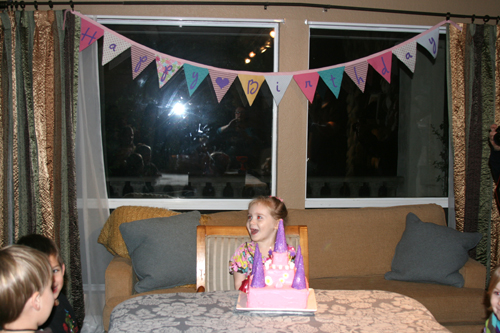 Sweet Success!
How to make that cute birthday banner in back, click here.
A week later my friend and I threw a combined party for our girls who are 8 days apart.  I made a little smaller version for each of them.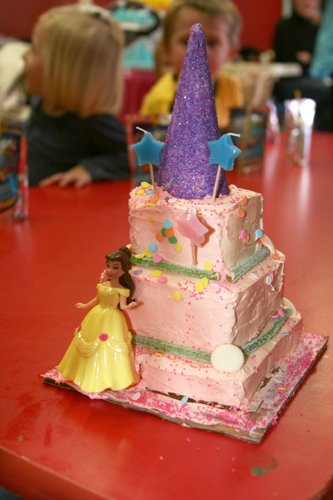 If I was to make this again I would have put two cake layers on the bottom instead of one.  I used card board to set the cakes on, sour string candy on the layers, white chocolate chips at the ends of the candy, and lots of sprinkles all around.  Oh and I used tooth picks to hold the princesses on.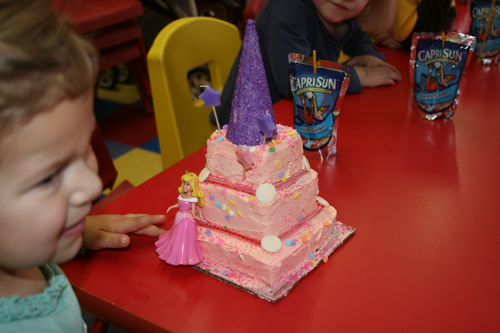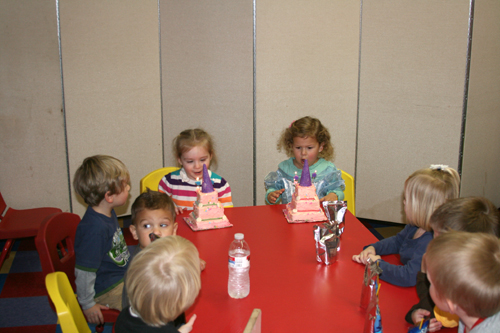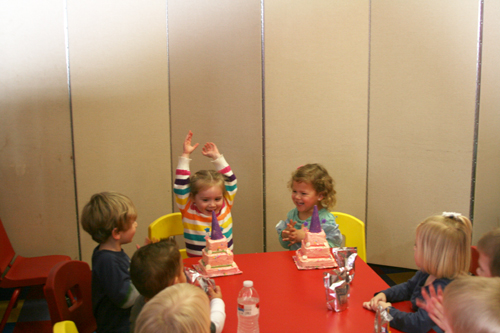 The party was at Kidsville in San Diego.  It was a blast!
Make a Cake with Your BAD Self!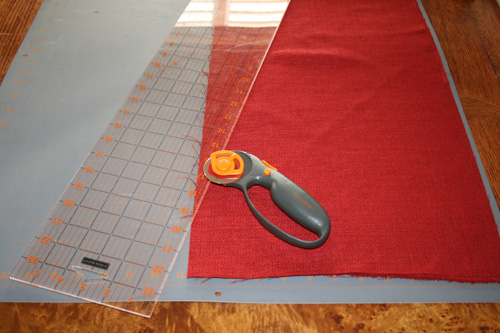 Napkins for Thanksgiving or Christmas
You will need a scissors or rotary cutter, sewing machine, thread, fabric that frays easy.
Cut fabric into a 16×16 inch square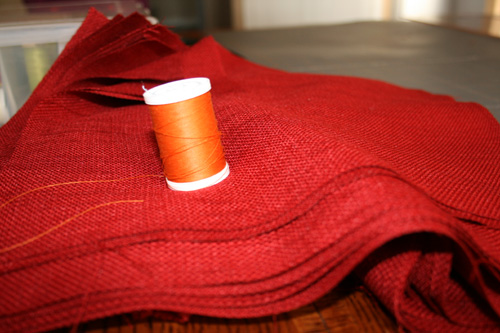 Sew in 1/2 inch along edge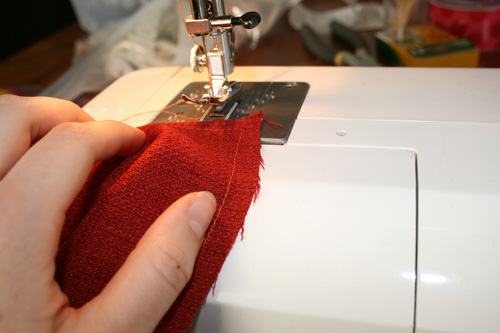 Fray by hand, or stick in washing machine and dryer- speeds up the process
And your done!
I don't have a finished cute picture…dang!  But, you can take one for me after you finish yours 😉
Make Napkins with Your Bad Self!- They are so expensive, making 20 cost me 2 dollars!  Yeah baby!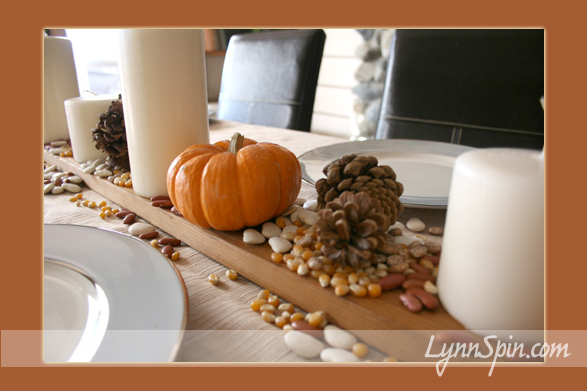 Thanksgiving can be lots of fun and lots of stress.  Here is my easy and classy way to decorate your table.
I bought a bag of  dried corn, white beans, pinto beans, and pine cones.  Used a few small orange pumpkins and different sized white candles.  I sent them down along a  beat-up piece of wood in the middle of the tables.
I wish I had taken a picture with the cups, silverware, and napkins- all decked out.  But, I got too busy cooking ;).   Here is the basic idea.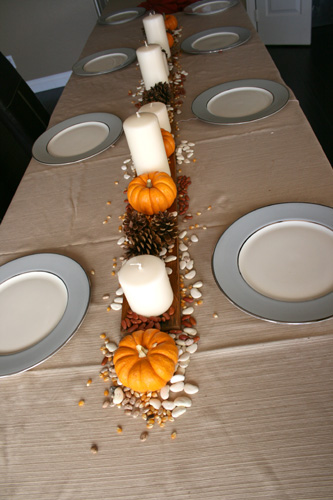 Yes,  I should have ironed that table cloth, but I don't iron hahaha…ahh goodtimes