I am not the best at writing and I know I am not going to be able to explain all my thoughts, but here it is.
I can not express all of the feelings I have about this horrible event.  I can say that my heart is aching.  My thoughts  and prayers are with the families, children, police, the entire community of Newtown.  I am crushed that the lives of so many people are now tainted, especially all those sweet innocent children.  Their lives will never be the same.  And, I am not sure if mine will be either.  I am not directly affected by this, I do not know anyone there.  But, I am truly heart broken.  I am worried.  I am sad.  I am wishing I could hold one of those mom's and let her cry in my arms.  I wish I WISH there was something I could do.  I can't begin to image how the children who where there that day felt or how they will learn to trust, feel safe, or find peace after this horrible day.  I can't imagine how those families feel or how they will go forward.  I can't imagine how they will feel on Christmas morning when their excited 6 or 7 year old is not there open presents with the rest of the family.  Christmas presents wrapped and ready for a child who is not there.  Puts presents in perspective.  I think of the adults who died for those children, the families that lost them.  The police that had to go in and see all that was left.   IT BREAKS MY HEART.  IT MAKES ME CRY.  IT MAKES ME LOOK AT MY CHILDREN AND JUST HOLD THEM SO TIGHT AND LOVE THEM AND BE SO VERY GRATEFUL FOR a "TOMORROW"  with my kids.   This type of thing should never happen.  I am mad.  But, mostly I just ache inside for all the people affected and the lives lost.
I read an article that was posted on a blog today and wanted to share.
It's called, "What six looks like."  Pretty much how I feel.
Also if you want to write letters to the family you can send them here.
Messages of Condolence for Newtown
P.O. Box 3700
Newtown, CT 06470
Here's the link where I got this address.  click here
You can join in with this Seattle woman in her letter writing to the families.  Click here
This is another good article from a friend of mine, who is an elementary school teacher-  click here
And I saw this on Facebook.
twas' 11 days before Christmas, around 9:38
when 20 beautiful children stormed through heaven's gate.
their smiles were contagious, their laughter filled the air.
they could hardly believe all the beauty they saw there.
they were filled with such joy, they didn't know what to say.
they remembered nothing of what had happened earlier that day.
"where are we?" asked a little girl, as quiet as a mouse.
"this is heaven." declared a small boy. "we're spending Christmas at God's house."
when what to their wondering eyes did appear,
but Jesus, their savior, the children gathered near.
He looked at them and smiled, and they smiled just the same.
then He opened His arms and He called them by name.
and in that moment was joy, that only heaven can bring
those children all flew into the arms of their King
and as they lingered in the warmth of His embrace,
one small girl turned and looked at Jesus' face.
and as if He could read all the questions she had
He gently whispered to her, "I'll take care of mom and dad."
then He looked down on earth, the world far below
He saw all of the hurt, the sorrow, and woe
then He closed His eyes and He outstretched His hand,
"Let My power and presence re-enter this land!"
"may this country be delivered from the hands of fools"
"I'm taking back my nation. I'm taking back my schools!"
then He and the children stood up without a sound.
"come now my children, let me show you around."
excitement filled the space, some skipped and some ran.
all displaying enthusiasm that only a small child can.
and i heard Him proclaim as He walked out of sight,
"in the midst of this darkness, I AM STILL THE LIGHT."
Written by Cameo Smith, Mt. Wolf, PA
Tomorrow, I have tomorrow with my children.  I will hold them tighter, I will show my love more, I will try to speak more kind, I will cuddle with them, I will laugh more and be frustrated less.  I will try my best  to be a better mom and remember how precious and short life is.   I will remember those sweet kids and pray for their families to find peace.   They are in my heart.  And I will honor them by trying to better my tomorrows and cherish what I have.
I hope our country can find a way to heal and keep our children more safe.   I am grateful that I have prayer.  I am grateful for God and that I know these sweet babies and hero's are with him.  They are not in pain and they are safe.
Love-
-Lynn
To all my pregnant sistas out there who are sick as dogs, I say TO YOU, "IT WILL GET BETTER!"
You are laying in bed, near a bowl/toilet, or just feeling green and thinking "shut up lady…"
That is okay, cuz I am here to help you out.  I know how it is!  I am not one of those idiots who says, (in my annoying know-it-all-whinny-voice) "Oh I just would get up and do what needed to still be done."  GOOD FOR YOU! SHUT YOUR MOUTH LADY!  I Have been laying in the fetal position puking my guts out for 5 months now.  I am now to a point where I barely even have the will to live!  GET OUTTA MY FACE!  WHOO there Lynnie….calm down…. hahaha….. Don't tell me you don't feel that way about some people and their "advise" HA!  Some women….
Well if you are feeling sick like I was,  here are a few helpful tips I would like to share with you.  I hope at least one of them helps!! I lost 15 pounds in the first 3 months with my first child and lost 11 pounds from 2-5 months of my 3 third pregnancy.  And yes both times I took prescribed meds from my baby Doctor.   They helped a little, but I am just one of those people that will keep throwing up…stinky.
One of my awesome friends came over one day with grocery bags full of food and tricks that helped her AND she had another awesome friend in-tow with cleaning supplies.  They shared some laughs with me, shared tips that helped them cope with sickness during pregnancy, then put me on the couch while they cleaned my whole nasty house.
HAVE A FRIEND OR TWO LIKE THIS!  They are rare and I am not sure how I got so lucky.  But, I am forever grateful for these two ladies- still makes me cry.  Life savers!
So here are some of the tips that go beyond the BRAT diet (Bananas, rice, apples, and toast) or the pills from the doc.  These are tips my friend shared with me and some of my own tricks I have discovered over the years I have been popping out kids.

TIPS AND TRICKS TO SURVIVING MORNING/ALL DAY AND NIGHT SICKNESS
1. Lime slushy drinks.  Saved my life!  I would put about 2 cups of ice in a blender, fill with water about 3/4 of the way up the ice, add 2 table spoons of lime concentrate, a little package of Stevia sweetener (a natural sweetener), and a squirt of a fresh lime if I had one.  Blend it all up and slowly suck with a straw.  Some days this was all I could handle.
2. Bean burritos.  Mostly I would have my husband make these.  Just a can of refried beans and a tortilla.  Occasionally I would ask for a tiny bit of cheese if I knew I could handle it that day.  He would heat up the beans then lay some in a tortilla on the stove, fold up, and brown on two sides.  Sounds nasty and might be hard to make your self.  But YOU NEED the protein.  It will help you not to feel so sick to get some protein in your body.
3. Oils- Peppermint oil and Frankincense oil. These will not take away the nauseousness completely, but they will give you a few mins or more of relief.  I would dab these on my wrists, around my nose, jaw line, and temples.  I have also heard that rubbing lavender oil on your feet with help your sleep at night, maybe try that if you want.
4.  Lemon Popsicle. These helped more toward the end of my sickness phase to help take the edge off some days.  Buy the most natural ones you can find with the least amount of sugar.
5. Pebble Ice.  Some days all you want to do it chew on ice and can only sip water slowly.  On these kinds of days have your hubs go grab a bag of pebble ice from the grocery store.  It is usually sold in the back by the butcher.  AGAIN- Might not want to go back there and see the raw meat.  Have someone pick that up for you.

6. Vitamin B Drops.  These are nasty, but! they help a lot.  Put a few drops under your tongue and in a few short mins you will get a little bit of nausea relief.
7.  Vitamin B6 pills. These also will help you will your energy and nausea.
8. COKE! I really don't like Coke, but some days when I couldn't keep even keep water down Coke always seemed to do the trick.  Mostly it was Diet Coke that helped me, but I am not recommending that b/c I have heard there are issues with the sweeteners in it that can harm your baby.  BE WISE ABOUT WHAT YOU PUT IN YOUR BODY!  Moderation my friends.
9.  A Baked Potato with just a tiny bit of butter and salt.  Not sure why, but this was another staple life saver. It filled me up and I always kept it down.  Nice thing too is that IF you're out and about you can pick one of these up at Wendy's for like a buck.
10.  REST! It can be really hard to sleep when you feel crappy or have little ones that need something in the middle of the night breaking up your rest.  Explain to the hubs that you need more help at night so you can feel better and be a better mom during the day.   Also ask your doc what you can do.  Mine had to proscribe me some meds to help me. I could only take them ONCE a month, but at least I got one night that I actually slept.
11.  PHONE HOME! Call your mom, a sister, or a friend ask them to take your kids for an hour or a day or two or more

 A break will do you so much good mentally and physically.  And while they are there helping or your kids are gone JUST SLEEP!  Throw up and sleep and watch stupid TV and sleep and read your scriptures, go for a walk or just open a window to get fresh air.  which brings me to #12
12.  Fresh Air.  With my first pregnancy fresh air felt soo nice.  And this time I was in my sick part of pregnancy in the middle of winter in Utah. I didn't want to go outside much cuz it was freezing and I didn't feel like moving AT ALL.  But, opening a window and breathing the cool air seemed to help a lot too.  Some times you just need a breath of fresh air.

13.  Ask for and Accept Help. I really hate asking for help and accepting it when people offer it.  But accept the meals people bring over and say yes when they offer.  It will give you or your hubs a break for one night.  Even if you are not eating the meal, your family will be happy to have something to eat (after months of you not being able to cook)  :)  Sometimes it helped me to be able to eat if I didn't have to cook the food or see or smell it being cooked.  :)  Let people help you and your family.  It is a good thing.
14.  Phone a friend again.  This can be a mental game, this prego sickness stuff.  A game that can be draining on you and your family.  Call a friend to talk about things other than your sickness.  It can really boost you up even if you aren't thinking it will help, do it!
15. Have a good cry, then try to cheer-up. Laying in bed and throwing up for months on end can get really hard.  So it's okay to cry.  But, be careful not to let your self get too down and out.  Talk to your doctor if you can't seem to pull your self out of a funk.  You can get depressed during pregnancy and that doesn't mean anything is wrong with you.  It only means you need a little extra help.  You are creating a child and that is a big job to do, don't feel bad asking for help.
16. Take a bath!  Throw some epsom salt in the tub, dim the lights, watch a show on your phone, Ipad, nook, and relax.  You deserve it.  Take a big glass of ice water with you and don't get too hot.  I used to lay down on my shower floor before I realized I was allowed to take a bath while pregnant.  Then I took like 30 baths haha… just relax your tired body.
17.   Nausea Bracelets. These may or may not help you.  It is worth a try!  I have tired TONS of different things.  Some helped right away, some helped only once or twice, and some made things worse. But, if you are sick like I was you are willing to try anything that won't harm your or your babe.
18.  Pay it forward. Some time when you are feeling better, or when your children are grown up a bit; help a new mommy to be out.  Take her a bag of groceries of tricks/food that helped you.  Or take her husband and children a meal. Or!  Go clean her house- don't give her a choice- just push your way in and do it.  She will hate it at the moment, but be forever changed and grateful later.  ;)  Or! Go bring her a meal after her baby is born.  Go hold the baby and let her take a shower or a nap.  Fold her laundry.  Go on a walk together.  Invite her out and remind her to get out

 Tell her your remember what is was like and that you are there for her.  Be the friend that you wish you had had when you where there in that stage of life.  I hope I am this kind of friend, but am hoping really spread the love and help when I get to another stage of life.
19.   Be married to an amazing husband. Or tell him to shape up!  Hahaha, you are taking a big one for the team here, I HOPE he is helping you to through it. This is my most important tip.  My husband NEVER complained about making me food, cleaning up puke, (sometimes complained out helping out with kids while managing his company- but rarely) OR  running to the store for whatever it was I needed that day to help,  OR holding me when I sobbed on days that didn't know if I could do it one more day.  I give huge props to my husband for going through this with me and comforting/cheering me on every step of the way.  I married a great guy.  Talk to your husband, be honest and nice.  You both have a lot on your plates and this is a beautiful baby you both helped to make- BE A TEAM.  A team that talks nice, is open, helpful, supportive, emphatic, grateful, cheers the other on, and above all MADLY IN LOVE.  Your baby needs you and your man to be this kind of team from here on out.
Be careful and smart with your body and your baby.   And, take care of YOU mentally and physically.  Talk to other people about how sick you are feeling.  Talk to your doctor and ask for tips or medicine if you are at that point.  Be open with your spouse about all your feelings and pains.  Hopefully he will support and console you.  If not tell him is has to

 OR call his mama on him lol, I've never done that, probably won't make things better (but it's funny to joke about).  And remember!! This too shall pass. It may feel like it won't but try your best to remember it will.  I promise

One last thing, don't worry about being crafty with your hands right now. (Unless you need something to do while to lay in bed feeling like poo, chances are you just need to lay there and not do a thing though).   Don't worry about a dang thing besides your handsome husband, beautiful kids, and the sweet baby you have growing inside of you.  Those are the ONLY things that matter.  And YOU are the only thing that matters to them.  YOU ARE LOVED AND DOING SOMETHING ABSOLUTELY AMAZING!  Try to enjoy this baby or look forward to the days to come when you can enjoy being pregnant and/or holding this precious baby.
UPDATE!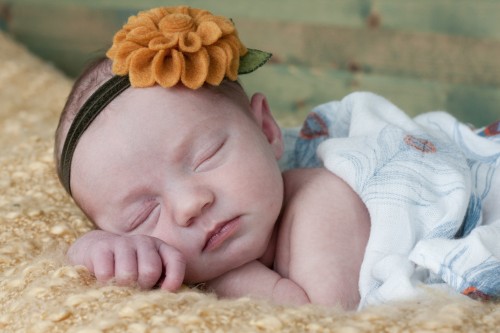 MEET MISS RUBY LOU
I had the babe! She was worth all the hard moments, hours, days, weeks, months

 She is absolutely beautiful! Thank you for all your comments.  It makes my day to know that this MIGHT be helpful for those of you out there going through this same thing

 Every time a new comment comes in I get so exctied!  I show my husband, sometimes I shed a little tear, and sometimes I do a happy dance.  Thanks for leaving me comments.  I love love love them.  You are amazing.
Much love!- Lynn
Before you read this awesome story that made me laugh soo hard I had tears streaming down my face, I want to say a little something.
ANY mom in any stage of life can appreciate this story.  It comes from one of my friends who wishes to remain anonymous.  I after sharing this story with me I asked if I could share it.  It just made me laugh so hard, I had to share it with other moms.  We always need a good laugh, right?!  The friend who wrote this is HILARIOUS!  She always seems to help me see the humorous side of motherhood.  I WISH she had a blog or would write on mine on a regular basis.  She makes me happy when I read her posts on Facebook, because I can always relate and I ALWAYS have a good laugh from the way she explains her motherhood moments.
Enjoy

Bare..ly Baking
If this story ever gets out, I hope to be known only as "Anonymous". Usually when you hear a story, you play it out mentally. When you know who the story is about, you can't help but imagine that person in your mental reenactment. It is for this reason I cannot be known, especially by those who know me.
Because of two things I didn't do and two things I did do, I will probably be scarred for life. What I didn't do was go grocery shopping the night before and get up in time to assemble school lunches before kids left for school. What I did do was try and enhance the lunch consisting of an apple and goldfish crackers and take a shower in less than 8 minutes.
I had this brilliant mom moment where I decided I would make up for the fact the lunches were pathetic by baking fresh homemade cookies. And for once I wanted to show up to the school looking like someone who knows the basics of personal hygiene.
Since I only had time for one batch of cookies before I needed to leave, I thought I would put my multitasking skills to work and take the most efficient shower on record while the cookies were baking. The cookies were in, the timer was set and I was off and running. But it didn't take long before the steam from the shower fogged up my focus and, for a brief moment, I got lost in thought. While I was drying off, a strong waft of baking cookies came through the door and immediately snapped me back into the race. Out of fear of burning my only chance to redeem my sorry school lunches, I didn't even take a second to find clothes or even a nano second to pick up a towel. I found myself running naked down the hall, past the front door, to the kitchen to save the cookies. (Now, for someone who NEVER even walks around in their underwear, let alone their birthday suit, this was way out of character for me and I silently prayed this wouldn't also be one of those moments my in-law's decided to just pop in the front door.)
If the Food Network ever needs a fresh idea for a show I could do one on how to bake like a maniac.  I can whip up a batch of cookies in no time but I have this bad habit of burning my forearm when manically rushing a hot pan out of the oven. Several scars have come and gone over the years. It was in this frenzied rush to save the cookies and redeem the brown bagged lunch, I quickly opened up the oven and leaned in to grab the pan. I'm not usually naked in the kitchen and parts of my body aren't used to being so free when I lean over. So it was quite a shock when my right breast met sizzling hot metal. Um, OUCH!!. It didn't take long before I realized I was going to have a bright pink scar the size of a fifty cent piece just above my nipple. It would end up resembling a large hickey.
Of course the next day was my Dr's appointment for a follow up chest x-ray after my bout with pneumonia. (I did have to post pone my mammogram, though).  And of course the x-ray tech had to be male. I tried to keep my gaping gown held tight to my chest so he couldn't get a peek at the bright pink "hickey". I certainly didn't want to explain to him how I was baking naked and burned my breast. It was going to be awkward enough explaining it to my husband when he came back to town.
THE END!
She later told me that her husband said, "What in the? You were running through the house naked and I missed it?"…haha
I hope you had a good laugh like I did and OUCH! That must have been soo painful….
WELL…..I have been building a baby in my belly! Yay! But, that building has sucked the life out of me.  So the projects I had started and wanted to share with you, got pushed in the garage and have not yet emerged.  :(  I LOVE to create and design, but I am on hold doing any projects at the moment.  I have to keep reminding myself that I am creating something even more special.

I've have been really sick this time around and am struggling to keep my head above water, so to speak.  So! I will be back soon helping you get crafty with your bad self and hopefully inspiring you with some fun ideas for your home.
Don't give up on me! I love my blog followers and have much to share with you soon!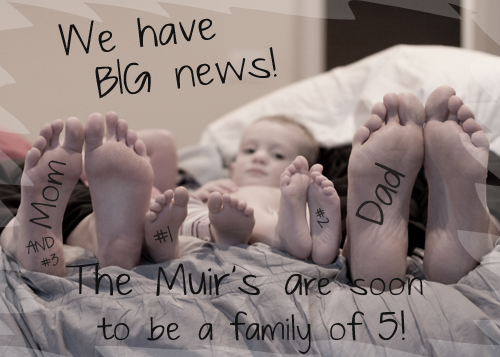 Well, I have been a blog slacker the past month.  But! In my defense it was Christmas and everyone in my house got the stomach flu the week before Christmas and the week before that our renters in San Diego threw us through a little bit of a stressful loop, Oh and I think that was also the week I lost my family blog….blah blah wo is me.  Right?!  Sometimes life is like that.  So I have been in a bit of crafting and blogging slump.
But!  I have GOOD NEWS, my blog is getting a make-over.  Yahooo!  My husband and my awesome friend Lori- who co-owns and designs for Plum Street Prints are both helping me fit this baby up.  Hopefully it will be easier to find things and make comments.
Hint hint…(in a loud whisper) leave me comments.  ;) I know you are here, looking, reading, getting an idea or two….I know people in Europe, Australia, Nebraska, even Israel! are looking on a regular basis.  Leave me some comment love peeps, I would LOVE to hear what YOU have to say!

 It would make my day.  And join my google friends side bar while your at it.

 So far I have ONE friend lol, and it made me smile super big when I saw that one friend, Katie, you are the absolute best!  Made my day.
Anyway, I am about to make you smile maybe even laugh just a little (hopefully

).  Here is my thought of the day.  I have a little girl (if you didn't know that already) and she just turned 4.  She is FULL of life and has lots of great things to say.  Like most four year olds I am sure, but I'm bias because she is mine.

 She is smart and witty and ALWAYS excited about life.  She wakes up ready to GO!  My favorite thing about Charlie is that she loves people.  She loves to talk to people and always seems to leave whoever she is talking to with a smile.  She is just great.
Any-who enough bragging about my little lady.  She has been leaving me with a smile at naptime and bedtime lately.  Because not only does she say hilarious prayers and makes up awesome bedtime songs…  As I close the door she always says, "Sweet dreams, mom, don't let the bad guys get you."
I believe it's "Sleep tight, don't let the bed bugs bite."  Don't let the bad guys get you fits too. haha, sounds like something you should only say in a super creepy voice.  Good luck with those sweet dreams…and the bad guys.

Well stay tuned!  I have some fun crafts for you this year.
Welcome 2012!

Last week was a bit of a crazefest at our house.  We run our own business and were trying to catch up from being on vacation for a week and getting out all our shipments for Christmas.  We were trying to create a nice Christmas for our kiddies getting last minute things, like a tree, a tree stand, and lights.   Yeah, we put that off a little too long…oops.  Who knew all the tree stands would be sold out everywhere the weekend before Christmas?! I didn't even think about it.  So after going to Shopko, Target, and Lowes with no luck, I finally called Home Depot.  Why didn't I just go there first?  They had 15 left.  So…it took about 6 hours to get one tree, one tree stand, and three boxes of color fading lights.  Ugh, Saturday gone.  I did find it a little amusing that the brand of the tree stand was called "Santa's Last Stand" LOL, cute name.  And, for me that was almost true.  :) Made me smile.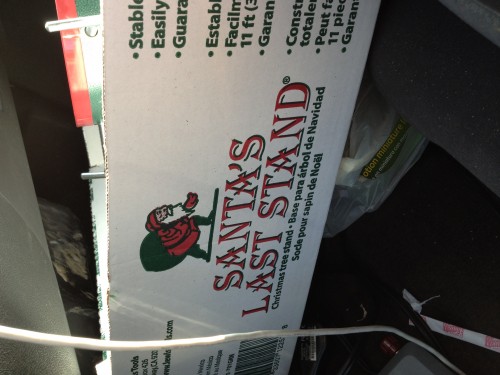 Amidst all our getting ready for Christmas and business stuff we discovered that our family blog we have had for the past 4 years somehow got deleted.  I know that in the big scheme of things this is minor, but at the same time it is how I have journaled my life and my kids lives.  I was in disbelief for about an hour after my husband told me, then I broke down and cried a good cry.  I felt like someone threw my journal in the fire place and I had no say and no way to pull it out.  Super Bummed!
But, thankfully my husband is a tech smart guy and with the help of Google Cache, was able to recover a little more than half of our blog.  Google Cache is a storage type system that Google has, it takes a little snap shot of your blog or website about once a month.  Through this we were able to look at our pages month by month over 4 years and copy and past my posts into a Word document.  The blog is still gone, but at least we recovered a little of it.  I am not sure if I am going to continue that blog anymore.  I might just start journaling some other way.
(All that's left are links like this thanks to Google Cache)
http://webcache.googleusercontent.com/search?q=cache%3APxx2gB4cazoJ%3Awww.thehousethatmuirbuilt.com%2Fpage%2F6%2F+&cd=9&hl=en&ct=clnk&gl=us
Could we have avoided this?  Maybe.  Make sure all you bloggers out there backup your blogs on a regular basis! We should have been doing this more.  I think we still would have lost our blog, but we might have had more of it saved out there in cyber land.
Anywho!  I plan on getting crafty with you this last week before Christmas so stay tuned!  I promise my posts will be more cheery


A while ago my mom cleaned out her attic and asked me if I wanted all my old barbies.   We went through the boxes of them laughing and walking down memory lane.  Charlie was with us and thought they were super cool, so we set a few aside to mail home.   Even though, I vowed years ago I would never let my kids play with barbies, oh well.   We took a few of the regular ones, we took a sea world one with a whale, then the Disney ones too.  Had to take those Disney ones too.   Charlie was in heaven.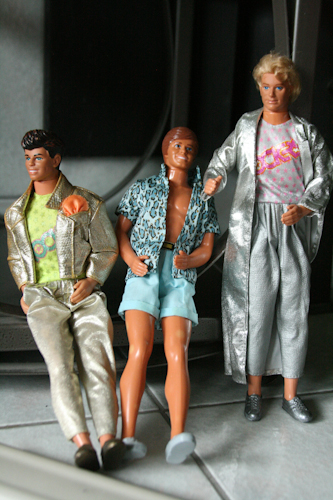 Remember these guys?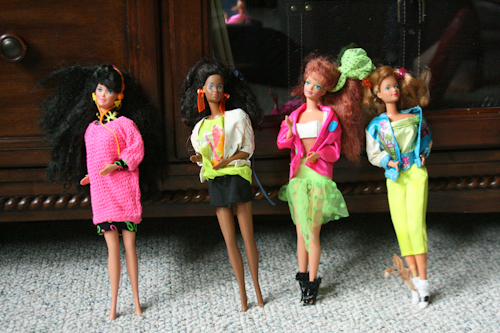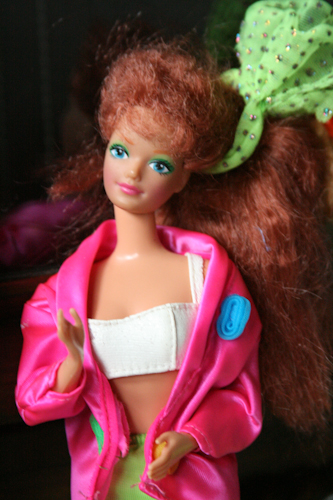 You might be thinking, what does this have to do with poop?  Well one day after the box of barbies arrived in the mail I noticed something strange at the bottom of the stairs.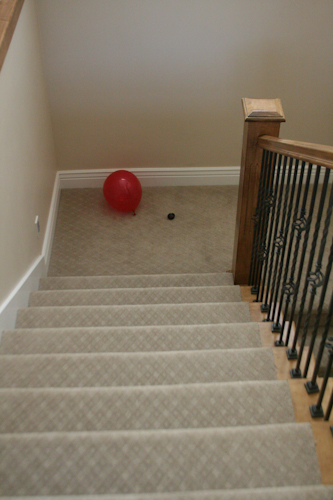 Could it be!??!! I stopped, stared, dreaded…. is that poop?  Did Beck take off his diaper and accidentally poop while I wasn't watching? Oh man…. I grabbed some stuff to clean it up and walked down the stairs.  When I go a little closer I realized….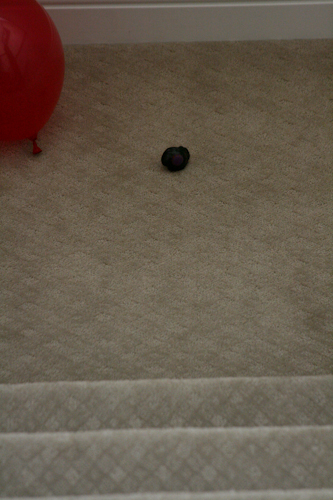 It was just Aladdin's head.  Relief!!  Well, then where is his body?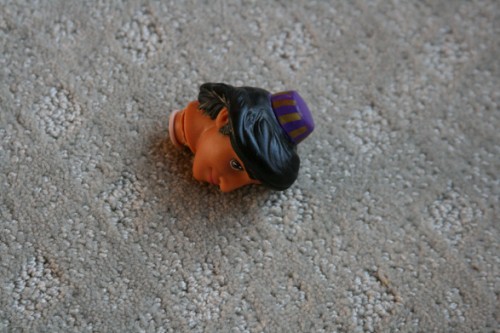 Well, I didn't find his body. But! I did however find Prince Eric's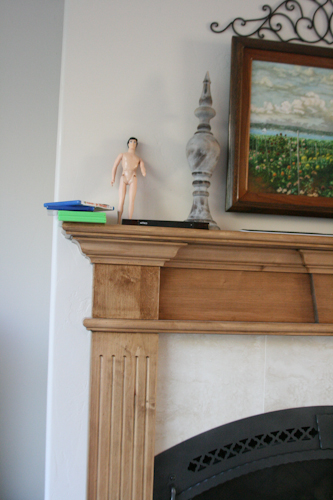 Standing buck NAKED on my mantel.  Nice Eric…. real nice.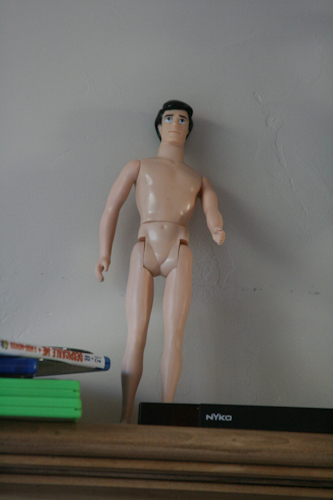 I am starting to remember why I don't need more toys running (naked) around my house.  Especially barbies… Oh well.  C'est la vie

It should read, "Monday Mom Thoughts, or the lack there of."  Yeah, especially for this post.
I was at my wits end with my kids the other day.  The young women at our church were putting on a free baby sitting night. I WAS SOOO EXCITED! I could hardly wait till nap time so I could shower and start feeling cute for my hot date.  But, then Devan called with bad news.  He had to go help with the young men's activity at church…date night cancelled.
I was so bummed and felt even more crazy knowing I would not be getting that break I was sooo looking forward to.  Why shower, I was going no where…blah… man!… Now I was getting snappy with the kids and was not being the best mommy I could be.
Charlie even sang a song that seemed to sum up my day.  Her little ditty went something like this,  "I love my mom sooo much, even though she is mean to me.  mean mean mean to me, she is mean mean mean MEEEEAAANNN!"  She was very happy when she sang this song.  She does this a lot; where she expresses her thoughts of the day through song. But, the moment I heard it I turned around and my jaw dropped.  "I suck," is all I could think.
I sat silently for a few moments then asked Charlie for a hug.  She so willing gave me one.  I love that girl, even when she sings truthful songs about me. lol.  We sat for a few minutes hugging.  A hug was just what I had needed ALL day. Silly mama, silly me.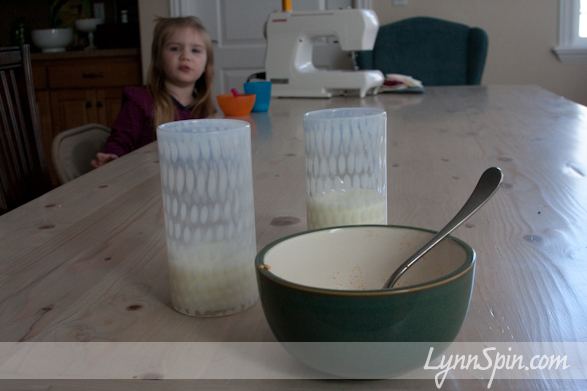 Here is a picture from this bad day.  I was eating lunch when I got up to get some milk for Charlie and Beck.  I decided to pour myself a cup too.  I then sat down and Miss Charlie pointed out, "Mom, you have two cups of milk! That's silly!"
I looked at my cup(s), she was right.  When did I pour the first one?  A few moments ago.  Some how in those 5 mins I decided that I was thirsty and needed a drink of milk. (which I already had but forgot about RIGHT IN FRONT OF MY FACE)  Oh geez….
I grabbed some oreo's and made it worth my while.  What a day.
MOM THOUGHTS AT LYNNSPIN.COM