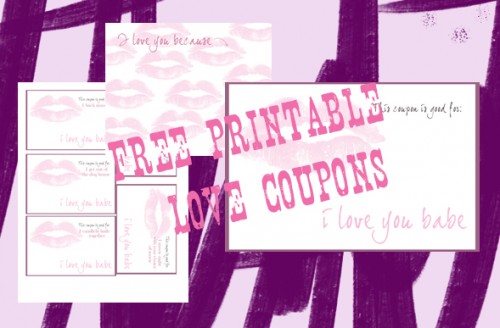 Need some help with Valentine's Day?!  I sure do!  Well, here are some free printable coupons for your man.
Print them at home on card stock.  SUPER CUTE AND EASY!
I hope they are helpful!!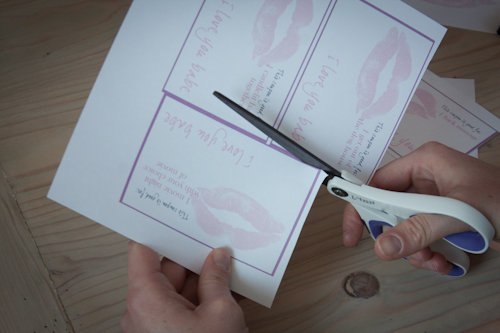 Write the man a love note and give him some cute coupons.  Make sure he remembers to redeem them.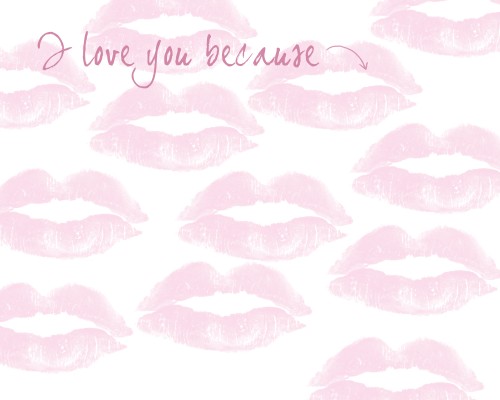 You could even stick this print in a frame and write a different reason each day.  That'd be fun

Love letter  paper- Click HERE to download and print.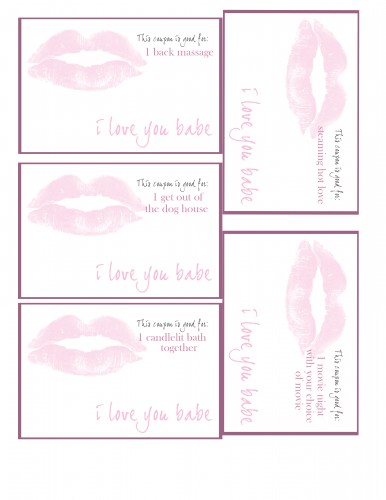 Coupons with ideas already on them.  Click HERE to download and print.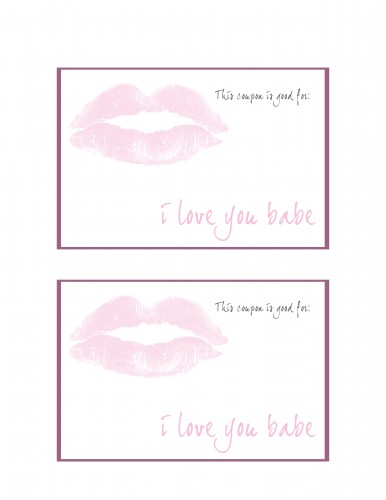 Coupons- fill in your own idea.  Click HERE to download and print.
Get all romanitcal with your bad self!

A little while ago I found some awesome free photoshop brushes at www.creaturecomfortsblog.com.  I have been wanting to make something fun for my house.  I used her arrows brushes, lip brushes, and her ink brushes.  They can be found HERE, HERE, and HERE!  Check out Creature Comforts blog, it is packed with fun stuff.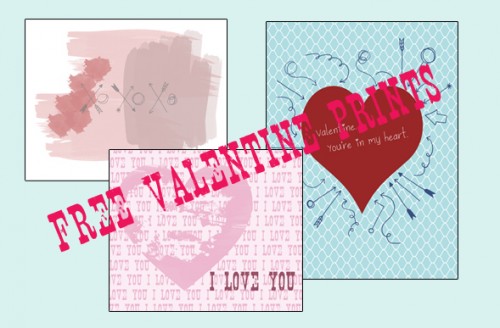 These are some fun Valentine's Day prints I made for my house.  And I love to share, so please help your self!

These are all 8×10 images.
*These are for personal use only*  Do not distributed or sell.  If you would like to share them, please link to the post and don't host the file yourself.  Thanks!!*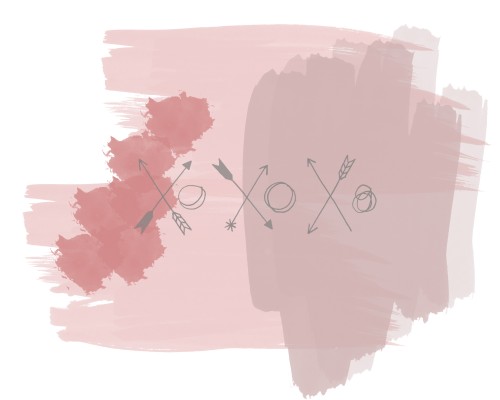 Download HERE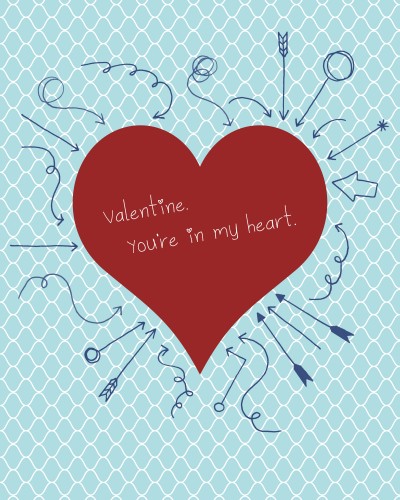 Download HERE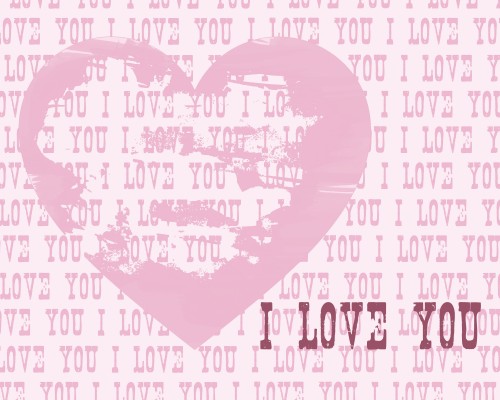 Download HERE
If you print these at Costco make sure to click "Do Not Auto Correct" before submitting your order.  It could mess up the colors in the print.

The other day my kids and I busted out the glue, paper, and scissors and created this super simple craft.  They thought it was rad.  I took a picture of their faces on my iphone, emailed it to my computer, and printed it up.  They loved seeing the printer paper come out with their face on it, it was like magic to them haha.  Then I just drew a large tear drop shape on a brown piece of paper, then the feathers on different colored paper.  They cut it out the shapes by following the lines I made.   I had to help the little guy, but my four year old went to town and did it all on her own.  We then grabbed our glue sticks and put it all together.
Easy!
And look how fun it turned out.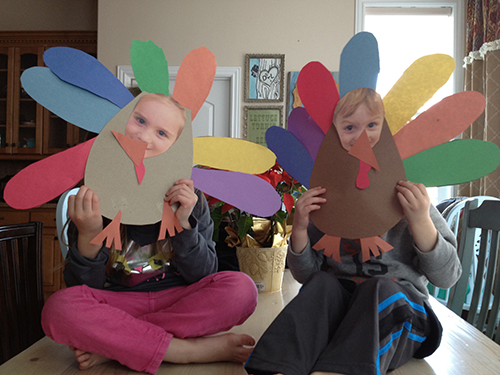 We wrote little bubble messages for dad on white paper and glued those on too.  We taped the turkey's to the door he normally walks in.  My kids were so excited.
Cost me nothing since I had all the supplies and took about 20-30 mins. Perfect amount of time for this age.

I made these fun USA and I (Heart) U plaques the same way I did the BOO Plaques I made a few years ago.   I made the I HEART U one for my soon to be baby girls room. (Pictures of her room to come!)
Tutorial can be found HERE for how I made these.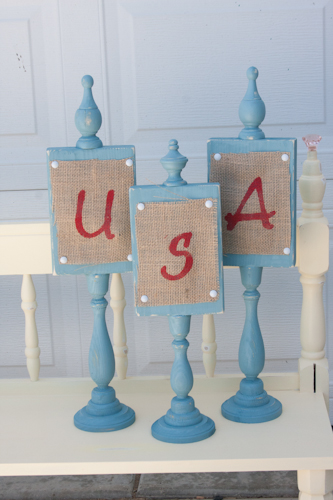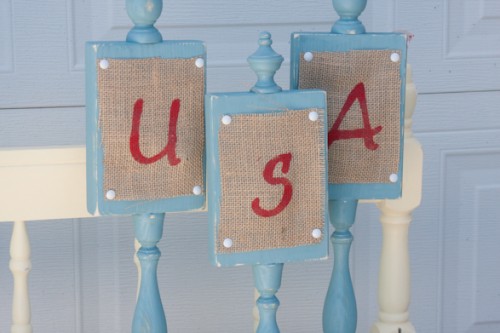 I used my Cricut to cut out the stencils for the letters.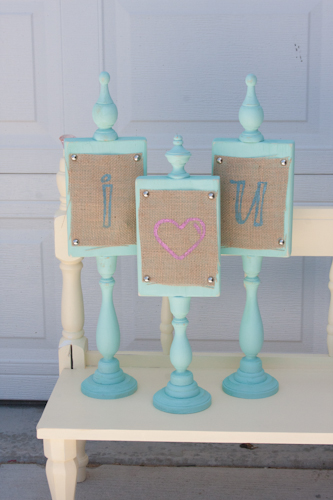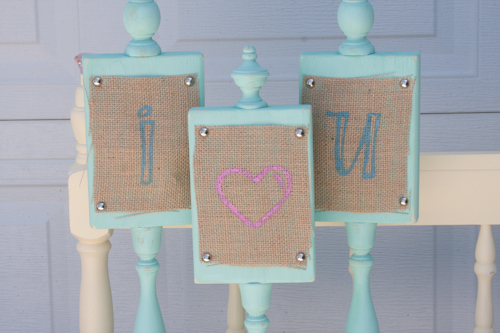 I hope you have fun this 4th!  FYI the Fourth of July is like a party every night in Utah

 FIREWORKS!!! YAY!

Easter!!!   Deviled eggs, cute little chicks, chocolate covered children…such a fun day.  I always love Easter and I love to decorate for it.  I've definitely been in a slump decorating my house, but I did get around to doing the front door.  Here it is!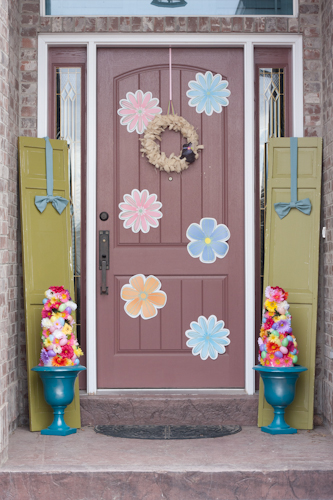 I found some folding closet doors at the restore for $5 took them apart and painted them green.  I made the bows using this pattern, click HERE.  I just hot glued those, no sewing this time.  I found the cardboard flowers at the dollar store along with the eggs on the topiaries and the fake flowers. I got the pots off KSL for $15 dollars and spray painted them.  And the wreath I made a few years ago.  You can find that tutorial and bunny pattern HERE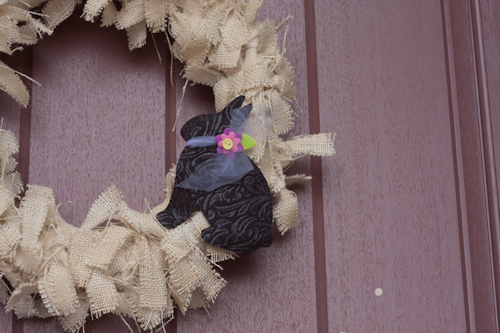 I didn't want to spend a lot of money on making the topiaries and was having a hard time finding a cone shaped anything.  So! I bought two pieces of poster board, rolled them up and glued them into a cone.  I then went to town hot gluing on fake eggs and flowers.  I think they turned out pretty great!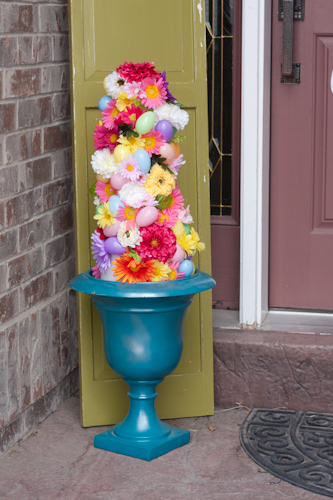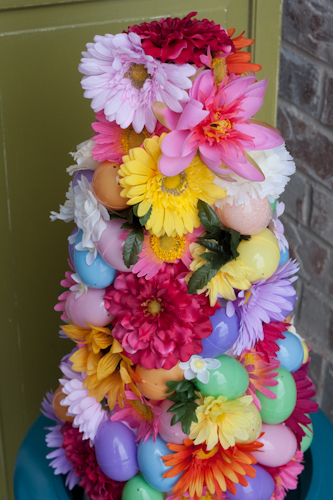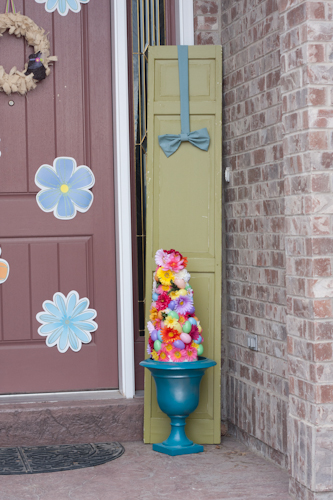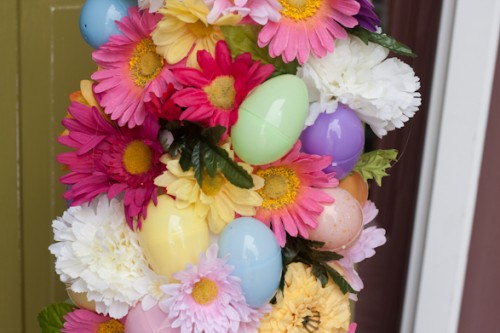 This burlap wreath is a great way to decorate your front door for Easter.

You will need:
for wreath-
1 1/2 yards of burlap
14″  styrofoam wreath form
rotary cutter/scissors
spray bottle for wetting burlap, to help with mess
for bunny-
felt
hot glue
buttons, ribbon, flowers (whatever you like) to decorate bunny
I found this wreath on Craftaholics Anonymous (scroll to bottom of page).
I thought if I added a cute bunny it would be a great Easter wreath.  It was very easy to make, it didn't take much time at all.  I started by cutting a 3″ wide piece of fabric and wrapping it around my wreath form to cover the green.  I think on Craftaholic's they painted their styrofoam, but I wanted a little more uniform coverage.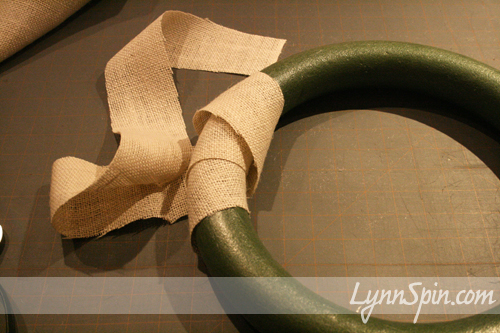 Then I started to cut the 1″ by 16″ strips of burlap.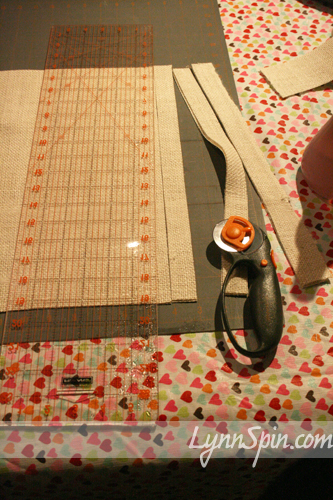 Then I tied them around the form using double knots.  I tried to get the pieces as close together as I could.
After I had the whole thing tied, I started on my bunny.  I cut the shape out of felt, wrapped a tulle bow around its neck, added some flowers and WaaLa!
Click here for free bunny shape/pattern. Right click link and choose "file/link/target as" then open and print.  Or if you click on the link, go to "save image as"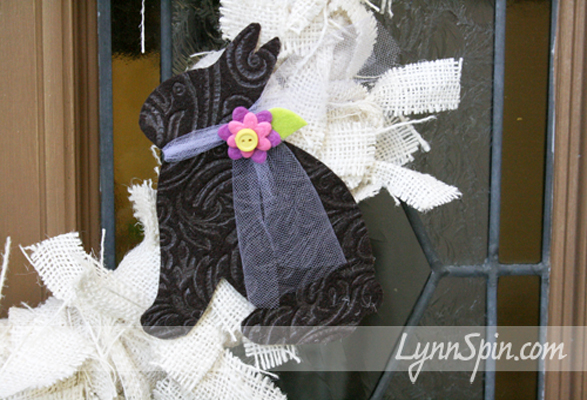 I added a little bit of super stiff felt on the back of the bunny, then hot glued it to the wreath.  I glued a 9″ piece of ribbon to the back of the wreath and hung that bad boy on my door!  Bam!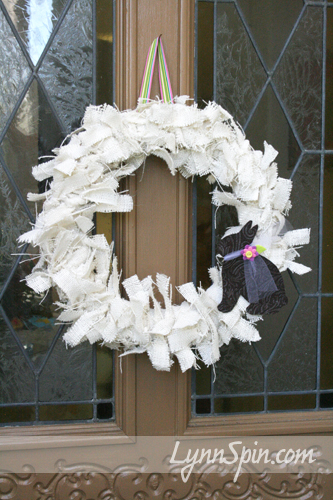 Get Crafty With Your Bad Self On The Holidays! Watch Out Now!
These angels where at Savers for 2 dollars each.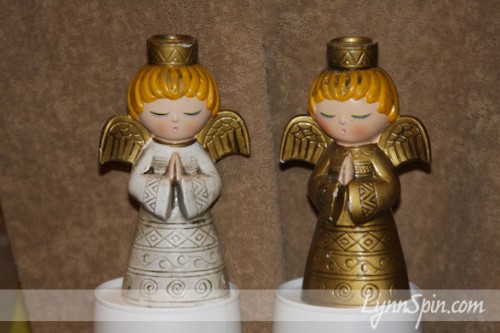 They needed a little Lynn love, so here is what happened.  I wanted to give it a silver and gold patina look.  I sprayed them silver.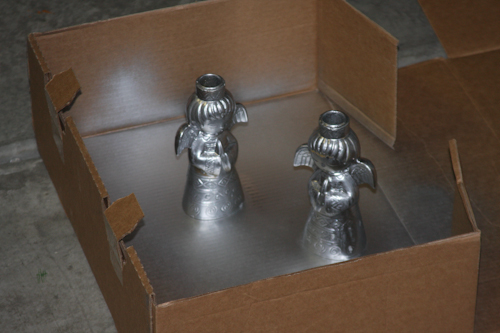 Then I attempted to put some gold leaf on them.  I just didn't love how they turned out.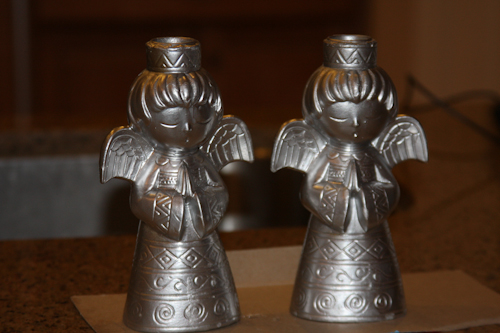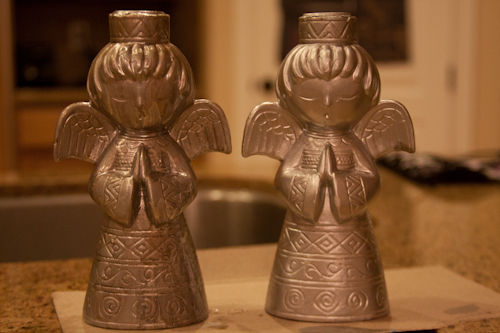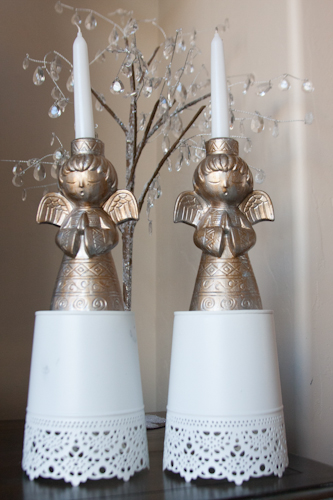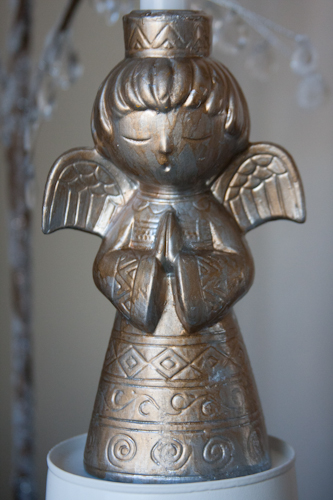 Even though this look is kinda popular right now as seen in these beautiful pictures.
picture from Better Homes and Gardens.com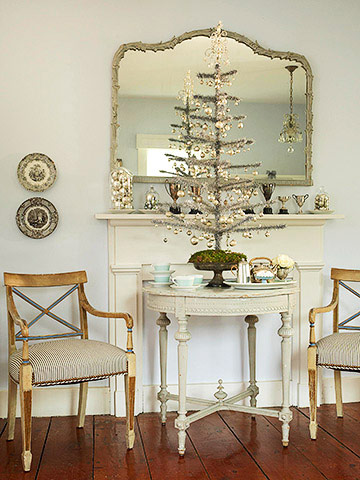 Picture from Martha Stewart.com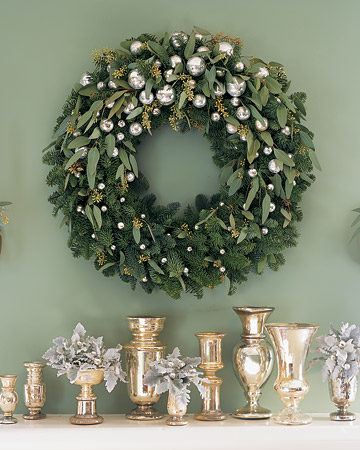 And from Patina Green Blog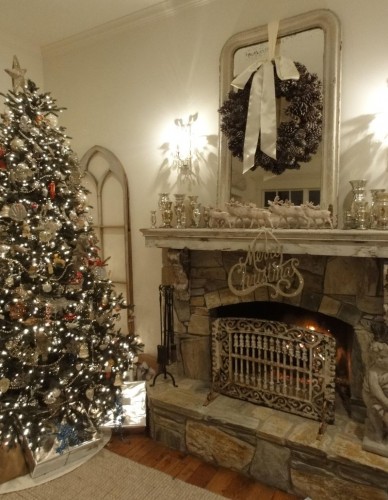 I just wasn't diggin' it.  And I am mostly a green and red Christmas decor girl.  So… I tried again.  This time with teal spray paint.  Then a little white wash stain.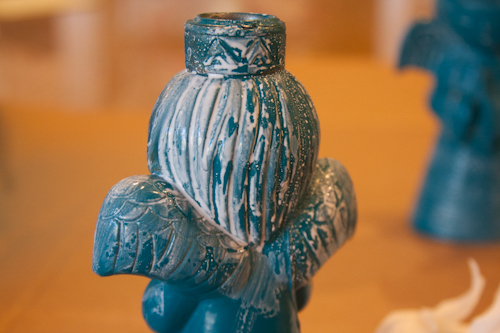 I painted the stain on, then wiped it off after a few seconds.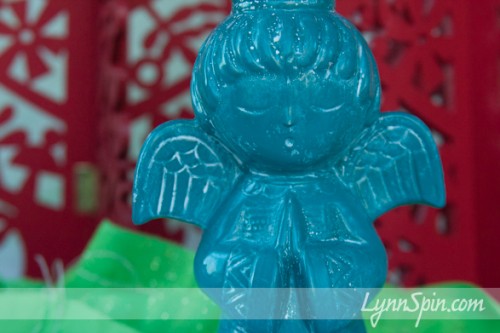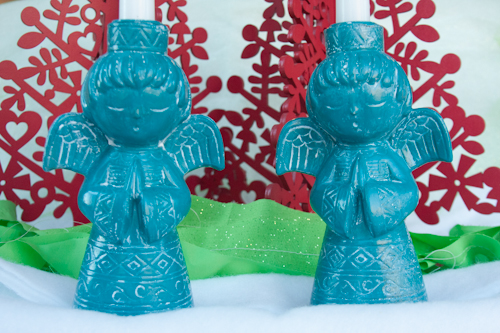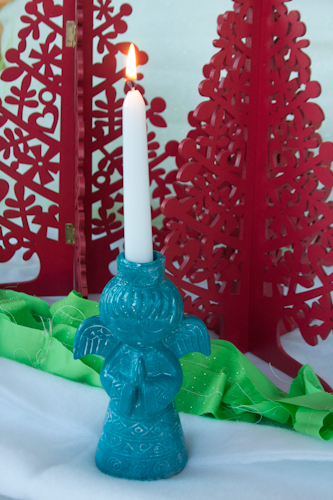 What do you think?
I am loving red and teal lately.

Fabric bow making 101. You can use this tutorial to make a fabric bow of any size.  Just scale it up or down depending on your needs

Here's how I made this BIG fabric bow.
(if you hate to sew, don't like to sew, or don't own a machine, or have one you can borrow- bust out the hot glue gun.  He is always helpful

)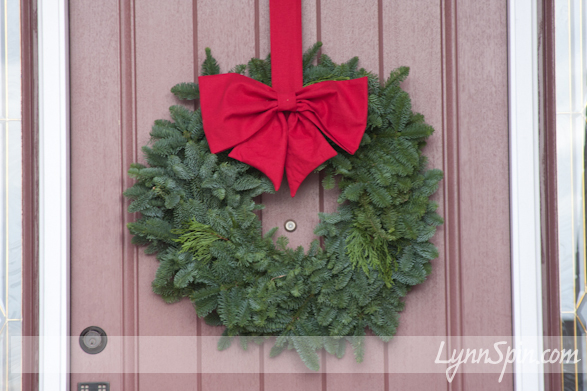 I started by cutting a piece of red linen 16 inches wide by 35 inches long.  I folded it in half long ways and sewed the ends together.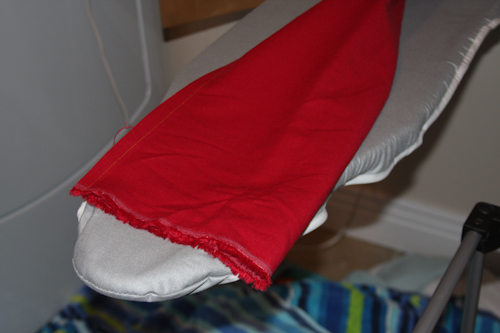 I then creased it  so the seam was in the middle on top and ironed it flat.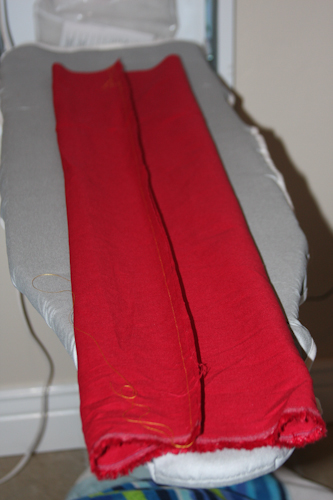 I then folded the ends in to meet in the middle.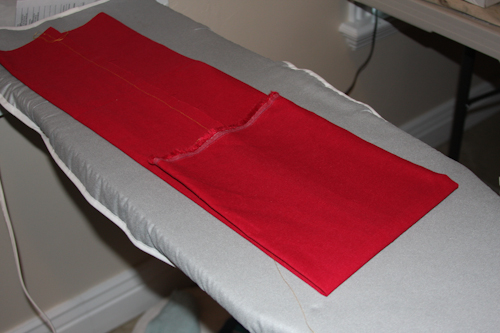 I sewed down the middle to hold the ends in place.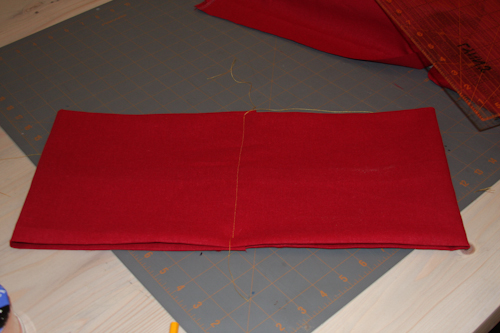 I took a piece of thick thread, wrapped it around the middle of my bow, pulled it tight, and tied a knot.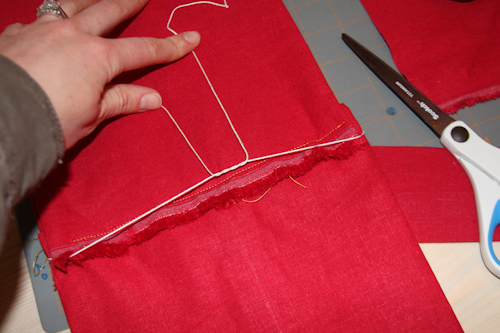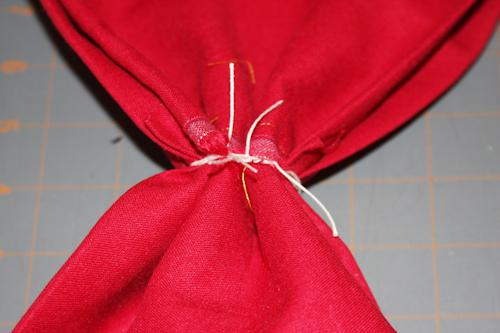 waalaa bow….but we are not done yet!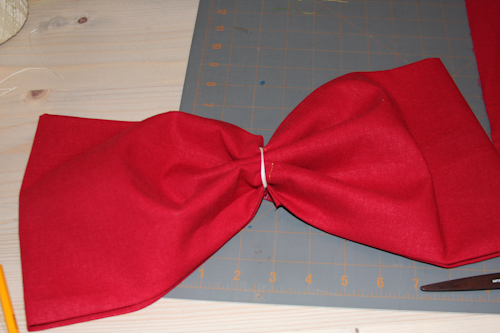 Straiten it out a little and make sure the sides are even.
Then I cut another piece of fabric 8 long by 6 wide.  I did the same steps of folding in half, sewing together, then ironing with seam on top.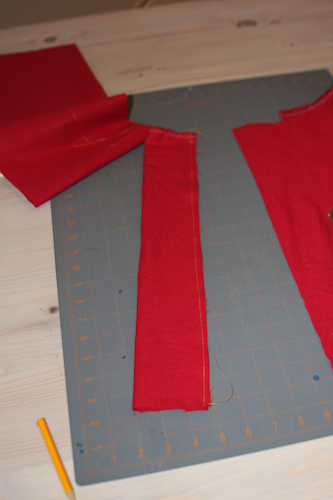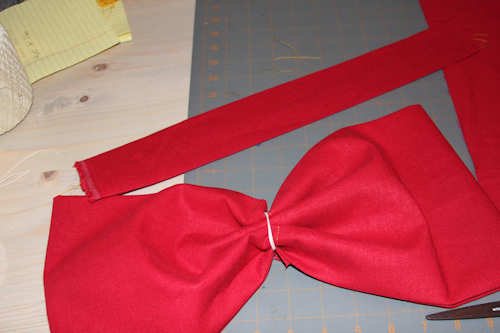 I hot glued that piece over the thread in the middle of the bow.
I then cut out 4 more pieces to be the ends of the bow that hang down.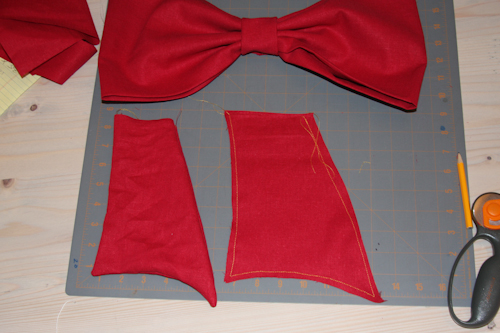 I have the pattern I made for those; if anyone wants it e-mail me.
I sewed two together them flipped them right side out.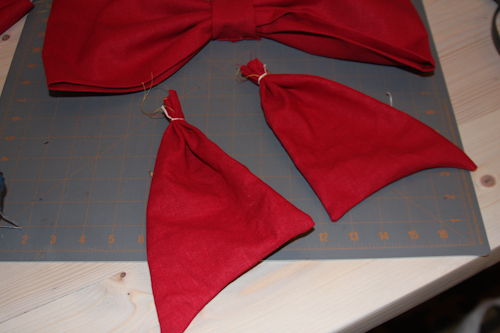 And I hot glued them on to the back of the bow.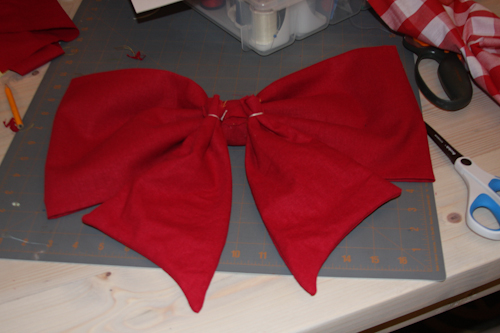 Then I cut and sewed a piece for the wreath to hang from and hot glued the bow on to that.
Took about 30 mins.  I'd say this is an easy project.  AND I'd say "Go get crafty with your bad self!  And pin me on Pinterest while your at it ;)"  wink wink

Here is the finished bow on the wreath I bought at Costco.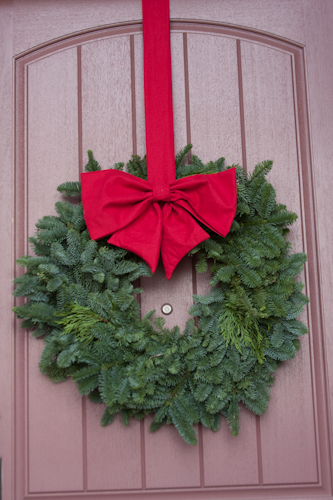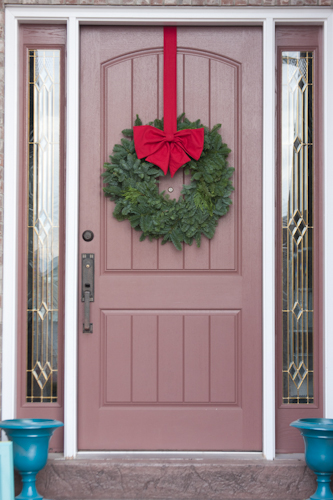 One of my close friends pinned these on Pintest and I saw them and knew I needed to make them!  TOO CUTE!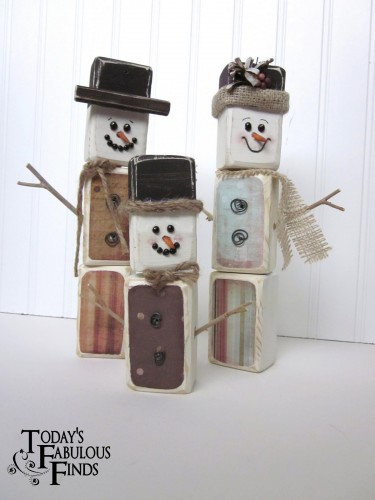 What a great idea Janet over at Today's Fabulous Finds Blog had.
Check out her fun blog and see how she made her snowmen by clicking HERE
And I had a ton of wood 2 x 4's left over from building our dinning room table.  Click HERE to see that.  Anywho…  My buddy came over after we had both put our kids to bed and we made these adorable snowmen.  I made 4 because I knew Charlie would wonder where her or Beck was.  So here are my four that I made.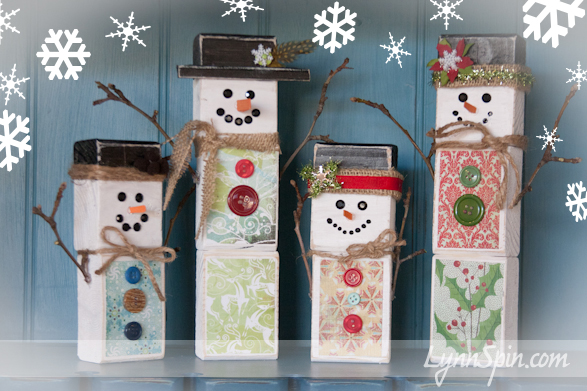 We did ours just a little different.  I didn't have dowels, so we just used wood glue to stick them together.  We used beads and puff paint for the faces.  We hot glued the arms and decor on.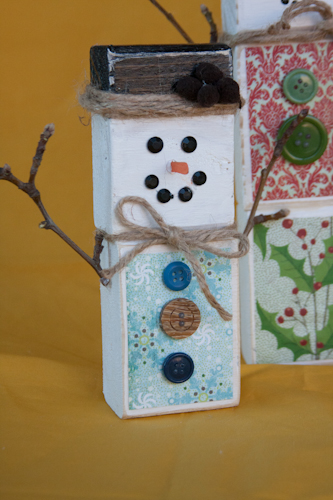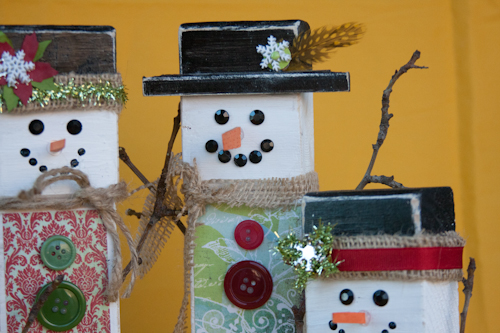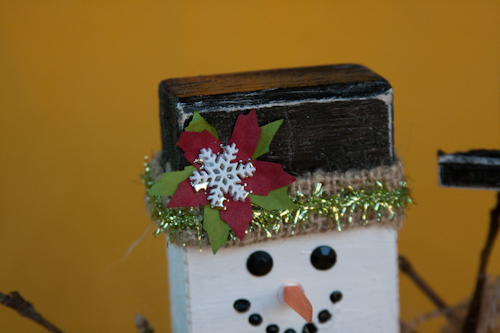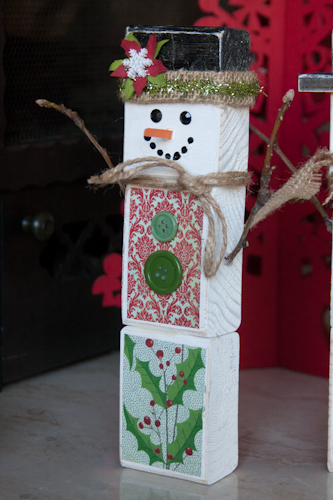 Thanks for the fun idea Janet!  And thanks for helping people to get Crafty!

I have been thinking about these for a while.   And I hope they can bring your house some Christmas cheer

I have had so much fun crafting with you this year and sharing ideas.  I hope you have a GREAT Christmas!!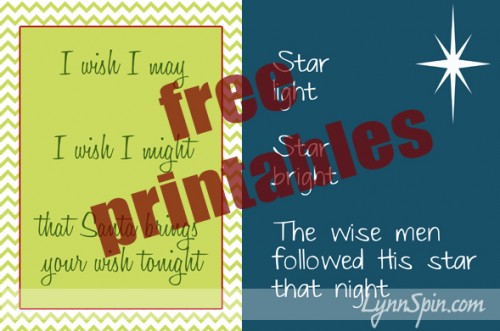 You can download these by clicking on the links above each picture.  This will take you to BOX.net where you can safely download the larger image straight to your computer.
These are  all 8 x 10's.  I suggest printing at Costco.  But, remember to click "Do Not Auto Correct" before check out.  

Copyright- Lindsay Muir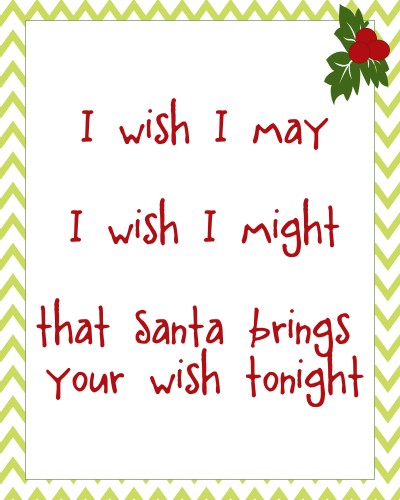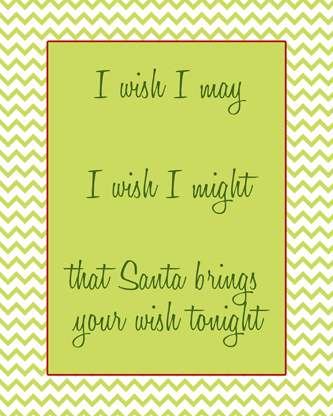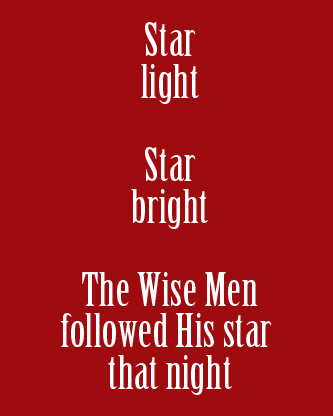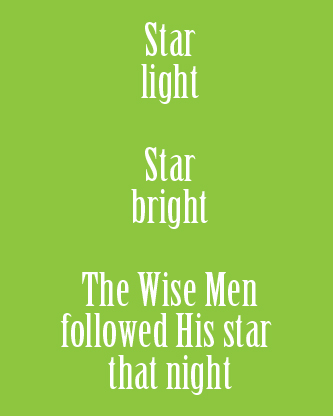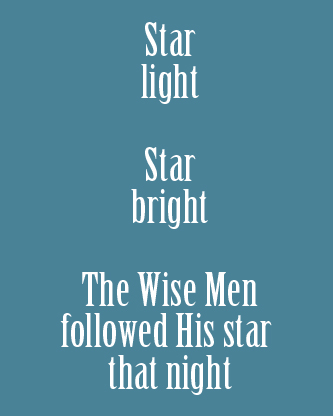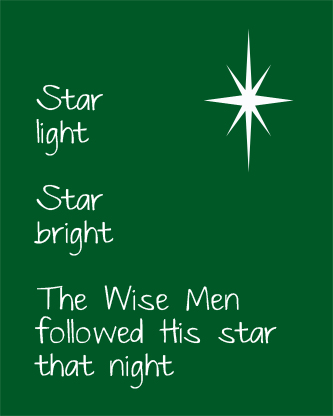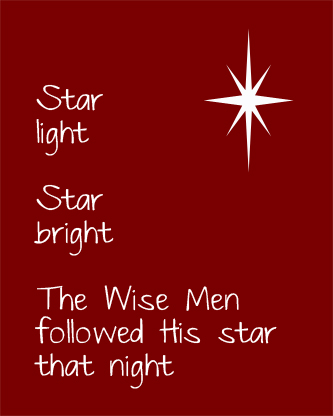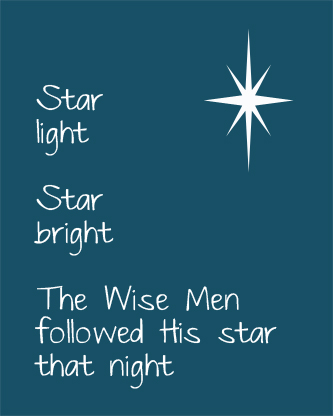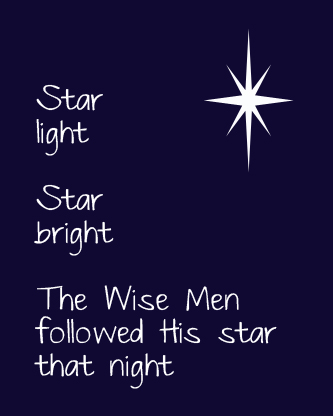 This tree one is 11 x 14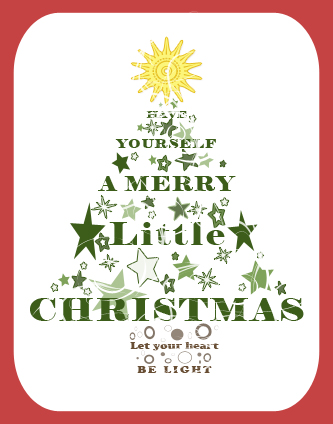 Much Love!
-Lynn

If you re-post this please give Lynn Spin a shout out and post my button on your blog somewhere.  Thanks!