This is probably one of the best things I have ever made.  YUMMM!!!!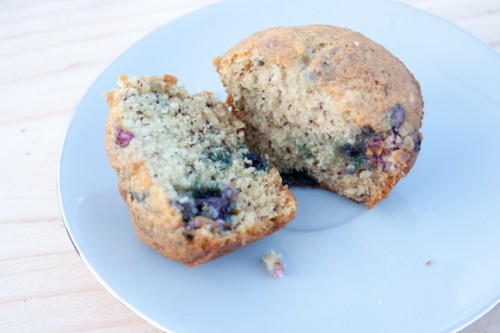 I got this recipe from a lady I grew up with.  It is actually a banana bread recipe, but I changed it up making it into muffins and added berries.  I make this banana bread recipe all the time and it is by far my favorite EVER!  In muffin form and with the berries it tasted just as amazing.  Enjoy!
Banana Berry Muffins
1/2 cup of butter
1 1/4 cup of sugar
2 eggs
2 tsp. vanilla
3 ripe bananas
1 cup of sour cream
2 cups of flour
2 tsp. baking soda
1/2 tsp. salt
1 1/2 cup of frozen mixed berries OR chocolate chips
Cream butter and sugar; add eggs.  Stir in liquid ingredients, then dry ingredients.  Slowly mix in berries with a spoon.  Spray a muffin tin and fill 3/4 of the way full.  Bake at 350 degrees for 20-27 minutes.
If wanting to make this into bread.  Spray two loaf pans and pour in batter.  Bake at 350 degrees for 45-50 minutes.
Can take out the berries and/or add chocolate chips.  It's very very amazing with chocolate chips!!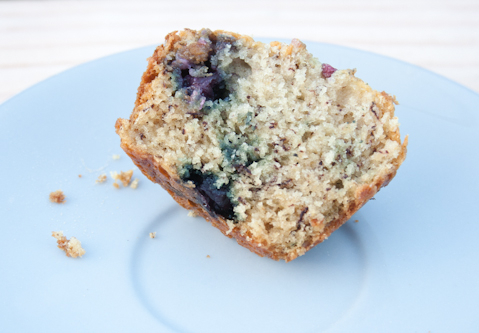 I had to fight of my kids to take this picture.  Haha… it was pretty comical.  Hard to see who's little hand is coming when you have your eye in the camera.
Cook something yummy with your bad self and ENJOY!

OH MY! I just had a thought…lemon glaze or frosting on top….I could die.  That would blow my little taste buds minds!  I am going to make some more!!!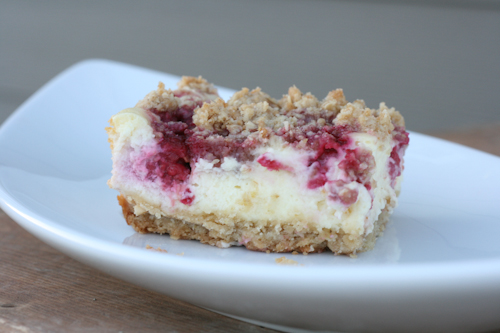 Since it is raspberry season let's make something tasty!
We recently went down to a raspberry farm in Payson, UT to pick raspberries.  We went with my husbands brothers family and we had a great time.  Here is link if you want to go too.
I know you want the recipe but first look how fun this was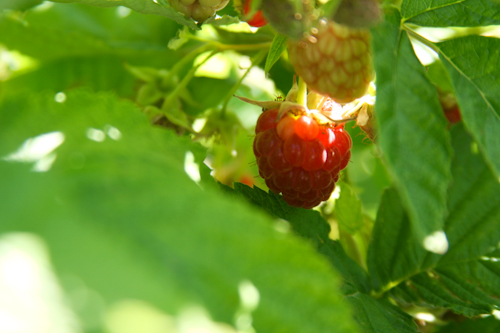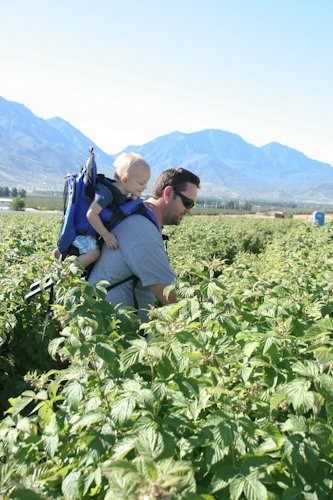 They say to cut the top off a milk carton and slide the handle through a belt so both hands are able to pick berries.  Jackie is ready!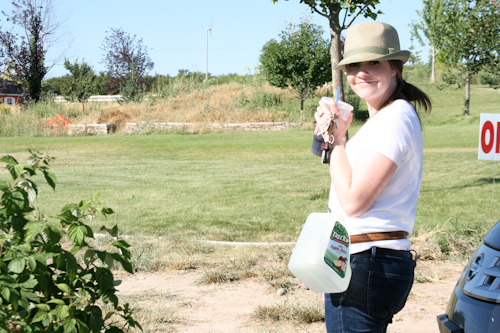 Okay now what you came here for:
This is my Raspberry Cheesecake Crumble and you will love it.
Raspberry Cheesecake Crumble Recipe
Crust
2 cups of flour
1/2 cup brown sugar
1/2 cup rolled oats
1/8 cup of milled flax seed
1 cup of melted butter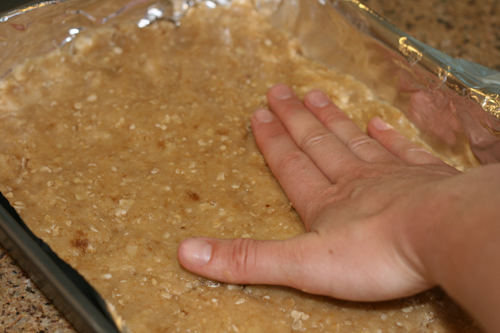 Preheat oven to 350 degrees.  Mix together and press firmly into a 9×13 baking dish.  I lined my with tin foil before starting.  Then bake for 15 minutes.
While that is baking make the Cheesecake mixture and the crumbles.
Cheesecake Filling
Three 8 ounce packages of cream cheese
1/2 cup sugar
3 eggs
1 teaspoon of almond extract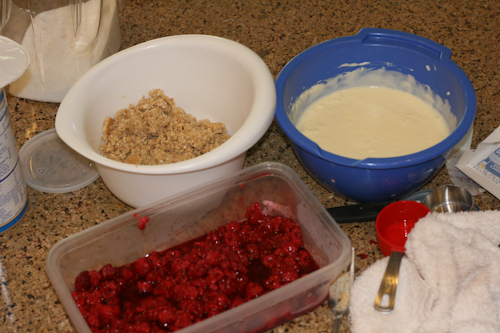 Mix in a bowl until smooth.  Then pour over baked crust.
Raspberries
2-3 cups of slightly smashed raspberries mixed with 1 tablespoon of sugar.
Crumble Topping
1 cup of brown sugar
1/2 cup of flour
1/2 cup rolled oats (quick oats)
1/2 cup smashed graham crackers
1/2 cup softened butter
Mix together and crumble with hands.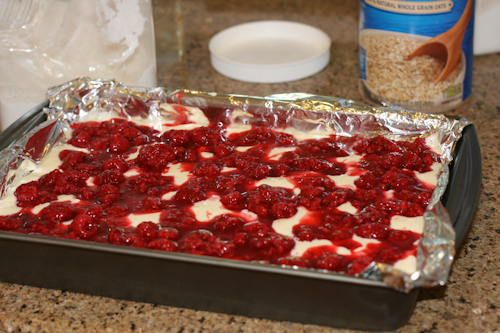 Spoon raspberries over the top of the cheesecake.  Then sprinkle the crumble over that.  Bake in oven for 40-45 minutes.  Let it cool in refrigerator, the longer the better.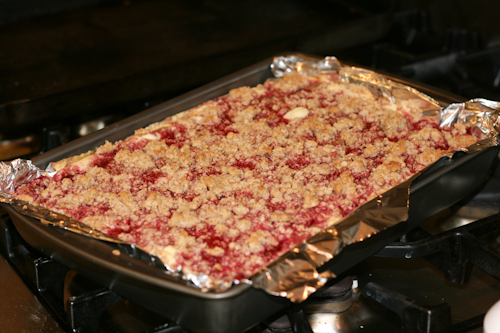 Enjoy!!!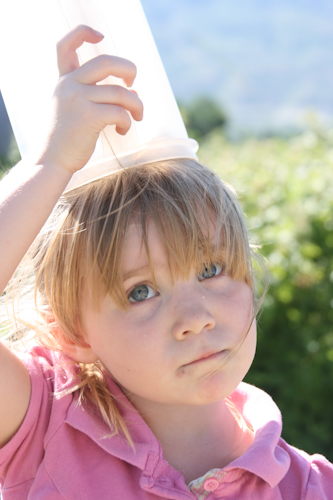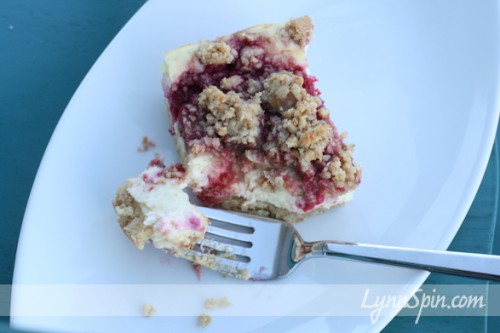 In my resent blog searches I found this amazingly yummy looking pie.   A friend of mine tried it, then made it again, then share just how delicious it was- I had to make it.  It looked easy enough (usually the thought of making a pie and all the steps scares me).
One of the coolest things I learned during making this pie was how to make toffee out of a can of sweetened condensed milk.
All you do it boil a can for 2.5 hours.  Make sure you keep adding water so that the can stays covered.  But really that's it!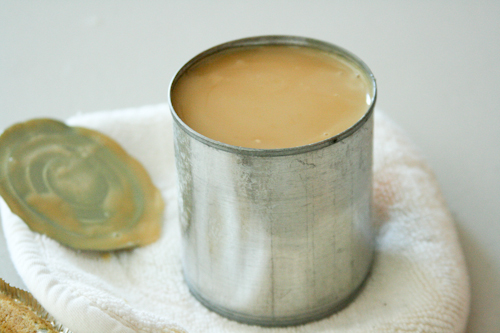 It's like magic in a can

I had another friend tell me she does this to make chewy caramel popcorn.  So there ya go.
As for my review on the Banoffe Pie.  It was A-MAZ-ING! I don't have a picture of it because we ate it soo fast. It was THAT good.
Tastie tastie AND simple.  I'd make it again in a second.
Click here to travel over to Brooklyn Limestone's fun blog for the this amazing recipe.  Thanks for sharing Brooklyn!