The other day my kids and I busted out the glue, paper, and scissors and created this super simple craft.  They thought it was rad.  I took a picture of their faces on my iphone, emailed it to my computer, and printed it up.  They loved seeing the printer paper come out with their face on it, it was like magic to them haha.  Then I just drew a large tear drop shape on a brown piece of paper, then the feathers on different colored paper.  They cut it out the shapes by following the lines I made.   I had to help the little guy, but my four year old went to town and did it all on her own.  We then grabbed our glue sticks and put it all together.
Easy!
And look how fun it turned out.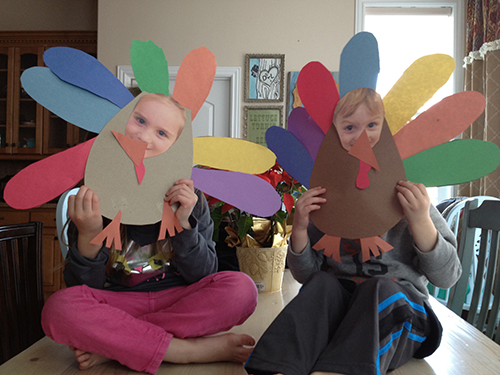 We wrote little bubble messages for dad on white paper and glued those on too.  We taped the turkey's to the door he normally walks in.  My kids were so excited.
Cost me nothing since I had all the supplies and took about 20-30 mins. Perfect amount of time for this age.

Okay, I know it doesn't really fit to make shell necklaces in November.  But, it is a good way to remember summer will come again and it's kinda fun as the snow is falling outside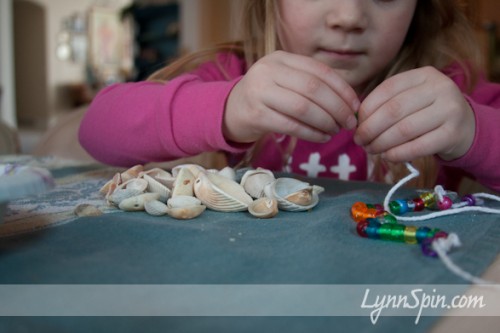 This could be a fun Family Home Evening idea.
Look through your pictures or scrapbooks of summer with your kids.  Talk about the things you liked about being at the beach, swimming, playing with them on vacation.  Maybe have them write down or draw pictures of their favorite things to do in summer.  Talk about the seasons that Heavenly Father created and why each one is essential.  Then bust out all those shells you collected last summer, get some string, and go to town.  You could even make hamburgers or Hawaiian haystacks for dinner- that's summerie.

 Or make a coconut cookie as dessert.  An easy FHE with almost no prep and it's hands on!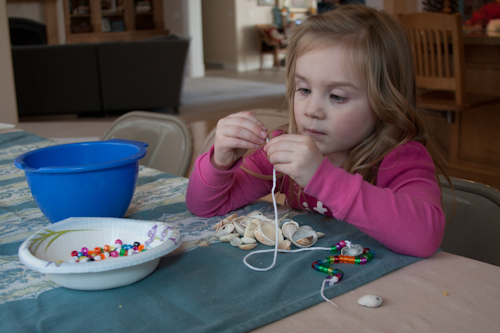 I wrap a little thing of tape on the end of the string for the little ones to help the slide the beads and shells on easier.  Charlie and I like to practice counting while she strings her beads.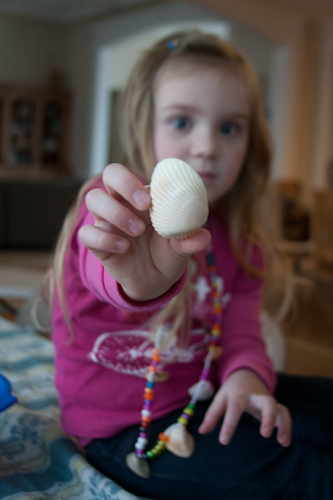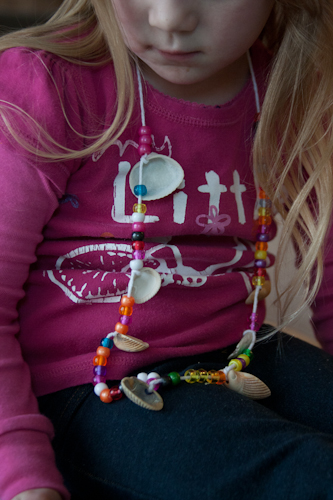 Oh summer days, please come back soon

 We miss you already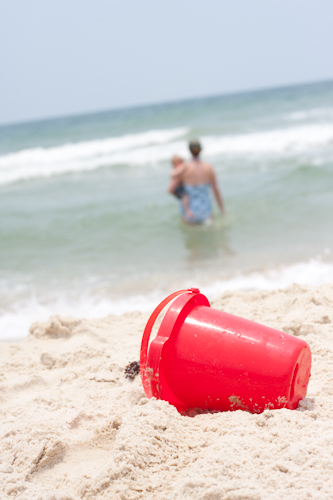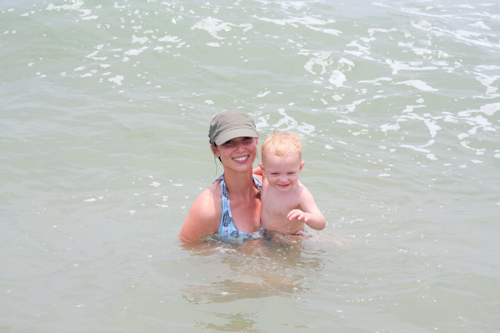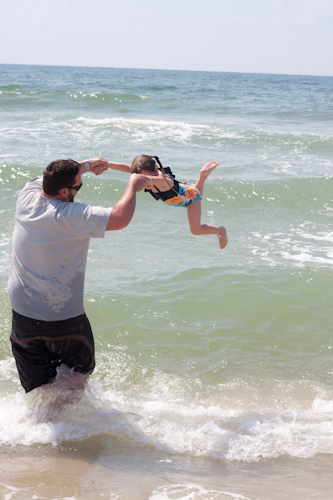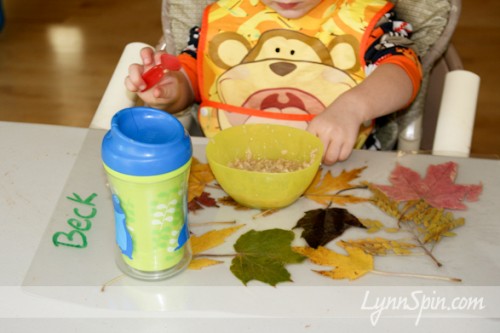 This is a great Family Home Evening idea you can do tonight with the kids!  It requires little to no prep and is easy for all ages.   And your kids can use these at the kid table during Thanksgiving

After dinner onE night we went for a walk around the block and collected leafs.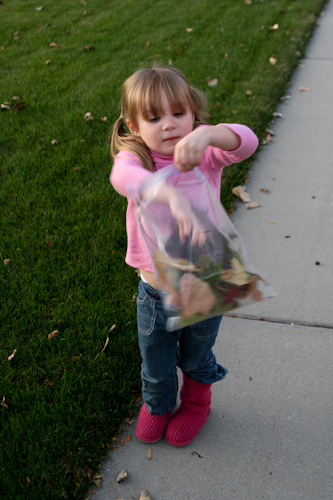 Then we went home and laid them out on our laminating sheets.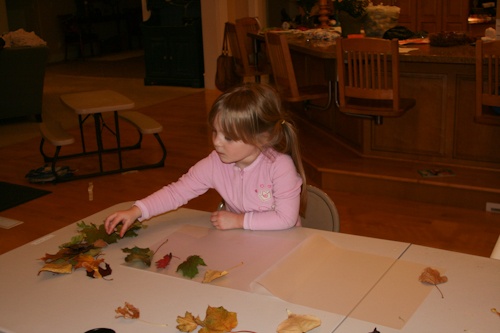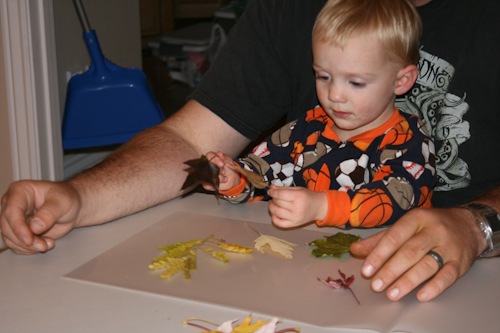 The kids loved watching it go through the laminator.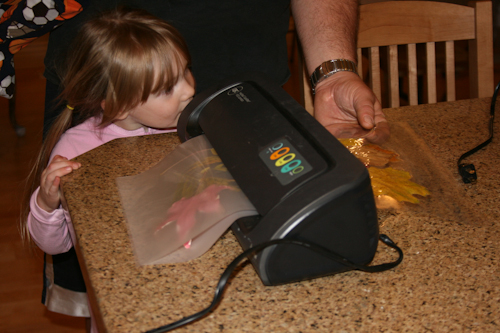 If you don't have a laminator just glue your leafs to a piece of paper.  Add some stickers and glitter too.  You can then take it to any Kinko's, map store, office supply store and they will laminate it for you for a small price.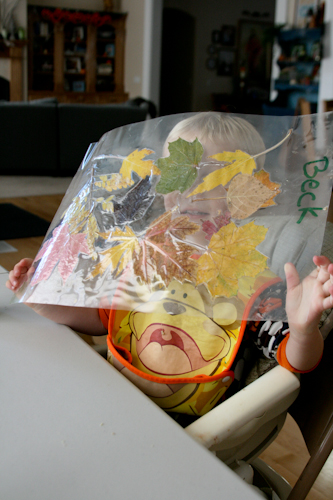 They are so happy with their work!
Get crafty with your kids…they will love it


We have a huge unfinished basement that was being unused.  A total waste of space.  The hubs and I decided to make it into a playroom for the time being.  We put up half -wall dry wall all the way around the room, to keep the kiddies safe.  And now we are beginning to make it a fun room.  The first step so far was our road.  Now that we live in Utah and won't be able to play outside everyday like we could in San Diego; I wanted a place to ride bikes in winter.  Hence, "the road."   Here is the duct tape road I made in the basement.
Making my space work for me and my fam-a-lama.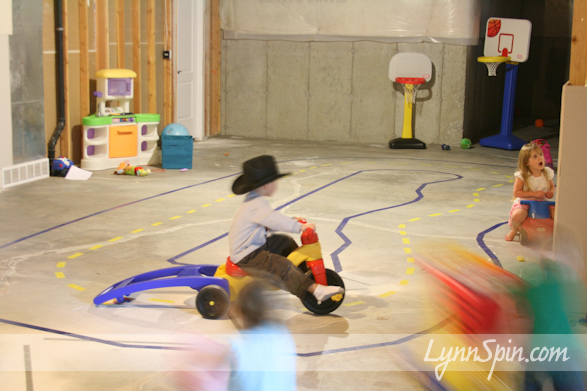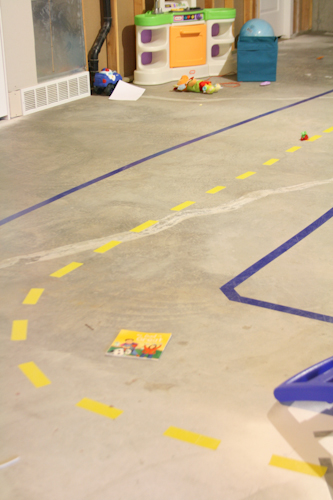 There's a curvy and straight side to the road.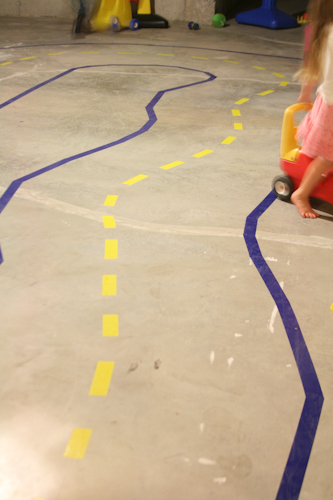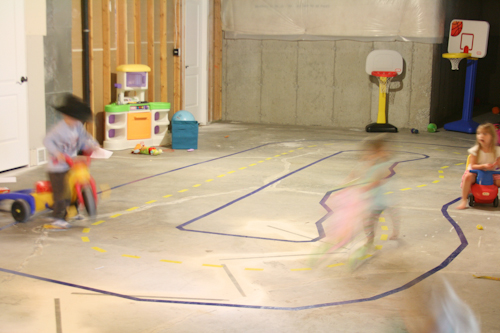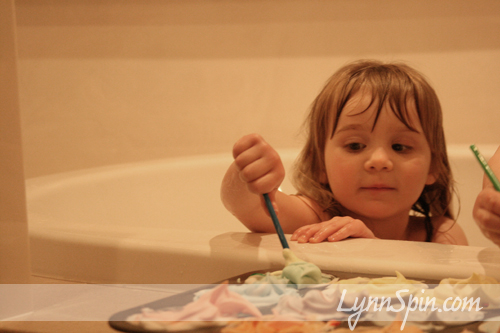 We found this tutorial the other day on another fun blog and wanted to share it here too.   My kids loved it!  And it was super easy.  Fun + Easy = Everyone is happy

All you do is:
get some sensitive skin shaving cream.
Spray it into a cupcake tin.
Add a tiny dot of food coloring to each cup.
Mix up well.
Then let the kiddos paint away.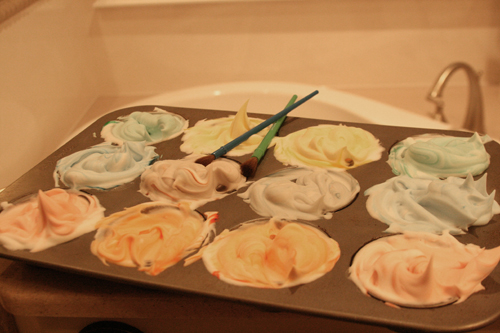 This idea was found at Meet the Dubiens Check out their blog, its full of great ideas for your kids.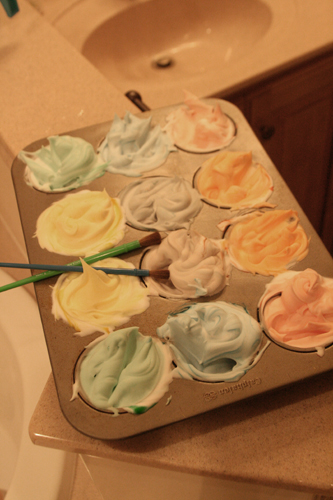 Here is something to do with the kiddos this week.  They will have fun and you will feel like a "the best" mom 😉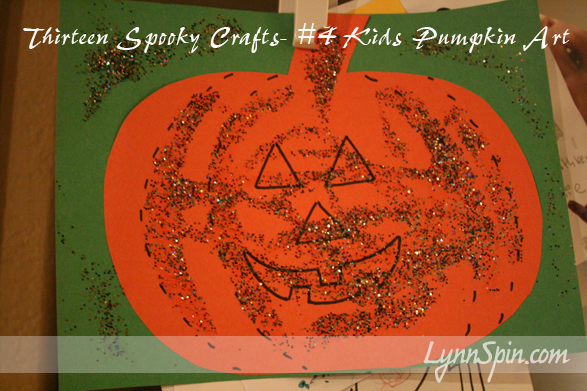 You need:
Glue stick, glitter, orange and green paper, a marker, and scissors
Cut out the pumpkin- if the kids are old enough draw the shape of a pumpkin and let them cut it out.  Draw a face on it.
Glue the the pumpkin to the green paper.  Let them use the glue stick to rub on the paper, then help them sprinkle the paper with glitter.  Shake over a trash can to remove excess glitter.  Add more glitter if you want.
My husbands super cool Aunt Kathy did this with my two year old while I went to the gym. (I am totally stealing her idea.)  Thanks for entertaining my little lady! Charlie loved it.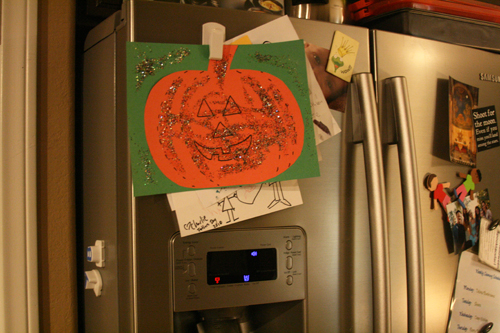 Stick it on the fridge!
Get Crafty with Your Kids!
Try this fun, super easy, kid friendly craft for Family Night!  Every Sunday or Monday night(depending on the craziness of the week) we have what Charlie calls "Family Time!"  We wanted to start talking about Easter on Family time/night with my two year old so that when Easter comes in a few weeks she might know a little better what it is about.  We sang a children's song "I Feel My Savior's Love", said a prayer, had a lesson about Jesus, then decided to get crafty with the whole family.  I bought these baskets at Party City for 2.99 each and the foam stickers at Joann fabric's for 1-2 dollars per package.  It was simple, but we all had fun being creative and having some family time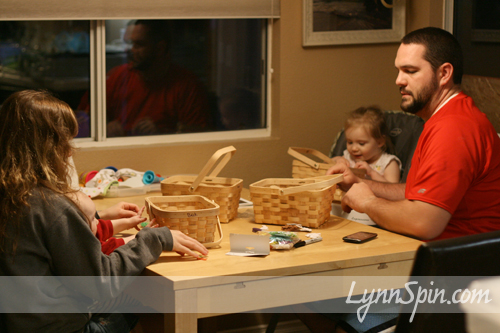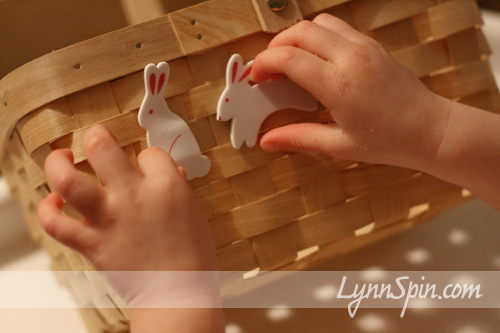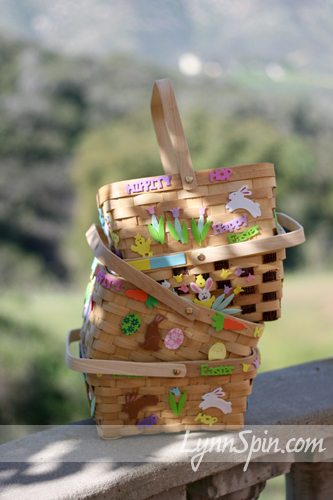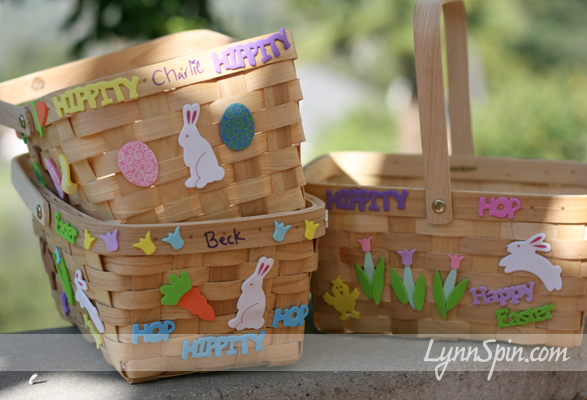 Get Crafty with the Whole Fam-a-lama!!!